By Bryan McCormick
Disappointment over Cisco's (NASDAQ:CSCO) sales forecast has crimped the stellar advance of the Nasdaq 100.
In the pre-market, shares of anything network-related tumbled in sympathy with Cisco's 16 percent drop. Juniper Networks (NYSE:JNPR) fell more than 8 percent but recovered when traders decided that it might benefit from Cisco's loss of market share.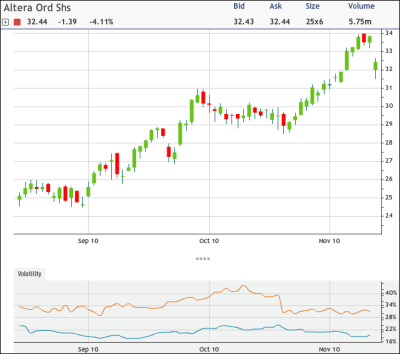 The real damage was below the waterline in names such as Altera (NASDAQ:ALTR), Broadcom (BRCM), Xilinx (NASDAQ:XLNX), Jabil Circuit (NYSE:JBL), and NetLogic (NASDAQ:NETL). To some degree those companies all depend on Cisco or other networkers for their business. And not all of the names affected by Cisco's news are even in the Nasdaq 100.
In terms of weighting, Cisco, Broadcom, Altera, and Xilinx compose just under 5 percent of the NDX. Given the big losses in those stocks, it isn't surprising to see the index down. The remainder of falling index names are related to a more cautious view of tech shares generically.
Given how far the index has risen, fears of pre-announcements heading into the next quarter are not entirely irrational. Traders may be adopting a profit-taking attitude into year-end, with this warning as a catalyst against complacency.
So what does this mean going forward? Surprisingly, perhaps not a great deal. Despite the carnage to specific names, the index has sprung back pretty quickly from earlier losses. Being down more than 1 percent is not a huge move, given the 16 percent year-to-date gain.
The index is heading back up to the 10-day moving average at 2165.37. If the index fails to hold or regain that average, the next major support down is at 2127.26.
Yet it is important to remember that tech stocks are part of every major index. With Cisco in the Dow, which many may forget is part of the index now, sharp moves can have ripple effects much more broadly than in the past when indexes were more differentiated from one another.
Disclosure: No position