By Chris McKhann
Correlation between the equity markets and agricultural futures remains high, and option traders are looking for continued pullback in the ags.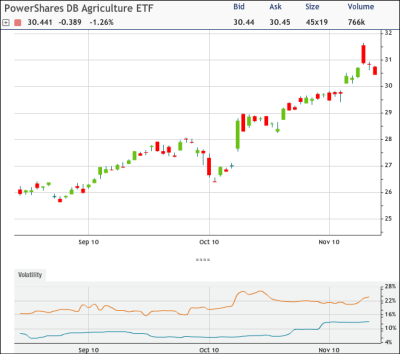 The PowerShares DB Agricultural Fund (NYSEARCA:DBA) tracks the Deutsche Bank Liquid Commodity Index, which comprises futures contracts on commodities such as corn, wheat, soy beans, and sugar. The exchange-traded funde is down 1.26 percent this morning to $30.44 after the big reversal day on Tuesday, while the 10-day correlation with the S&P 500 holds at 0.85.
We have seen a few big trades in the fund over the last week, and today the action is in the November 30 puts. With just over a week until expiration, a trader bought 7,800 of those puts for $0.25. This was against open interest of 591, so it was a new opening position.
This put buying could be one of many things. It could be an outright bearish trade that commodity prices will continue to fall in the short term. It could be a short-term hedge against long shares of the DBA, as we know that ETFs make up the largest holdings of some of the largest hedge funds.
Or it could be some form of correlation trade with equities or another underlying. This type of "relative value" trade is the bread and butter of many hedge funds, and ETFs are a integral part of those strategies.

Disclosure: No position