American Capital Agency Corp. (NASDAQ:AGNC) is one of the blue chip Agency Mortgage REITs. The principal objective of AGNC is to preserve its asset value while generating attractive risk-adjusted returns to pay dividends to shareholders. AGNC's manager is a subsidiary of a wholly owned subsidiary of American Capital Ltd. (NASDAQ:ACAS).
In Q2 2014, AGNC had a tremendous quarter. Most impressively it grew its book value by $1.77 per share (+7.2%) from $24.49 on March 31, 2014 to $26.26 on June 30, 2014. It also paid a $0.65 per share dividend for a total economic return of 9.9% for Q2 2014 alone (or 39.6% annualized). This followed a good to great Q1 2014. The total economic return through 1H 2014 is now 15.2% (or 30.4% annualized). This is comprised of $1.30 in dividends and a $2.33 increase in net book value per share. AGNC has remarkably recouped all of its total economic losses from the disaster that was FY2013. However, what is more impressive is the chart of AGNC's longer-term performance (see below).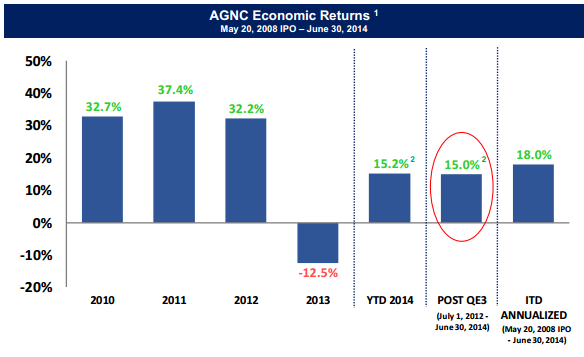 The above is great performance. To cite the specific facts, AGNC IPO'd at $20.00 per share in May 2008. It has paid total dividends of $28.91 per share since that IPO date. Plus the book value is now $26.26, even if the stock price of $22.93 as of the close on July 30, 2014 is now lagging the book value by more than 14%. The above statistics should make AGNC more attractive to investors. It should put some of the shine back on agency mortgage REITs, especially blue chip ones.
Other statistics from Q2 2014 were impressive too. AGNC had $2.43 of comprehensive income per share. It had $0.87 of net spread and dollar roll income per share. This easily covered the $0.65 per share dividend in Q2 2014. The only worrisome part was that the dollar roll income comprised $0.39 of the $0.87 per share. That means the net interest spread income only amounted to $0.48 per share. This income is considered the "core income" for the dividend; and if it is lower than the dividend that is a bit of a red flag.
The company argues that too many of the hedging costs, and other expense allocations are made only to the repo backed investments. If these costs were redistributed, then AGNC thinks the actual earnings from the Dollar Roll income would only be $0.26 per share; and the net interest spread income would be commensurately higher. However, this may be a specious argument, since the company is using TBAs instead of repos in many cases.
Not only is AGNC using TBAs to effectively replace repos; but it says the TBAs offer "specialness" (lower financing rates than repos) currently. However, the company asserts that a 100 bps increase in the Dollar Roll financing market would essentially wipe out all of the "specialness." In other words, this financing option may not even be available at higher interest rates. Therefore it is probably a mistake for investors to count on this too much longer. The 100 bps increase would decrease the Dollar Roll income by about $0.10 per share, assuming AGNC had a $14B TBA position. Of course, as the table below of AGNC's portfolio shows, as of June 30, 2014, it has about $18.4B in net long TBA positions. This is higher exposure and higher risk position than at the end of Q1 2014.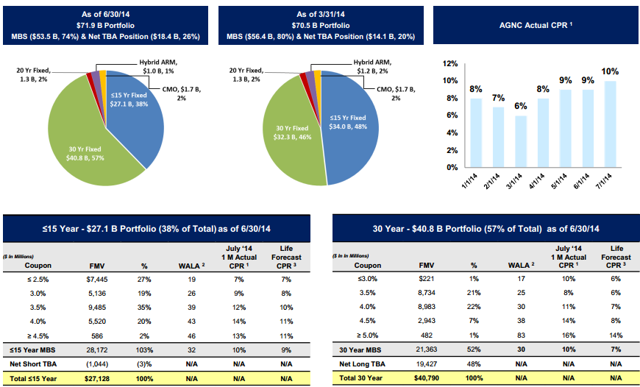 AGNC has gotten a bit riskier in other areas too. It had 94% of its repo position and other debt positions hedged as of March 31, 2014. It had only 88% of its repo and other debt positions hedged as of June 30, 2014. I am sure this saved the company money as interest rates dropped during Q2 2014 (and Q1 2014). It also increased the profits from the MBS as interest rates dropped during Q2 2014 because there were fewer hedges to subtract from the MBS gains. They move in opposite directions. However, less hedging makes the overall portfolio that much more at risk for interest rate increases; and investors should be aware of this. Of course, management can adjust hedging upward if interest rates start to rise.
Investors should also be aware that AGNC has again moved into a higher percentage of 30 year fixed rate Agency MBS positions. It had 48% of its portfolio in 15 year fixed rate Agency RMBS and 46% in 30 year Agency RMBS as of March 15, 2014. It had moved these percentages to 57% 30 year fixed rate Agency RMBS and 38% 15 year fixed rate Agency RMBS by the end of Q2 2014 (see chart and tables above). This move puts AGNC in greater danger from interest rate increases in the future.
Adding to this portfolio distribution danger, the danger of the lesser hedging percentage, and the "specialness" of the current TBA financing rates (which are likely to be less "special in the future"), AGNC also saw mortgages meaningfully outperform both 5 and 10 year US Treasuries as interest rates fell. AGNC says, "For perspective 15-year 2.5 Agency RMBS were up nearly 1.75 points whereas the 5-year US Treasury Note, which has similar duration, increased in price by less than half a point." Essentially the same situation occurred in the 30 year MBS markets. In other words, the gains in the MBS in Q2 2014 far outperformed the gains in the US Treasuries. Therefore the hedges did not subtract from the MBS gains nearly as much as one would expect. This was a big part of the great gains in book value during Q2 2014. However, it also means that these gains can be lost as quickly if interest rates reverse upward. They could disappear to a large extent by widening of basis spreads to, which also narrowed in Q2 2014.
Essentially everything that could go right for AGNC in Q2 2014 did go right. It means that there is probably no way to go but down in many of these areas, even without interest rate increases; and there will likely be interest rate increase soon. The Fed has said it will start raising Fed Funds rates about six months after the finish of the tapering of QE3. The tapering finish is expected to occur in October 2014.
Further the first estimate of the US Q2 GDP Growth was +4.0%. This was significantly better than the +3.2% expected. Some analysts are speculating that the Fed may wish to raise rates sooner than it has heretofore indicated. In fact on the US Q2 GDP Growth news, the US 10 year Treasury Note yield spiked from 2.46% to 2.56% in one day. It is unclear exactly what will happen in the future; but the big beat on the US Q2 GDP Growth number brings the spectre of higher interest rates into play likely much sooner than many had expected. Raises in interest rates would almost certainly mean losses in book value for AGNC as many of the positives mentioned above would reverse.
I should warn that higher US Treasury Note interest rates are not a definite. Argentina has just defaulted on its debt. The US and the EU are increasing the sanctions on Russia; and Russia is already in recession according to the IMF. These events seem likely to hurt the EU GDP in the future, especially if natural gas supplies are disrupted, etc. Instead of interest rates increasing, we could see a "flight to quality" in which US Treasuries will be bought. This would likely lead to lower interest rates instead of higher interest rates. Another factor may be the still valid downtrend in EU countries' bond yields. The ECB is clearly directing this, and it factors into the interest rates the US can get for its bonds. That is, if rates of unstable EU countries such as Spain are low, the US should be able to keep its own rates low. US Treasuries are significantly more stable than Spanish bonds. FYI, the 10 year US Treasury Note yield as of this writing on July 31, 2014 is 2.55%. The 10 year Spanish Note yield is 2.52%. Who really wants to pay more for a less stable Spanish bond?
The investor in AGNC should watch this situation closely. It will likely determine such things as the book value gains and the profitability of AGNC in the near future. For now, AGNC is still a buy, although a weak one. It did see huge book value gains and good profits in Q2 2014; but those gains could evaporate quickly in 2H 2014, if interest rates start to climb in anticipation of a US Fed raise of the Fed Funds rate. The really good news for now is that AGNC is trading at more than a 14% discount to its June 30, 2014 book value of $26.26 per share at a stock price of $22.93 per share as of the close on July 30, 2014. This gives AGNC a lot of buffer, if it starts to lose book value. Plus it is still paying an approximate 11.3% dividend, which is what many income investors are really interested in.
Some might worry that the dividend is in danger; and it is to a degree as I pointed out earlier. The TBA profits could easily become problematic in an increasing interest rate environment. However, the net interest rate spread would also likely go up in that environment. That would tend to counteract the losses seen in TBA profits. AGNC should also be able to redistribute more toward 15 year fixed rate Agency RMBS, if it deems that a better strategy; and it should be able to increase its amount of hedging. For now it makes sense to own AGNC. Investors should have ample opportunity to sell it, if that becomes necessary. Meanwhile it should provide good income.
The one year chart of AGNC provides some technical direction for this trade.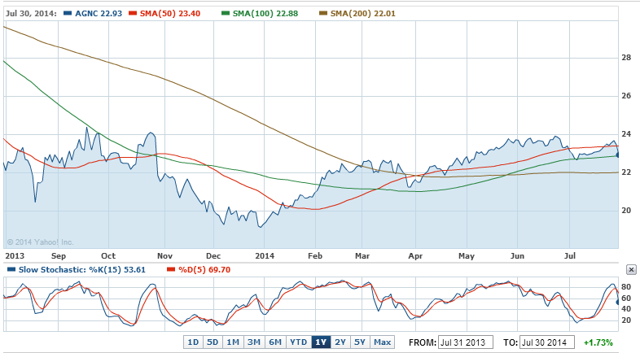 The slow stochastic sub chart shows that AGNC is neither oversold nor overbought. The main chart shows that AGNC's stock price bottomed at the end of 2013. It has been trending weakly upward since. With its June 30, 2014 book value 14%+ above its stock price as of July 30, 2014, AGNC seems a safe buy. This should be an adequate buffer against higher interest rates for the near term. Longer term, investors should get the opportunity to sell the stock with little or no loss in stock price, if interest rates start trending upward. AGNC can be bought; but it should be bought warily. For those who own it; they will likely want to continue to do so for the near future.
NOTE: Some of the fundamental fiscal data above is from Yahoo Finance.
Good Luck Trading.
Disclosure: The author has no positions in any stocks mentioned, but may initiate a long position in AGNC over the next 72 hours. The author wrote this article themselves, and it expresses their own opinions. The author is not receiving compensation for it (other than from Seeking Alpha). The author has no business relationship with any company whose stock is mentioned in this article.