By David Russell
MELA Sciences (MELA) faces a Food and Drug Administration meeting next week, and the bears are circling.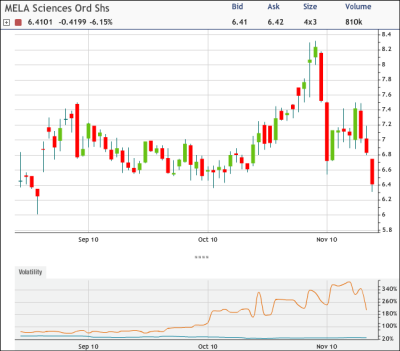 optionMONSTER's Depth Charge tracking system detected the purchase of about 5,900 puts for $0.45 and $0.50 against open interest of just 237 contracts. Overall option volume in the medical device maker is 3 times greater than average so far today.
MELA is down 6.15 percent to $6.41 in early afternoon trading and has fallen 22 percent since late October. The FDA is expected to release information on its MELAFind skin-cancer system on Tuesday, followed by an advisory panel meeting two days later.
Implied volatility is about 160 percent before the news, compared with MELA's realized volatility rate of about 50-60 percent in recent months. That differential indicates that traders expect a huge move in the stock price when the news is released.
Investors also bought about 1,500 November 4 puts for $1.
Puts outnumbered calls by almost 3 to 1 in the name, and the calls that did trade were mostly sold. Both facts reflect a broadly bearish sentiment.

Disclosure: No position