"Despite its popularity, ads promoting Clean Master manipulate Android users with deceptive tactics when browsing websites within the app's advertising framework."

-- Naked Security, April 4, 2014
Google Jeopardizes CMCM's Investment Thesis For Overseas User Monetization
Cheetah Mobile (NYSE:CMCM) has seen strong performance since its May 8, 2014, IPO at $14 per ADS, due to its top-ranked Clean Master app and large user base outside China. In its F-1 filing, Clean Master is described as providing junk-file cleaning, memory boosting and privacy-protection capabilities. Clean Master was the number one ranked application in the Tools category on Google Play by worldwide monthly downloads in March 2014. It was also the number two ranked mobile utility application in China in terms of monthly active users in February 2014, according to iResearch (a third party market research firm). The Clean Master app is the flagship product for CMCM and the company distinguishes itself from other China-based mobile utility app developers in its overseas growth potential, stating this in its SEC filings.
According to CMCM's F-1 filing, "Clean Master" represents over 35% of its app downloads and is an integral part of CMCM's future revenue model. The widespread usage and monetization of CMCM's mobile apps is the key to generating future revenues.
We are not alone in our interpretation of how important mobile users and Google (NASDAQ:GOOG) (NASDAQ:GOOGL) are to CMCM. Analysts have based bullish forecasts on CMCM's ability to generate growth and eventual monetization of mobile users outside of China.
In its F-1, CMCM cites the risk of any failure to expand its user base:
"If we fail to retain or grow our user base, or if our users decrease their engagement with our mission critical applications, our business, financial condition and results of operations would be materially and adversely affected."
CMCM's compliance with Google's policies is critical, per the F-1:
"We expect a substantial number of downloads of our mobile applications will continue to be derived from these distribution channels. As such, the promotion, distribution and operation of our applications are subject to such distribution platforms' standard terms and policies for application developers, which are subject to the interpretation of, and frequent changes by, these distribution channels. If Google Play, iOS App Store or any of the major distribution channels change their standard terms and conditions in a manner that is detrimental to us, or terminate their existing relationship with us, our business, financial condition and results of operations may be materially and adversely affected."
As of July 15, 2014, the Clean Master App Was Dropped Off Google Play Rankings
By encouraging users to uninstall Google Chrome and replace it with CMCM's own browser during Clean Master's "clean-up" and "optimization" process, CMCM appears to have now upset Google, leading Google to crack down on this rogue practice which allowed app developers like CMCM to gain an unfair position in the marketplace.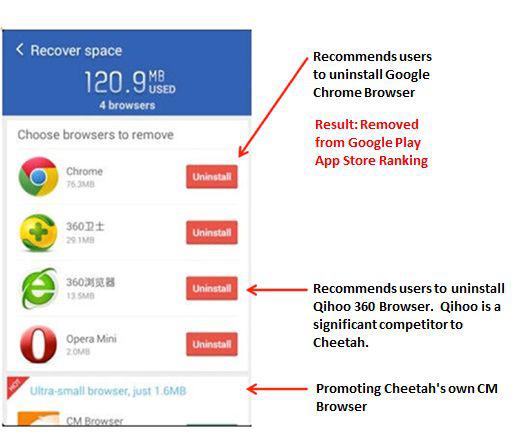 CMCM's indiscretions were brought to light by Chinese-language IT news portal LanDian News. Here is an English translation of the recent post:
"In order to promote their own software, some software vendors encourage users to uninstall Google Chrome and other third-party browsers. This is a common practice in China, but such practice is banned overseas.
Recently, because of Cheetah's Clean Master app's alleged violation of the rules for promotions, Google severely punished Clean Master by removing it from Google Play rankings in all regions of the world.
According to overseas netizens, Clean Master could still be found on the ranking list before July 14 in multiple countries, but the app is no longer in the ranking list of any country since July 15.
Shortly after, an unidentified source suggested that because of the suspected malicious intent to mislead users to remove legitimate apps, Clean Master was penalized by Google Play worldwide. So far there is no clear timetable for the penalty to be lifted.
According to sources close to the matter, Cheetah's Clean Master violated Google Play's policy because Clean Master ("CM") promotes its CM Browser in the notification bar. However, this promotional approach is suspected of violating multiple Google Play rules.
It's understood that Cheetah Clean Master uses system notifications as advertisements for irrelevant functions, which violates Google's rules. Furthermore, it intentionally misleads and encourages users to uninstall third-party apps, including third-party browsers such as Google Chrome that have no known security concerns.
Meanwhile, Clean Master employed a straw-man tactic to mislead users by misrepresenting the size of the installation file's memory footprint requirement. As a result, users are misled that CM Browser could significantly reduce the memory footprint. Furthermore, Cheetah provides a clear "uninstall" button to encourage users to remove Chrome or other third party browsers that have no known security issues."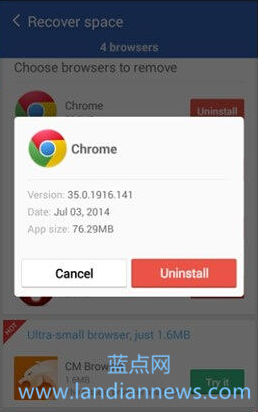 Per Naked Security, Google has been making a significant push to clean up the Google Play store:
"Through periodic updates to its policies, Google is attempting to clean up its Android market and punish developers who try to work around the rules against pornography, gambling, spyware, adware and malware - even as the number of apps in the Play Store has surged past one million with more added every day.

Although the policy changes won't stop developers from cramming free apps with advertising, the rules Google announced on 28 March 2014 make several adjustments to Google's policy on what typically we would call adware.

The biggest change to the policies is the addition of an App Promotion policy, which bans ad behavior such as silently downloading apps without user consent, and ads that use misleading pop-up warnings including simulated system, service, or app notifications or alerts.

In an email to developers and in a post on Google+, Google notified developers that they have until 12 April 2014 to comply, or they risk having their apps bounced from the store."
It seems that CMCM was given ample time to comply with Google's demands, but chose not to do so. This raises serious concerns regarding CMCM's highly touted international expansion just less than three months after raising almost $200 million (including the green shoe) from its IPO debut in early May.
Another issue investors need to consider is that our research also indicates that utility apps are ultimately a dead-end in the increasingly closed Android world, which is rapidly eliminating the need for stand-alone, third party system optimization tools such as CMCM's Clean Master or Battery Doctor. This is a second major threat to CMCM's business plan.
Without App Store Rankings, Acquiring New Users Will be More Costly
With the removal of Clean Master from the Google Play store ranking, it will be much more difficult for CMCM to acquire new users. App store rankings are a critical method for app discovery by consumers. In fact, general browsing through the app store is the most prevalent way of finding new apps. Per Wikipedia, App Store Optimization ("ASO") "…includes the process of ranking highly in an app store's search results and top charts rankings. ASO marketers agree that ranking higher in search results and top charts rankings will drive more downloads for an app." Because Clean Master is no longer ranked, it is now exceedingly difficult for users outside of China to discover and download the product (within China there are hundreds of Android "app stores" and Google Play, like all other Google products including Gmail, is blocked). CMCM would now have to greatly increase advertising spending to attract overseas users to Clean Master, and this would surely complicate and further delay the implementation of its monetization strategies.
Clean Master's Delisting From the Google Play Rankings Could Get Worse
Even worse than being booted from the Google Play rankings, there is a chance that Clean Master could get terminated from the Play store entirely. This would be a disaster for CMCM as users outside China would no longer have access to Clean Master. In fact, Naked Security specifically calls out Clean Master in the article:
"Clean Master is a wildly popular download, ranked number one in Google Play's Tools category, according to TechinAsia.com, and is promoted as an "Android cleaner and optimizer," including protection against malware.

Despite its popularity, ads promoting Clean Master manipulate Android users with deceptive tactics when browsing websites within the app's advertising framework.

Ferenc László Nagy of SophosLabs Hungary has captured some pop-up ads that lead to Clean Master, warning you that your device has been infected with a virus.

In the screenshot at right [below], you see that this particular pop-up ad says: "Your Android has been infected with a virus. Tap OK to remove now"

On the buttons it says in Hungarian "Mégse" (Cancel) and "OK."

Only if you press "OK" the ad redirects you to the download of the Clean Master App, and does not "remove" the ("fake") virus as the ad claims.

According to the website Stayprotected.com, several other ads promoting Clean Master resemble warning screens informing you that your battery is running low due to "potential viruses" on the device."
Thus in order to grow users, it seems CMCM engaged in a dubious advertising strategy via pop-ups and fake scanners to promote its Clean Master app.
Impact and Implications
CMCM's premium valuation is driven by the "promise" of future monetization of mobile users (most of CMCM's revenues today come from traditional online business). CMCM's valuation is thus driven by potential mobile user growth and monetization of those users. To date, CMCM has been unable to monetize its large mobile user base of 223 million monthly active users.
Given the removal of Clean Master from the Google Play Store rankings, CMCM's mobile user growth and future potential revenues are sure to be impacted. We can thus begin to eliminate from the equation the related growth assumption investors have likely built into CMCM's recent valuation multiples.
Currently, CMCM spends approximately 27% of sales on marketing. The former high ranking of Clean Master on Google Play provided a low cost of user acquisition. With greatly reduced visibility on Google Play, CMCM will be forced to increase its marketing expense to sustain mobile user growth. We would also expect analysts to ratchet down their financial estimates on CMCM and downgrade the stock.
CMCM has a recent enterprise value of $2.6 billion and is expected to generate approximately $251 million in sales this year. CMCM's 2014 EV/Sales multiple of 10.5x is higher than its well-entrenched larger competitor, Qihoo 360 Technology Co. Ltd. (NYSE:QIHU), which has only a 9.3x EV/Sales multiple. Given its now uncertain growth prospects, CMCM's mobile user "premium" is at risk, and its shares deserve a much lower valuation than QIHU.
If CMCM were to trade on par with QIHU EV/S multiple it would be worth around $16.73. Given that CMCM may no longer have a global advantage over its competitors we believe it should trade at a minimum 20% discount to QIHU's EV/S multiple, resulting in a share price of $13.40.
From a price to earnings standpoint, QIHU trades at 40 times 2014 EPS, while CMCM recently traded at 86 times 2014 EPS estimates. Applying a similar P/E multiple analysis leads to price targets for CMCM of $7.04 (based on 32 P/E resulting from 20% discount) and $8.80 (based on 40 P/E, without discount), respectively.
Disclosure: The author is short CMCM. The author wrote this article themselves, and it expresses their own opinions. The author is not receiving compensation for it. The author has no business relationship with any company whose stock is mentioned in this article.