By David Russell
Key Energy Services (NYSE:KEG) is fighting its way higher, and the bulls are looking for a breakout.
optionMONSTER's Heat Seeker tracking system detected a surge of call buying in the company, which has traded only an average 57 contracts a day over the last month.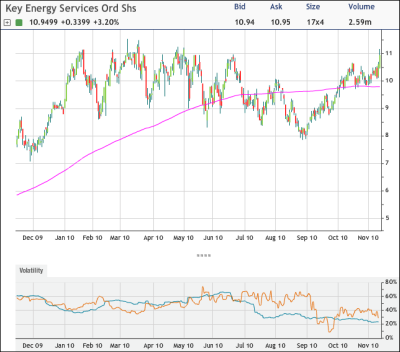 Volume is 100 times that amount today as investors look for the stock to escape from a range that has held it in check since January. The December 10 calls are the most active strike, and have traded about 3,100 contracts against open interest of 1,983.
Premiums ranged from $1.20 to $1.35. The March 12.50s traded about 1,736 times for $0.50 to $0.65 against open interest of just 69 contracts.
KEG is up 3.2 percent to $10.95 in afternoon trading and has climbed 26 percent in the last three months. The provider of oil-field services has spent about the last week consolidating above its 200-day moving average (purple line on chart) and seems to have broken a downtrend that has been in place since about March.
Traders may consider that chart pattern as evidence of an emerging uptrend and look for the stock to climb--especially considering the broad strength in the energy sector over the last three months.
Calls in KEG outnumber puts by 22 to 1 so far today, according to the Heat Seeker.

Disclosure: No position