This Great Graphic was tweeted by Phil Izzo and was taken from the Federal Reserve Board. It tracks the dissents at the Federal Reserve. What is striking are the numerous dissents at both ends of the time line, but few in the middle, which captures the so-called bubble years. The shaded area on the far right is the era of unconventional policy.
When looking for a pattern among the regional Fed, remember that outside of the NY Fed, the other regional presidents rotate as voting members on the FOMC. Dissents from the Board of Governors are rarer, and perhaps their scarcity makes them more significant than a regional Fed dissent.
Dissents can be important if it is a proverbial canary in a coal mine that warns of a broader shift. This is what many expect to happen in the Bank of England. A hawk dissents and then more and then it is a majority. However, it does not often work that way at the Federal Reserve. It is more idyosyncratic, owing to the personality and disposition of the regional Fed president. It rarely appears significant, especially when the dissents are over words rather than action.
Some observers attach importance in the fact that the 2015 rotation of regional presidents voting on the FOMC. However, the hawkish tilt this year has not translated into a deviation from the strategy outlined by Bernanke before he stepped down. Investors should pay most attention to the central committee of the Fed, as it were: Yellen, Dudley and S. Fischer.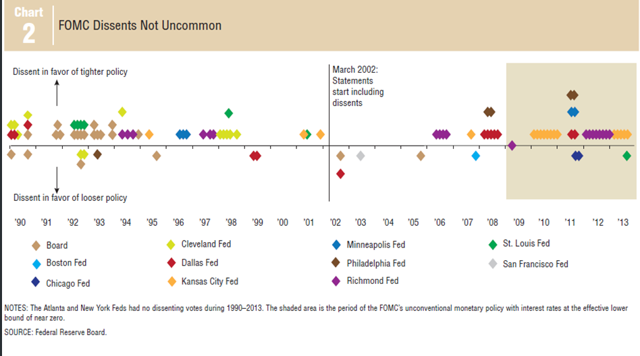 Click to enlarge
Disclosure: The author has no positions in any stocks mentioned, and no plans to initiate any positions within the next 72 hours. The author wrote this article themselves, and it expresses their own opinions. The author is not receiving compensation for it. The author has no business relationship with any company whose stock is mentioned in this article.