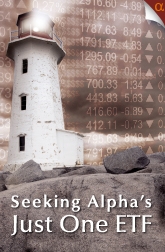 Several times a week, Seeking Alpha's Jason Aycock asks money managers about their single highest-conviction position - what they would own (or short) if they could choose just one stock or ETF.
---
Keith Summers has been managing funds for Tricoastal Capital, a Buffalo, N.Y.-based RIA, since their inception in 2004. He's managed institutional portfolios for 17 years in both the U.S. and Canada, following a career in banking and public finance.
Which single asset class are you most bullish (or bearish) about in the coming year? What ETF position would you choose to best capture that?
We're bullish on emerging markets. Market Vectors Indonesia Index ETF (NYSEARCA:IDX), a U.S.-listed ETF that tracks the Indonesian equity market, is a good example of an emerging market that we like - although our fund exposure isn't limited to just one country.
How does this ETF fit into your overall investment approach? Tell us a bit about your strategy and goals.
Our fund, Tricoastal Capital Partners LLC, is a global macro fund – that means we look for "big trends," and have no geographic preferences or biases - we are as likely to invest in Norwegian Large Caps as we are to invest in South African Small Caps, or the global auto sector, or nickel, or oil, for example. Our goal is capital appreciation.
Can you tell us more about the area of emerging markets, and why that's the area you're bullish on?
There is more to emerging markets than just the BRIC countries. Of the 20 largest economies in the world, nine of them are classified as "emerging." The best investing stories usually involve buying the stock that no one else loved and watching it grow. That's what these are.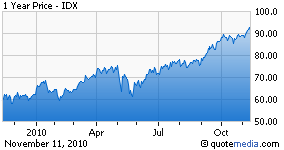 Many investors in the developed world think of emerging markets as either volatile, tin-pot dictatorships that used to be recipients of foreign aid or places that are exotic and hard to comprehend (how many of us could read an annual report written in Russian?).
By investing (or not investing, as the case may be) based upon assumptions, rather than facts, they are overlooking one of the best "growth at reasonable prices" opportunities today.
Just remember, in the 1950s, Japan was an emerging market.
Are there alternative ETFs that could be used to capture the same theme?
The iShares MSCI Indonesia Investable Market Index ETF (NYSEARCA:EIDO) is another ETF that tracks Indonesian equities, but IDX has more daily volume.
Does your view differ from the consensus sentiment here?
We don't differ from the consensus - but Indonesia is frequently overlooked. This is a young country, with a median age in the mid-20s – as opposed to China (or the USA) which is in its mid-30s, or Japan and parts of Europe which are into their 40s.
A young median age implies an increasing proportion of educated people, low fixed costs and lots of ambition. Plus, this is a stable democracy in a region where trade is growing faster than anywhere else in the world. This market has everything going for it.
What catalysts, near-term or long-term, could mean a significant move here?
Although macro trends tend to be long-term - we revisit our portfolio allocations monthly to determine if they still make sense. This discipline is part of the reason we've earned a 5-star rating from Morningstar.
This isn't a situation where we've identified a specific catalyst (we admit to not being Grahamites or Buffetteers) - there is a secular trend here: a newly educated young population, pent-up demand, access to resources and low labor costs and an open, competitive economy in a multiparty democracy.
Are these characteristics that you would say would be applicable across all the most promising emerging markets? Any other examples aside from Indonesia?
Yes. This is actually a consistent characteristic of most of them: for example, Turkey has a median age of 28 and 87% literacy; 70% of the population is in urban areas; and the urban population is growing 50% faster than the general population – this is a good predictor of increased consumer demand.
This is a diversified economy which continues to benefit from the ongoing privatization of state-owned enterprises. And GDP is growing at about 7% per year. The equity market is up over 50% in local currency; over 60% in U.S. dollars over the last 12 months. All this, and Turkish stocks are still only trading at 11 times forward earnings.
What do you think the effect of the Fed's asset-purchase program (quantitative easing) will have on your emerging-market investments? Certainly it could extend some rallies, including commodities and (by extension) emerging-market stocks.
Leaving aside whether or not QE2 was a good idea for the U.S., it is clearly going to devalue the U.S. dollar, driving up commodity prices (if by nothing more than the devaluation) and in turn, encouraging risk capital to migrate to markets where not only are the companies profitable, reasonably priced and growing - but their base currency is too.
I'd expect the more resource-oriented emerging markets (Middle East, Africa and Latin America) to do better than the Asian emerging markets - but even the Asian markets will probably outperform U.S. markets for the next little while. (And no, buying KO as a way of accessing the growing youth market in emerging economies is not a better way to play this trend.)
What could go wrong with IDX?
As with any single-country ETF, there is always a geopolitical risk; natural disasters would hurt the market in the short run.
Thanks, Keith, for sharing your ideas with us.
Disclosure: Long IDX
Read more Just One ETF interviews »
If you are a fund manager and interested in doing an interview with us on just one stock or ETF position you'd hold, please email us at Just One Stock.