The economy is sending a lot of mixed signals right now. Consumer Confidence stands at the highest level since October 2007, job growth is coming in at the strongest levels since the recession ended in June 2009 and Q2 GDP just came in much stronger than the consensus.
However, wage growth is barely keeping up with inflation and middle and lower end consumers remain under distress. This can be seen in the fact that Wal-Mart (NYSE: WMT) has had five straight quarters of declining same-store sales domestically and the dollar store space is starting to consolidate in response to poor sales growth. The housing market also seems to have stalled again recently.
The overall market measured by the S&P 500 was basically flat for the month of July even as events in Ukraine, Israel and Argentina added to geopolitical concerns investors had on their radar already such as Syria. This continues to be a bifurcated market as small caps measured by the Russell 2000 underperformed the overall market by several hundred basis points for the month. The S&P 500 has now outperformed the Russell 2000 by more than 10% over the past six months as investors are targeting their funds towards the large cap blue chips of the market.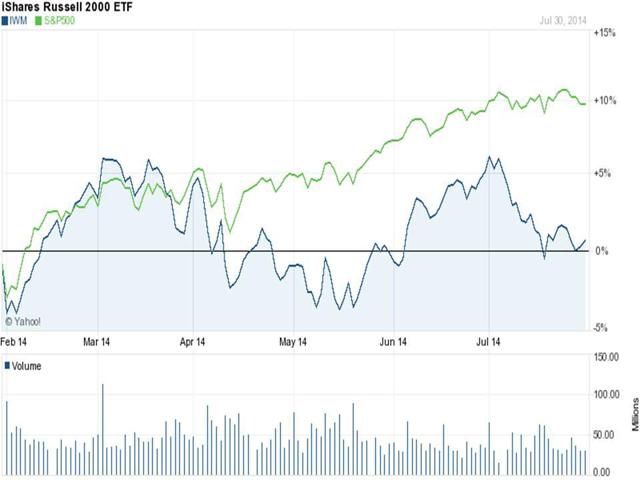 Based on the strong recent GDP report and the fact the Federal Reserve should be finished winding up its latest easing program by October, I believe we have seen the lows of the year for interest rates and yields. This should be good for banks as their net interest margins expand as well as for the investment performance of insurers' portfolios. Investors should adjust accordingly. I would also move to deeply underweight the Utility sector, which has been a standout performer so far in 2014. Rising interest rates will hurt the sector and valuations are stretched already.
I continue to find opportunities in the Energy sector as the country is firmly on the path to marching towards energy independence. Industrials and Technology sectors also seemed undervalued compared to the rest of the market.
I think the trend towards blue chip growth companies will continue through the long, hot summer where trading will be dominated by low volume. I would underweight small cap stocks here until they start to behave better and sentiment in the market shifts back to "risk on." I would be adding to reasonably priced large cap growth plays on any dip in the overall market.
On the top of that list is Gilead Sciences (NASDAQ:GILD). As I recently graphically detailed, Gilead is the cheapest large cap growth play in the market right now. It is undervalued compared to its biotech peers, other large cap growth plays like Google (NASDAQ:GOOG) (NASDAQ:GOOGL) and the overall market. Earnings are set to more than triple this year on the back of its hepatitis C blockbuster Sovaldi on the back of a better than 125% year-over-year increase in revenues. Despite this massive growth, Gilead is selling at just over 12 times this year's expected earnings; a 25% discount to the overall market multiple.
I would be also be adding to Micron Technologies (NASDAQ:MU) as it sells off today on poor earnings from DRAM competitor Samsung. This huge conglomerate is almost 20% of the Korean exchange and is in everything from chips to smartphones. Samsung did mention some ramp up in DRAM capacity but I expect pricing discipline to hold better than in the past as the market is now an oligopoly. Micron's shares are cheap at ~$31 a share where the stock goes for less than 10 times forward earnings. The company has also blown away earnings estimates for three straight quarters including when it last reported in June.
Finally, emerging markets are starting to see increasing fund flows. I recently opened a position in the iShares China Large-Cap ETF (NYSEARCA:FXI). China's market has done absolutely nothing over the past five years --even as almost every other market in the world has experienced huge rallies.
Sentiment seems to be turning on the outlook on the Middle Kingdom. The country's recent manufacturing PMI rating came in stronger than expected and economic growth seems set to improve. The Chinese government recently instituted a series of supportive policies including the cutting of reserve requirements, accelerating infrastructure spending, and the loosening of property curbs. Based on earnings, the market is about half as cheap as ours, and it seems an appropriate time to increase exposure on this overseas market.
Finally, I would avoid any high-flying shares where earnings are not growing at least in-line with revenues. The poster boy to avoid using these criteria is Amazon (NASDAQ:AMZN), which took a hit recently as investors finally are getting tired of the company postponing earnings for more "investment" in the future. Even after the decline, the shares go for more than 150 times next year's projected earnings.
Corrections are more likely to continue to consist more of sector rotations than of an overall market decline of any significance. Stock picking and sector allocation are going to be critical for performance. Discretion should continue to be the better part of valor for the months ahead.
Disclosure: The author is long FXI, GILD, MU. The author wrote this article themselves, and it expresses their own opinions. The author is not receiving compensation for it (other than from Seeking Alpha). The author has no business relationship with any company whose stock is mentioned in this article.