Precious metals, especially gold, have dominated the attention of the investors and media recently. But metal producers are also benefiting from increase in industrial demand of another metal thanks to the emerging markets, especially China.
Copper prices, currently at about $4/lb, are trending up are lifting the shares of the copper producing mining companies. The demand outlook remains strong and some analysts predict as much as 50% increase in price of copper next year.
Freeport-McMoRan Copper & Gold (NYSE:FCX), one of the world's largest producers of copper and gold, is fully taking advantage of the rising metal prices. In the recent gold rally, which started on July 28, Freeport gained 54% and out-performed the yellow metal (the shiny one) gain of 21%. It also gives $2.00 a share dividend ($1.20 before), something physical lacks.
click to enlarge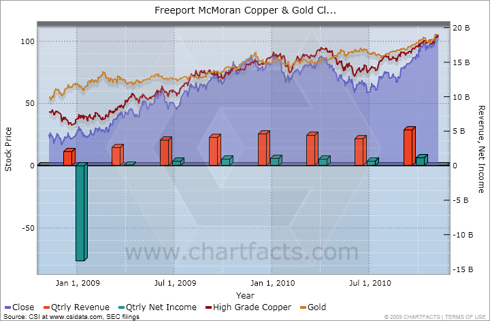 The strong management team, while focusing on debt reduction, turned the company into a cash-generating machine. Over the past 12 months, it generated $4.4B cash on net income of $3.8B.
Freeport is consistently beating the earning estimates and has a Zacks rating of 1 (strong buy). It is geographically diversified and the operations take advantage of the low average costs, large scale and long life reserves. With a strong balance sheet and growth potential, investing in this company is a great way to expose to the metal market.
FCX is trading above $100 level and has a short-term price support at this level and a strong one at $90. Buy it in dips to reduce your risk. The stock is very sensitive to copper price (about 75% of sales) and to some degree to gold price (about 12% of sales). If metal prices fall, the company's revenues and margin will be under pressure.
Disclosure: No positions