Wednesday night, CSCO (NASDAQ:CSCO) reported earnings that beat the estimates, but its outlook scared investors away. Yesterday morning, stocks opened lower, especially techs. CSCO itself closed down more than 16% on the day. Its competitors Juniper Networks (NYSE:JNPR) and F5 Networks (NASDAQ:FFIV) were down at open, by quite a bit. But before the end of the day, both stocks came back into the green. The market started bouncing right after the weak open and gained momentum in the afternoon.
Coal stocks were especially strong. Buyout speculations were still active. Most coal names gained more than +3%, including Peabody Energy (BTU), Arch Coal (ACI), Alpha Natural Resources (ANR), and Patriot Coal (PCX). Walter Industries (NYSE:WLT) and Massey Energy (NYSE:MEE) were up more than +2%. Agriculture shares saw more buying yesterday. Mosaic (NYSE:MOS) added +2.55% while CF Industries (NYSE:CF) rose +2.97%.
Human Genome Sciences (HGSI) jumped +8.84% yesterday as it was seen once again as a buyout candidate. Its lupus drug is up for approval next month. Disney's (NYSE:DIS) earnings results were somehow leaked before the market close yesterday and its shares dropped quickly. But, after the conference call, investors seemed to have changed their minds as the forward guidance was positive. DIS shares climbed +1.73% higher in after-hours.
The Dow finished down 73.94 points; SPX flipped 5.17 points; Nasdaq fell 23.26 points: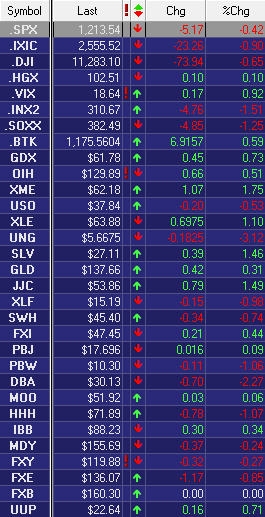 SOXX (semiconductors) and INXX (internet) led the market's decline, losing 1.25% and 1.51%, respectively. Helping to prop up the market, XME (metals and mining) added +1.75% while XLE (energy) gained +1.1%. GLD (gold) and SLV (silver) both went up. UNG (natural gas) fell 3.12%. FXI (Chinese ADRs) advanced +0.44%.
SPX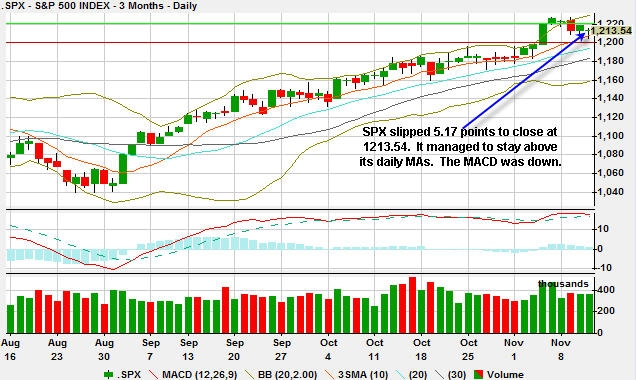 SPX slipped 5.17 points to close at 1213.54. It managed to stay above its daily MAs. The MACD was down. click to enlarge
Nasdaq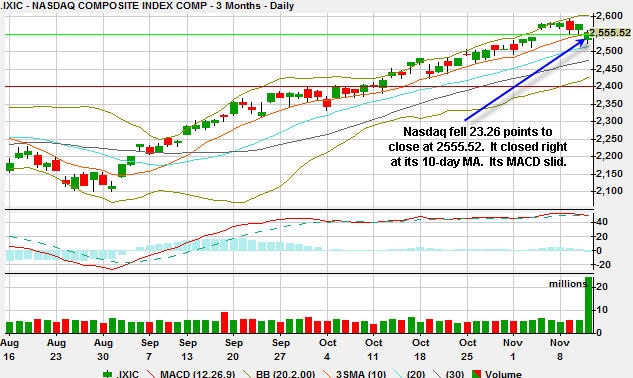 Nasdaq fell 23.26 points to close at 2555.52. It closed right at its 10-day MA. Its MACD slid. click to enlarge
Even with CSCO's surprisingly weak earnings report, the market seemed to have avoided what could have been a disastrous day. The futures yesterday morning certainly had many bears fooled, at least for now. VIX even went red for a brief moment, before finishing up just 0.17 of a point! A lot of people still remain skeptical about this market, but, dip-buyers seem to keep coming in. CSCO certainly affected the market yesterday, especially the techs. Google (NASDAQ:GOOG), Apple (NASDAQ:AAPL), and Amazon (NASDAQ:AMZN) all traded lower. The strength in commodity sectors yesterday somewhat offset the weakness in the techs. Financials could be the key to break this tie. Buyers will return to the techs if the broader market is stronger, and CSCO may be brushed off as an isolated case. So, we'll watch the financials closely.
Disclosure: No positions