It's never easy to exist as a financial company facing multiple controversial allegations. Right now, London's venerable Barclays (NYSE:BCS) finds itself in this tenuous situation.
The U.S. Senate is now taking interest in Barclays' efforts to create dubious tax savings for clients. According to Senate investigators, these novel arrangements have cost the U.S. government billions in lost taxes.
Complexities of Basket Options
Over the course of a fifteen-year period between 1998 and 2013, Barclays and Deutsche Bank (NYSE:DB) have created complex tax saving instruments known as basket options. These structures were used to create controversial tax savings for over a dozen hedge funds.
Renaissance Technologies is one hedge fund that has sidestepped more than $6 billion. Other funds that have used basket options include SAC Capital Advisers and George Weiss Associates, a New York-based strategic fund. Senate investigators claim that basket options were used to bypass the taxes on short-term profits by disguising them as long-term earnings.
From the perspective of an outsider, basket options can seem inherently dishonest. In these arrangements, Barclays would open accounts in their names on the behalf of clients. Though these assets were officially under Barclays' name, they were actually under the full control of clients. Basket options were designed to allow hedge funds to avoid official restrictions that keep hedge funds from over-borrowing and overextending themselves. Using a typical brokerage account, an investor can borrow fifty cents for every dollar banked. Using basket options, Barclays clients can borrow as much as $17 for every dollar banked.
US Senate's Damning Portrait
The Senate's 93-page report on basket options paints a fairly damning portrait of these financial products. Using basket options, Renaissance Technologies reportedly avoided paying more than $6 billion in taxes over the course of the past decade. In a world where most investors pay their taxes willingly, tax avoidance on this level can seem the product of careless superiority.
In 2014, it is no longer unusual to find that banks have engaged in reckless, unethical behavior. However, it is still notable for a centuries-old institution like Barclays to combat two pressing controversies simultaneously. Even as it faces hard questions about tax avoidance, Barclays is weathering a storm of disapproval related to its dark pool policies. Reportedly, Barclays has made a habit of giving high-frequency traders unfair access to the bank's dark pool.
Increasing Public Awareness
Though investors and analysts have had concerns for quite some time, this issue only rose to public prominence when Barclays was sued by the U.S. state of New York. New York Attorney General Eric Schneiderman is leading New York's effort to hold Barclays accountable for its alleged breaches of client trust.
Schneiderman alleges that by not disclosing the nature of its dark pool policies, Barclays defrauded clients. In the wake of this lawsuit, Barclays has seen its dark pool business dwindle to a shadow of its former self.
New York State isn't the only party suing Barclays over its dark pool arrangements. A private American investor named Barbara Strougo is suing Barclays, current Barclays CEO Antony Jenkins and Bob Diamond, the former CEO who resigned in 2012 amid unrelated scandals. Strougo's class action lawsuit claims that Barclays' wrongful acts led to New York's investigation and the subsequent loss in value of Barclays' depository shares.
Ongoing Controversies Take Toll: Investors Should Take Caution
Barclays' ongoing controversies have certainly taken a toll on the bank's share price.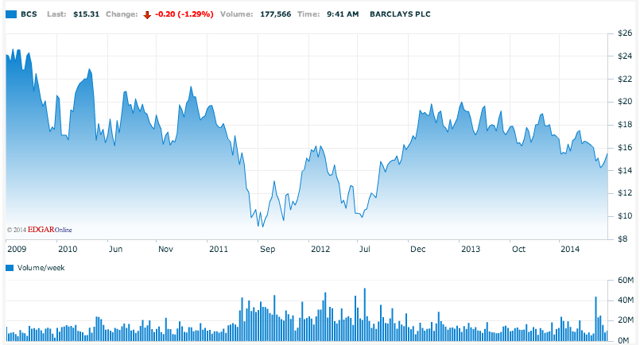 (Nasdaq.com)
Earlier in July, shares fell to the lowest levels since November 2012.
In the course of the next three years, Barclays is planning to eliminate as many as 19,000 jobs.
In May 2014, RBC Capital downgraded BCS to Sector Perform.
BCS has noted stronger than expected results in Personal & Corporate Banking divisions, albeit a decline in investment banking. Analysts note that BCS has underperformed all other UK banks YTD.
Time will tell how poorly Barclays will fare as it faces the repercussions of bad decision-making; at present, investors might consider selling Barclays and buying CIT Group (NYSE:CIT), which is expanding, scandal-free, and with strong management.
We invite readers wishing to join the discussion on Barclays to click the +FOLLOW button above the title of this article, and those looking for the latest updates to click +Get real-time alerts.
Disclosure: The author has no positions in any stocks mentioned, and no plans to initiate any positions within the next 72 hours. The author wrote this article themselves, and it expresses their own opinions. The author is not receiving compensation for it (other than from Seeking Alpha). The author has no business relationship with any company whose stock is mentioned in this article.