Tesla (NASDAQ:TSLA) is set to report today after the bell.
The company is one of the high priced, high multiple momentum stocks that the market expects to see move in a big way post-earnings. August options that expire at the end of next week have priced in just about a 10% move in the stock's price.
Despite the bearish sentiment surrounding Tesla's lofty multiple, the stock has returned 70.5% in the last twelve months alone. You can make whatever argument you want about the company - the multiple is high, they have too much on their plate - but the one argument you can't make is against the company's stock price.
Those that have invested near IPO levels of $17/share have cleaned up with disgusting gains.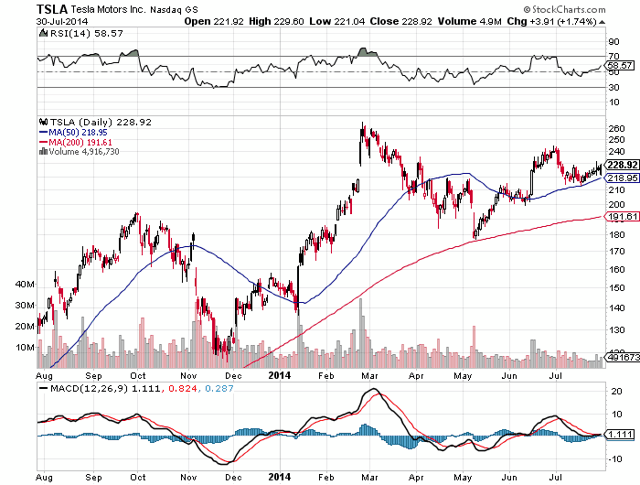 Last night, Tesla finally confirmed the much awaited deal with Panasonic for the company's Gigafactory. Seeking Alpha reported:
Tesla Motors confirms it struck a deal with Panasonic (OTCPK:PCRFY) on the construction of a battery plant in the U.S.
Panasonic will help manufacture cylindrical lithium-ion cells for Tesla vehicles.
The Gigafactory plant is expected to generate 35GWh of cells and 50 GWh of packs per year by 2020.
Forbes initial report on the joint PR stated:
The wording of the press release suggests many details remain to be worked out, including how much Panasonic will be investing. Earlier reports, however, suggested a sum on the order of $200-300 million initially, which is expected to grow over time to perhaps $1 billion. In addition to building batteries at the new plant, Panasonic will continue to make them elsewhere and deliver them to the Gigafactory for assembly. The reason is that even the massive facility will only be able to produce about 70% of the cells needed for all the packs Tesla hopes to build - enough for 500,000 cars annually by 2020.
I had written about this earlier this week, claiming this one as a victory from bears who incessantly went on and on about how nothing was going to materialize from the LOI that the two companies had preceding the formal agreement.
In another of my previous articles, I talked about the potential benefits of Tesla's Gigafactory, aside from those that would come for vehicles. I watched a 2014 presentation by Tesla's Chief Technology Officer on battery production, which thoroughly impressed me. I recapped and wrote about this presentation here, noting some of the rather bullish quips that seemed to pop out of JB Straubel's mouth, tucked away under the unassuming cloak of a presentation about battery technology.
As the company continues to built itself out, its charging network also continues to grow. Most notably, the U.S. now finds itself blanketed and allowing someone to theoretically drive from Seattle to Miami without ever paying a single dime for gasoline.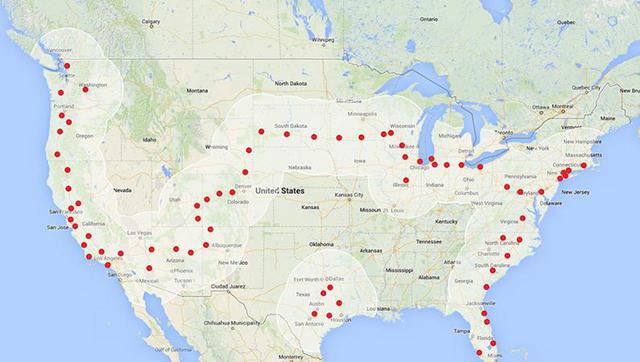 Tesla has significantly expanded their SuperCharger network in Europe and Germany over the last year, as well. As I would say, Tesla's plans of world domination appear to be on, or ahead, of schedule.
In terms of what analysts and investors will be looking for from earnings, vehicle deliveries will be front and center.
Analysts and investors are going to be looking for sentiment on the Model X, which the company is expected to start delivering in the first half of 2015. The company's own guidance was for 35,000 vehicles in 2014, and an analyst on CNBC early this morning echoed that number. Tesla beat its expected deliveries number for the first quarter and is banking on China and Asia to hopefully help kick that number towards 8,000 vehicles delivered for the quarter it'll be reporting. The company has targeted 28% margins for this year.
Remember, for a high multiple name - especially in a shaky market like the one we're having today - aggressive growth needs to continue to show its head in order to support the company's stock price.
I've been a long time bull on Tesla and continue to stay bullish on the company. I've long stated that the management team has my trust and hasn't given me a reason to turn on them. Every goal they set out for, they seem to make. Every problem Mr. Musk seems to face, he mows down: fire stories, direct sales issues, consumer report questions.
While the company does trade at an aggressive valuation, they have a short track record in their history of meeting and/or exceeding goals. Although I'd note there is risk heading into today's report, especially with the geopolitical uncertainty that's moving the market today, I remain firmly in Tesla's corner.
LAST MINUTE DISCLOSURE (submitted 3:56PM EST): I am in Tesla $225 long straddle that expires Aug. 8th.
Disclosure: The author is long TSLA. The author wrote this article themselves, and it expresses their own opinions. The author is not receiving compensation for it (other than from Seeking Alpha). The author has no business relationship with any company whose stock is mentioned in this article.
Additional disclosure: I hold calls and puts.