For anybody who sees extreme value in the airline sector and especially American Airlines Group (NASDAQ:AAL) stock, the plan to implement a stock buyback can't occur quick enough. The dividend can wait for now and if anything that portion of the capital allocation strategy is a waste of money for now.
It is amazing to think that American Airlines Group only formed back in December to merge the airlines of U.S. Airways and American Airlines. One was struggling to compete with the larger legacy airlines of Delta Air Lines (NYSE:DAL) and United Airlines (NYSE:UAL) and the other was in the middle of a bankruptcy. In seven short months, the new company is already generating enough profit to send cash back to shareholders. Before getting into the rush for a share buyback let's review the recent results.
Q214 Numbers
The Q214 numbers were atypical of the airline historically, but starting to become regular. Below are the highlights:
Revenue for the quarter of $11.4 billion, up 10.2% compared to last year.
EPS reached $1.98 for Q214.
Pre-tax margins jumped to 12.8%, compared to only 7.4% in Q213.
Available seat miles (ASMs) were up 3.1% while passenger revenue per ASM (PRASM) hit a record of 14.57 cents, up 5.9% versus Q213 on a combined basis.
The numbers slightly exceeded estimates with EPS projections of analysts sitting at $1.95 versus the $1.98 reported. The company had previously released projections for Q2 covered in this June update that allowed analysts to ratchet up estimates prior to the actual release.
Capital Allocation Strategy
With the release of the Q214 numbers, American Airlines announced a program to initiate a quarterly dividend of $0.10 and authorized a buyback of $1.0 billion. The dividend amounts to a yield of around 1.0% while the buyback has an expected completion date by the end of 2015. The first dividend will be paid on August 18 and is the first one in 34 years. With a market cap of $30 billion, the buyback is equivalent to roughly 3.3% of outstanding shares.
The strategy follows a plan implemented by Delta Air Lines last year and the start of a similar plan by United Airlines. For an industry decimated by bankruptcies in the past, the airlines are suddenly very profitable with strong cash flows.
For the year, Delta has repurchased 12.4 million shares at an average price of $36.33 for a total of $450 million and includes $100 million bought during July alone. Combined with a 0.63% dividend yield, the airline has returned $550 million to shareholders this year through mid-July. In total, the company has $1.8 billion remaining under the authorization of $2 billion back in May.
United Airlines announced plans for a $1.0 billion share repurchase plan with the intention of completing the plan within three years. As the company points out, the plan amounts to 6% of the outstanding shares.
Buy Baby Buy
The reason that shareholders should want American Airlines to use the substantial cash flows and cash balances to repurchase shares is that it will provide a big juice to earnings with the stock trading at only 6x 2015 earnings estimates. The estimates continue to ramp up with expectations having risen from $6.04 90 days ago to $6.81 today. A reduction of outstanding shares will quickly increase the number to above $7.
Table - EPS Trends

Source: Yahoo! Finance
The bigger question is why only spend $1 billion on buybacks. For Q214, American Airlines generated net profits of $1.4 billion leading to a cash balance of $10.3 billion. The airline does have $15.2 billion in long-term debt and other large liabilities, but it does have nearly $32 billion in flight and ground equipment. A quick 5% buyback immediately increases the earnings estimates to $7.15. If some of the higher earnings estimates are accurate including an estimate of over $8, a 5% buyback of only $1.5 billion quickly pushes the estimates closer to $8.50. Remember the airline had $1.5 billion of net profit during Q2 and should duplicate or even exceed that amount in Q3.
So while the increase in earnings from reducing outstanding shares is a solid benefit, the possible substantial gain to investors is that the multiple should expand. No reason exists for American Airlines to trade too far below a market multiple. A couple of industry examples in the industrials segment include CSX (NYSE:CSX) and Hertz Global Holdings (NYSE:HTZ). Neither is highly priced, but both far outshine valuations compared to the three legacy airlines.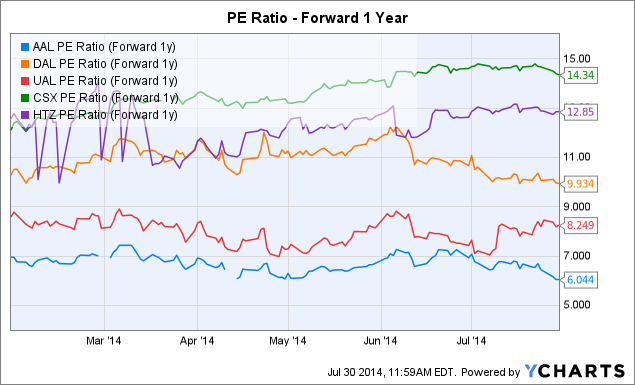 AAL PE Ratio (Forward 1y) data by YCharts
If the stock traded at multiples similar to stocks in other industries listed in the chart above, that $0.30 to $0.50 increase in earnings from a stock buyback would lead to a large stock gain. A 12 multiple on that $0.50 would provide a $6 increase to the stock, or the equivalent of a 15% gain. A 15 multiple on $0.50 would increase the stock by $7.50, or nearly 20%. Remember these gains are based on the extra earnings only and exclude the stock gains from an expanding PE multiple
Conclusion
The case for a quick repurchasing of shares while American Airlines and even United Airlines trade at low multiples is very clear. The ability to repurchase shares while the valuations are low not only allows for the purchase of a larger amount of shares, but also it will increase the gains once the airline stocks obtain more normal valuations as the market becomes more comfortable that the airlines are actually real profitable businesses now. At a normal earnings multiple of 12, investors can do the math on what American Airlines would be worth with earnings exceeding $7 in 2015.
Please American Airlines management, buy as much stock now as possible.
Disclosure: The author is long AAL. The author wrote this article themselves, and it expresses their own opinions. The author is not receiving compensation for it (other than from Seeking Alpha). The author has no business relationship with any company whose stock is mentioned in this article.
Additional disclosure: The information contained herein is for informational purposes only. Nothing in this article should be taken as a solicitation to purchase or sell securities. Before buying or selling any stock you should do your own research and reach your own conclusion or consult a financial advisor. Investing includes risks, including loss of principal.