The following is a list of profitable companies trading at attractive valuations, based on the PEG ratio.

All of the stocks mentioned below have seen positive earnings and sales growth over the past year, and analysts expect these earnings trends to continue over the next five years. In addition, all of these stocks have PEG ratios below 1.0, which usually signal undervalued conditions.

All data sourced from Finviz.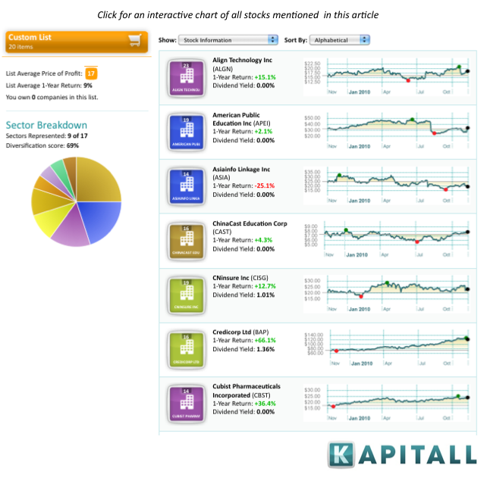 The list has been sorted by an average rank of earnings and sales growth.

1. First Solar, Inc. (NASDAQ:FSLR): Semiconductor Industry. Market cap of $12.08B. PEG ratio at 0.85. EPS has grown by 151.29% over the past 5 years, with EPS growth projected at 22.14% over the next 5 years. Sales have grown by 173.42% over the past 5 years. Short float at 21.18%, which implies a short ratio of 7.5 days. The stock has gained 17.61% over the last year.

2. ChinaCast Education Corporation (OTCPK:CAST): Education & Training Services Industry. Market cap of $390.28M. PEG ratio at 0.71. EPS has grown by 54.61% over the past 5 years, with EPS growth projected at 30.% over the next 5 years. Sales have grown by 33.88% over the past 5 years. Short float at 2.93%, which implies a short ratio of 5.54 days. The stock has gained 30.45% over the last year.

3. Medifast Inc. (NYSE:MED): Specialty Retail Industry. Market cap of $360.3M. PEG ratio at 0.73. EPS has grown by 42.27% over the past 5 years, with EPS growth projected at 25.00% over the next 5 years. Sales have grown by 43.37% over the past 5 years. Short float at 17.74%, which implies a short ratio of 7.45 days. The stock has lost -12.37% over the last year.

4. American Public Education, Inc. (NASDAQ:APEI): Business Services Industry. Market cap of $619.63M. PEG ratio at 0.91. EPS has grown by 41.62% over the past 5 years, with EPS growth projected at 25.00% over the next 5 years. Sales have grown by 45.16% over the past 5 years. Short float at 12.18%, which implies a short ratio of 7.46 days. The stock has gained 2.07% over the last year.

5. Neutral Tandem, Inc. (NASDAQ:TNDM): Wireless Communications Industry. Market cap of $529.46M. PEG ratio at 0.7. EPS has grown by 85.34% over the past 5 years, with EPS growth projected at 20.00% over the next 5 years. Sales have grown by 117.89% over the past 5 years. Short float at 8.24%, which implies a short ratio of 5.13 days. The stock has lost -33.14% over the last year.

6. Cninsure Inc. (CISG): Insurance Brokers Industry. Market cap of $1.06B. PEG ratio at 0.74. EPS has grown by 31.08% over the past 5 years, with EPS growth projected at 27.45% over the next 5 years. Sales have grown by 102.44% over the past 5 years. Short float at 6.65%, which implies a short ratio of 5.61 days. The stock has gained 13.87% over the last year.

7. Southwestern Energy Co. (NYSE:SWN): Independent Oil & Gas Industry. Market cap of $13.33B. PEG ratio at 0.98. EPS has grown by 38.49% over the past 5 years, with EPS growth projected at 22.5% over the next 5 years. Sales have grown by 35.08% over the past 5 years. Short float at 2.65%, which implies a short ratio of 1.98 days. The stock has lost -13.98% over the last year.

8. Deckers Outdoor Corp. (NASDAQ:DECK): Apparel Footwear & Accessories Industry. Market cap of $2.4B. PEG ratio at 0.73. EPS has grown by 34.07% over the past 5 years, with EPS growth projected at 24.33% over the next 5 years. Sales have grown by 30.51% over the past 5 years. Short float at 7.43%, which implies a short ratio of 2.51 days. The stock has gained 90.6% over the last year.

9. Iconix Brand Group, Inc. (NASDAQ:ICON): Apparel Footwear & Accessories Industry. Market cap of $1.28B. PEG ratio at 0.74. EPS has grown by 165.08% over the past 5 years, with EPS growth projected at 18.5% over the next 5 years. Sales have grown by 27.46% over the past 5 years. Short float at 10.95%, which implies a short ratio of 15.34 days. The stock has gained 45.76% over the last year.

10. Genoptix, Inc. (GXDX): Medical Laboratories & Research Industry. Market cap of $309.76M. PEG ratio at 0.7. EPS has grown by 24.02% over the past 5 years, with EPS growth projected at 20.00% over the next 5 years. Sales have grown by 202.33% over the past 5 years. Short float at 5.04%, which implies a short ratio of 2.56 days. The stock has lost -51.04% over the last year.

11. Cubist Pharmaceuticals Inc. (CBST): Drug Manufacturer. Market cap of $1.41B. PEG ratio at 0.85. EPS has grown by 50.99% over the past 5 years, with EPS growth projected at 16.70% over the next 5 years. Sales have grown by 52.54% over the past 5 years. Short float at 7.79%, which implies a short ratio of 6.11 days. The stock has gained 36.35% over the last year.

12. G-III Apparel Group, Ltd. (NASDAQ:GIII): Apparel Clothing Industry. Market cap of $515.56M. PEG ratio at 0.63. EPS has grown by 96.57% over the past 5 years, with EPS growth projected at 17.5% over the next 5 years. Sales have grown by 30.17% over the past 5 years. Short float at 9.84%, which implies a short ratio of 7.13 days. The stock has gained 48.84% over the last year.

13. Align Technology Inc. (NASDAQ:ALGN): Medical Appliances & Equipment Industry. Market cap of $1.41B. PEG ratio at 0.75. EPS has grown by 50.02% over the past 5 years, with EPS growth projected at 25.25% over the next 5 years. Sales have grown by 12.56% over the past 5 years. Short float at 21.45%, which implies a short ratio of 12.52 days. The stock has gained 15.12% over the last year.

14. Oplink Communications Inc. (NASDAQ:OPLK): Semiconductor Industry. Market cap of $333.62M. PEG ratio at 0.82. EPS has grown by 19.34% over the past 5 years, with EPS growth projected at 30.% over the next 5 years. Sales have grown by 32.22% over the past 5 years. Short float at 6.15%, which implies a short ratio of 4.12 days. The stock has gained 7.54% over the last year.

15. Netease.com Inc. (NASDAQ:NTES): Internet Software & Services Industry. Market cap of $5.21B. PEG ratio at 0.96. EPS has grown by 35.12% over the past 5 years, with EPS growth projected at 19.38% over the next 5 years. Sales have grown by 32.98% over the past 5 years. Short float at 3.19%, which implies a short ratio of 2.45 days. The stock has lost -4.16% over the last year.

16. Fuel Systems Solutions, Inc. (NASDAQ:FSYS): Auto Parts Industry. Market cap of $635.2M. PEG ratio at 0.63. EPS has grown by 70.05% over the past 5 years, with EPS growth projected at 16.67% over the next 5 years. Sales have grown by 30.77% over the past 5 years. Short float at 41.62%, which implies a short ratio of 19.4 days. The stock has lost -23.67% over the last year.

17. WMS Industries Inc. (NYSE:WMS-OLD): Recreational Goods Industry. Market cap of $2.5B. PEG ratio at 0.92. EPS has grown by 35.34% over the past 5 years, with EPS growth projected at 25.22% over the next 5 years. Sales have grown by 14.52% over the past 5 years. Short float at 8.22%, which implies a short ratio of 5.53 days. The stock has lost -1.09% over the last year.

18. Insituform Technologies Inc. (INSU): Heavy Construction Industry. Market cap of $891.86M. PEG ratio at 0.66. EPS has grown by 104.99% over the past 5 years, with EPS growth projected at 24.67% over the next 5 years. Sales have grown by 6.02% over the past 5 years. Short float at 8.64%, which implies a short ratio of 12.37 days. The stock has gained 6.46% over the last year.

19. Credicorp Ltd. (NYSE:BAP): Banking Industry. Market cap of $9.75B. PEG ratio at 0.77. EPS has grown by 28.24% over the past 5 years, with EPS growth projected at 23.8% over the next 5 years. Sales have grown by 19.32% over the past 5 years. Short float at 1.09%, which implies a short ratio of 1.87 days. The stock has gained 69.37% over the last year.

20. AsiaInfo-Linkage,Inc. (NASDAQ:ASIA): Security Software & Services Industry. Market cap of $1.42B. PEG ratio at 0.84. EPS has grown by 30.56% over the past 5 years, with EPS growth projected at 22.51% over the next 5 years. Sales have grown by 19.98% over the past 5 years. Short float at 7.15%, which implies a short ratio of 3.07 days. The stock has lost -25.15% over the last year.

Disclosure: No positions