Editor's note: Originally published on May 31, 2014
HEADLINE: Barron's Online article dated May 28th cites bulge-bracket analyst saying, "Fundamentals are stabilizing."
KEY POINTS:
Competitor key points - they cite, among other things, destocking at mines at 75-80% over and Caterpillar (NYSE:CAT) excess capacity down to 10-15% and most dealer inventories largely stabilized. They also cite rental utilization as having bottomed, improved bidding for operations and maintenance and replacement rates of <5% implying 20-year fleet age run rate versus 8-15 year normal.
Why they are wrong – their math sounds "comforting" but…
1. Destock is winding down but that doesn't mean sell through is improving.
2. Rental utilization trough - better than nothing, but won't drive new order growth.
3. O&M is necessary, expected, and a bigger piece of Atlas-Copco (OTCPK:ATLCY), Sandvik (OTCPK:SDVKY), and (we believe) Joy Gthan Caterpillar. CAT pushed more equipment = experiencing tougher environment.
4. Replacement rate argument - flawed because a) they measure against a glut of new equipment and b) mining companies continue to fire people, curtail projects and seek to conserve money.
5. U.S. coal - there are some ridiculously cheap coal stocks (not all, some) and thermal coal conditions are "less bad" but met coal pricing is still poor. Companies hemorrhaging money do not boost capex.
Does it matter? - Forget about a turn before 2016. At best 2015 can look "stable" against awful comparisons and we do see new capital formation, particularly by former Xstrata executives among others, to acquire properties. But any improvement beyond O&M support premature. One can argue value somewhere – the Street has 7 Buys on Joy Global (against 15 Holds and 1 Sell) but we don't see any catalyst.
Take-away: Per our April 24, 2014 Integrated Company Dashboard (ICD) on CAT, the company has improving fundamentals in construction and power generation but "The Trade Has Been Made."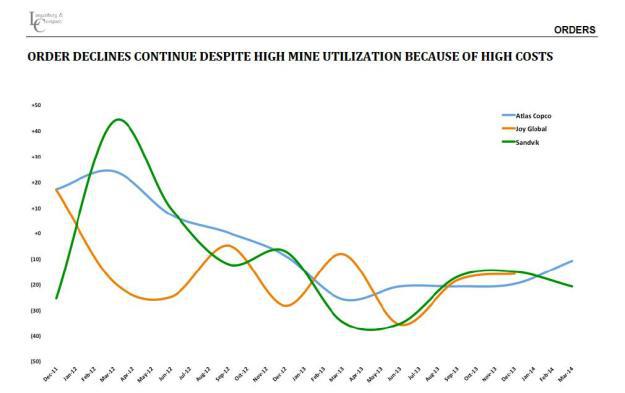 Orders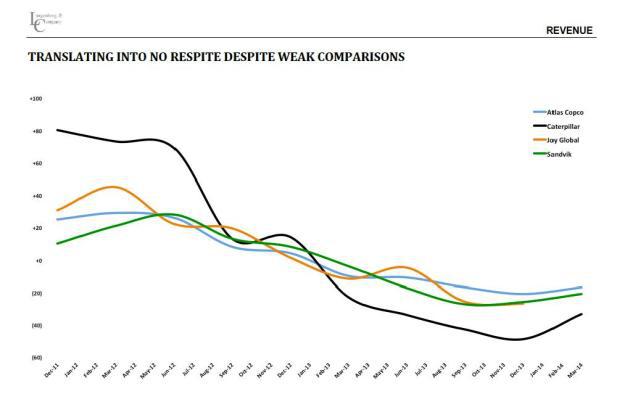 Revenue
Research leadership:
Brian K. Langenberg, CFA, Principal, Director of Research
Nathan E. Yates, Research Associate
Michael Williams, Research Intern/Mining Team
Special thanks to: Ms. Jiamin (Jamie) Zha, Mr. Mingchao (Carl) Zhang
Disclosure: No positions
Editor's Note: This article discusses one or more securities that do not trade on a major U.S. exchange. Please be aware of the risks associated with these stocks.