WPX Energy (NYSE:WPX) is a American oil and gas producer with assets located throughout the U.S. Previously the company was a wholly owned subsidiary of Williams (NYSE:WMB) but became an independent company in 2011. Since 2011 the company has continued to build a great land position and increase production at a good pace. WPX owns and operates on land in the Bakken Shale, Piceance Basin, San Juan Basin, Marcellus Shale, and the Powder River Basin.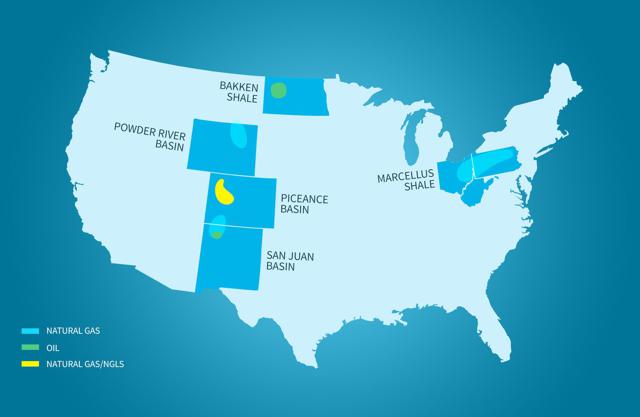 Click to enlarge
(click to enlarge) (Source:WPX website)
Bakken
In December of 2010 WPX (still a part of Williams at the time) acquired Dakota-3 E&P company, which held 80,000 acres in the Bakken at Fort Berthold Indian Reservation. Since that time they have increased proved reserves by 358% from 22.9MMboe to 105MMboe. Currently the company produces 15,600 boe/d from the holdings in the Bakken, which is a 36% increase Y/Y. In 2013 they participated in the drilling of 51 new wells and this year the company expects to drill a total of 60 there. All in all, the 2014 capital program calls for $580-600 million in the Bakken and the company is running 5 rigs there currently. Costs for the company in the Bakken have decreased nicely as of late, citing a decrease between 10 to 20 percent because of multi-well pad drilling and completion efficiencies. The company's land position in the Bakken is quite attractive and it has great potential going forward.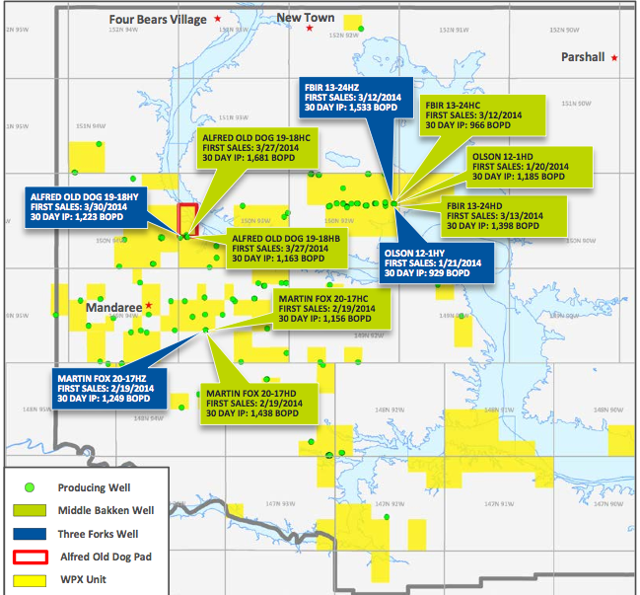 Click to enlarge
(Source:WPX website)
Piceance Basin
The company operates over 4,400 wells in the Piceance Basin of Colorado, where WPX holds about 220,000 acres. The first well went online all the way back in 1986 and the company has a long established history with the area. WPX is the largest producer of natural gas in Colorado and has held that title for more than 5 years now. In the past decade the company has invested $7.5 billion in development in Colorado and the 2014 capital program calls for $475 million. The company has been utilizing multi-pad drilling in Colorado to a good extent, which enables the drilling of 22 wells from a single pad and uses 75% less land. Currently WPX has 9 rigs running in Colorado and it expects production to be ramped up even more in the near future.
San Juan Basin
In the San Juan Basin of New Mexico the company owns about 160,000 acres and currently produces 1,700 boe/d of oil and 108 MMcf/d of natural gas. In 2013 the company made a significant oil discovery at its Gallup Sandstone land and last year produced a total of 290,000 barrels of oil. Last year the company drilled 15 oil wells in the region, which it will double this year by drilling about 30. The goal is to triple the oil volumes coming from the New Mexico properties by year end. Helping achieve this goal was the addition of a second rig in quarter 1.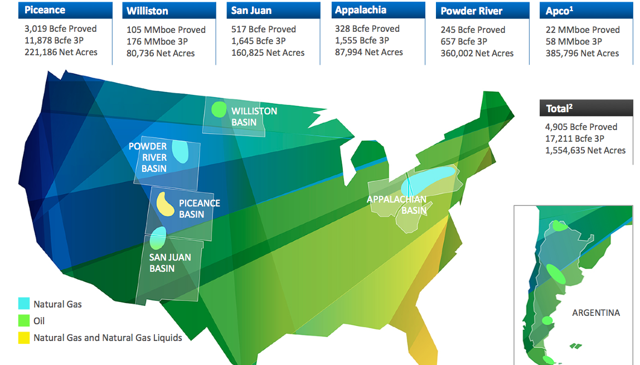 Click to enlarge (Source: WPX website)
Powder River and Marcellus
WPX has a very large land position in Wyoming with a total of 360,000 acres. The company currently operates 2,000 wells in the area and holds an interest in another 2,800. Currently production stands around 161 MMcf/d in Wyoming. In Pennsylvania the company operates on about 88,000 acres and currently produces 78 MMcf/d which is a nice 5% increase versus a year before. Both of these plays are good but I do not see either of these as a great near term growth catalyst.
Apco
WPX owns a 69% stake in the Argentina company Apco Oil & Gas International (NASDAQ:APAGF). Apco operates in Argentina and Colombia with a working interest in over 1.5 million acres between the two countries. The company continues to have a great production position and have amazing exploration potential in Colombia. Apco continues to post relatively good earnings and posted FY13 EPS of 40 cents.
Financial
In Q1 WPX posted its first positive net income in about a year with a gain of $18 million. This gain can mostly be attributed to higher realized oil and gas prices. The company is expected to still lose 7 cents a share when they report on August 6th, but are expected to report revenue 9% up from last year. For FY the company is expected to break even with EPS of 0, but for FY15 the expectation is EPS of 47 cents. Also for FY14 the expectations have revenue up 40%.
In early June the company closed a deal with Legacy Oil and Gas worth $355 million for a working interest in some of the Piceance Valley land. WPX believes this cash will fill the majority of the 2014 funding gap and better enhance financial position.
Analysts remain fairly neutral on the stock with 2 buy ratings, 7 hold ratings, and 1 underpreform rating. The average price target is about 23.50 which points to an upside of about 9% from current levels.
In conclusion, WPX is at least worth a deeper look. The company looks to be in a much better position with the new $355 million sale. Growth in both the Bakken and San Juan Basin looks extremely promising, offsetting a huge reliance of natural gas and shifting the company a little bit toward liquids. If the company can continue to cut costs and have good production success, this year and the future should be very bright.
Disclosure: The author has no positions in any stocks mentioned, and no plans to initiate any positions within the next 72 hours. The author wrote this article themselves, and it expresses their own opinions. The author is not receiving compensation for it (other than from Seeking Alpha). The author has no business relationship with any company whose stock is mentioned in this article.
Additional disclosure: Always do your own research before investing.