Under Armour (NYSE:UA), the sports apparel company that was started by a former Maryland football player who was sick of having to change his sweaty t-shirts under his jersey, has been quietly generating incredible shareholder returns since the company has gone public. Under Armour generates revenue from four different operating segments. Percentage of sales is shown in the list below:
Apparel - men's and women's clothing (76%)
Footwear - running shoes, basketball shoes, boots, sport cleats (13%)
Accessories - headbands, bags, and gloves (9%)
Licensing and Other - merchandise sold by licensees with Under Armour logo and MapMyFitness revenues (2%)
Revenues are primarily generated from sales to retailers like Dick's Sporting Goods and The Sports Authority, with both retailers in aggregate contributing 22% of the 68% of total revenues from wholesale. The remaining revenues are generated 30% from direct-to-consumer channels -- i.e., Under Armour's website and 2% from licensing. The intriguing part of Under Armour's business has been the dynamic growth of its direct-to-consumer channel as margins are higher due to the fact you cut out the middle man that the retailer plays. The chart below illustrates the growth in its direct-to-consumer channel.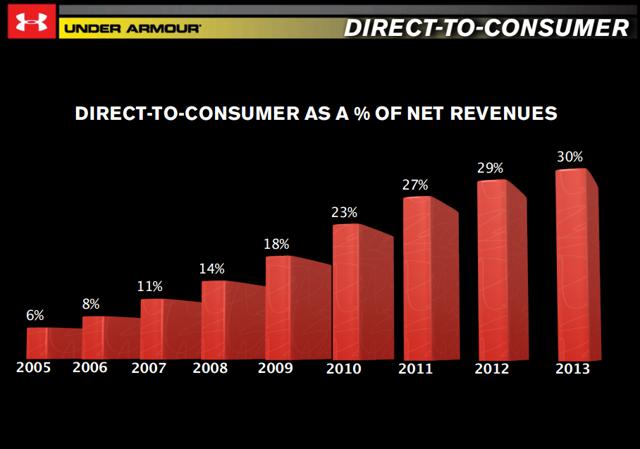 Source: Under Armour Investor Presentation (PDF file).
Under Armour's Most Valuable Asset
Under Armour's most valuable asset can't be found anywhere on the balance sheet, as it's none other than the founder, Kevin Plank. For those who have never heard of him, there are plenty of videos on YouTube of him giving speeches. He is undoubtedly witty and motivated, making statements such as no "loser talk" is allowed at his company and sending a Christmas card to Nike's founder every year saying, "You will hear about us one day."
While Plank is a billionaire, you can't really put a value on his leadership and his ability to increase the brand awareness of Under Armour. He pays himself a salary of $20,000 a year with a majority of his compensation being aligned with the performance of Under Armour. At age 41, it is hard to imagine what Under Armour could become in 20 years under his leadership.
Long-Term Perspective
For a company that just reported its 17th quarter in a row with top-line growth of at least 20%, completely untapped global expansion, and that is run by a fearless leader, it seems as if Under Armour is destined for greatness. However, there is still Nike that could stop Under Armour from ever reaching its full potential. Nike is known globally with revenues 12 times higher than Under Armour's revenues and dominates the running and basketball shoe markets. It will be no small task, and odds may actually be against Under Armour in the long term, but if I could choose anyone to build a brand globally it would be Kevin Plank. Under Armour should not be underestimated nor seen as a guaranteed success.
Under Armour Valuation
Using DCF I assumed a 12% discount rate, I also assumed a 3% long-term growth rate, and excluded changes in working capital and other non-cash items from the cash flow calculation. If you refer to the 2013 10-K cash flow statement, my calculation was the following:
Net income plus D&A minus deferred income taxes minus PP&E
$213 Mils Cash from Operations - $88 Capex = Cash Flow of ~$125 Mils
I applied a growth rate of 25% for the first fiveyears. This is in line with my predication of owner's earnings of ~$245 in 2016 that it is based on the $4 billion revenue goal set by Under Armour's management. For the following five years I assumed a more conservative growth rate of 15%.

Source: Created by author.
Conclusion
Based on my calculations, Under Armour appears to be overvalued and I would not recommend you buy shares at current prices. Under Armour is a promising company and run by one of the best CEOs in the world, but at current valuations I believe it'll be hard getting 12% annually on your money. When it's trading at $15 billion and the owner's earnings in 2013 were $125 million and two and a half years from now it'll probably be around $250 million, the market cap to owner's earnings would still be 60 times. It's important to note that my intrinsic value is based off discounting cash flows by 12%, as I see 12% as my required return of return.
Under Armour's weighted average cost of capital is likely much lower than 12%, and therefore worth much more that what I'm stating as an absolute. Discounting at WACC intrinsic value would probably be around $40 a share. As a shareholder, I hope the stock will drop to more reasonable levels or that I'm convinced Under Armour can keep up its growth so I can buy more of a great business.
Disclosure: The author is long UA. The author wrote this article themselves, and it expresses their own opinions. The author is not receiving compensation for it (other than from Seeking Alpha). The author has no business relationship with any company whose stock is mentioned in this article.