I've been an Apple (NASDAQ:AAPL) bull for the better part of my time investing in the public markets. I'm usually quick to react to news out of the company, but I'm just now getting around to digging into the company's last earnings report. Please forgive me, I've been preoccupied with the fiasco surrounding another stock that I cover and am passionate about, that will remain nameless.
According to TipRanks, here's how I've fared on Apple from the get go:

I spent a while talking to people over the last month about what my two picks would be if I had to buy and hold one stock for the next 30 years. It was a damn close tossup between Disney (NYSE:DIS) and Apple - but, I'd have to go with Apple.
I'm not going to regurgitate my entire bull case on the company. For that, you can read my enormous article, "Why Apple is the Perfect Stock for Anyone" that I published a couple months ago. I'm going to try and get my thoughts out in slightly less than a billion words in this piece. I'm sure some people that have started on my last piece months ago are just now coming to the end of it. As they look in the mirror to find their hair has grown an additional 6 inches and they've forgotten to eat since the beginning of the article, their next move is likely to shoot me a private message telling me that maybe I should keep it a bit more concise this time.
QTR listens! You got it!
First things first. Let's address the recent partnership with IBM. I'm not overly skeptical of this partnership - especially as a BlackBerry bull - but, I do note the several times in the past these two companies tried to gel and it didn't work out.
That was a different time - certainly not the Tim Cook era, where I believe that the company will create something tangible for enterprise from this partnership. It's going to be another 6 months or so, I'd guess, before we get something we can sink our teeth into.
The one area where this could benefit Apple is in moving more iPads for use in business, similar to the way they move them for education. This could give them another niche to help counteract the slowing interest in tablets that the technology market is beginning to see.
Let's just start by once again reevaluating how Apple is priced as a security. The market continues to refuse to believe that this is an innovative company that is still capable of massive growth.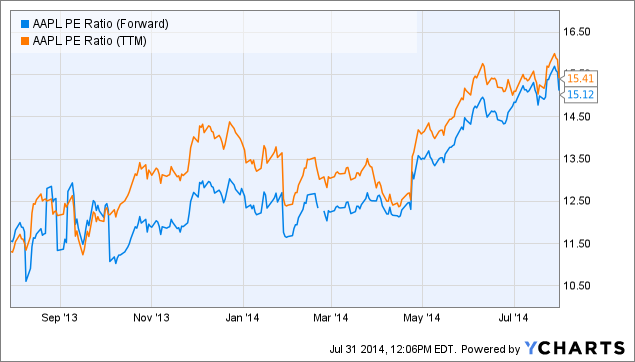 AAPL PE Ratio (Forward) data by YCharts
It has priced Apple like an industrial stock, with a P/E that is just now breaching the 12/13 level and pressing 15.
The company's earnings that it reported last week, while I was busy paying $12 for a beer in Manhattan, should continue to give investors a reason to like Apple going forward.
The company beat EPS by five cents, reporting $1.28 vs. expectations of $1.23. Revenue was a miss, despite growing 6% YOY. Mac, as I've predicted many times in the past, was one of the drivers that came in above analyst estimates, selling 4.4 million units.
Previously, I had noted that Mac could be Apple's secret weapon. Apple was one of the only PC manufacturers seemingly not hit real hard by the PC market bottom and Mac still has tons of market share to grow, as we continue to live in a PC dominated world.
Here's what Seeking Alpha reported regarding earnings:
With [gross margins] stabilizing and core demand trends solid, we think investors will want to own Apple (AAPL +3%) stock into bigger-screen iPhone 6 and ecosystem-expanding iWatch/iBand launches," writes Evercore, staying bullish on Apple following its mixed FQ3 results and light FQ4 guidance.
Macquarie: "The bottom line is that the iPhone 6 reception is what matters right now." Its target has been raised by $7 to $102. At least 6 other firms have also hiked their PTs today.
Citi, which recently launched coverage at Buy, expects 140M iPhone 6 sales over the first 12 months (compares with an iPhone installed base of 300M), and thinks the adoption of installment/early upgrade plans could provide further upside.
It's also pleased with Apple's 28% Greater China growth, given fears of tougher competition from local vendors - fast-growing Xiaomi just rolled out a metal-framed flagship phone that goes for $320 unsubsidized.
9to5 Mac reports today Apple is "tentatively" planning to unveil the iPhone 6 in mid-September. Sources state the 4.7" model is set to be shown off, but add a final decision hasn't been made on revealing the 5.5" model at the event. KGI reported last week the 5.5" model could be delayed due to production issues.
The site also reports Apple is planning an October event that will likely involve an iWatch/fitness band. Apple is fresh off receiving a patent for a modular smartwatch design that includes a strap with built-in sensors and other circuitry.
Despite the company having a rock solid balance sheet and returning $8 billion to shareholders this past quarter, bears still want to point to the "lack of innovation".
We must remember these impressive results were delivered sans Apple coming out with the iPhone 6 or the iWatch yet. The sentiment going into the last two quarters from the bear camp was that iPhone sales would suffer as people wait out the release of the iPhone 6. We didn't see that two quarters ago and the small miss on iPhones this past quarter isn't nearly as catastrophic as people had contended it would be.
Another "sleeper" that I've harped on a couple times is the high margin (45%+) App Store and the iTunes store. Despite becoming the de facto go-to place to buy music for our time/generation, the iTunes store is a huge generator of sales. Revenue for the app segment was up 12% YOY.
The emphasis on margins has been a staple for Apple earnings since the company has been in its "juggernaut" mode that it's been in since the early 2000s. Finally, this past quarter, we saw margins really come in higher than was expected at 39.4%. Ekeing out gains in margins is sure to please analysts who seem like they're constantly opining on this metric, despite Apple's other massive fundamental bullish metrics.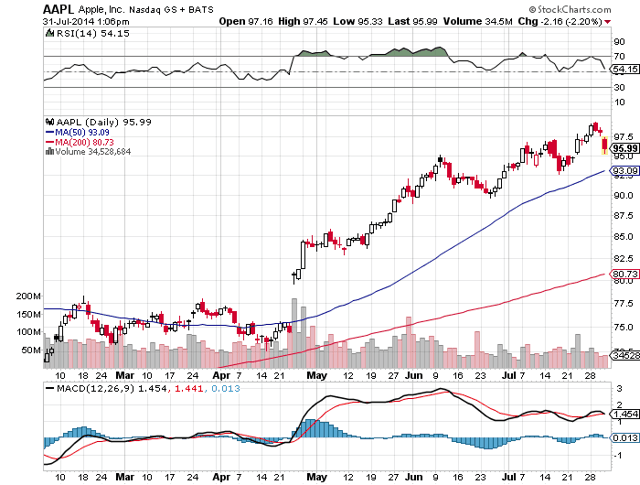 The technicals continue to paint the picture of smooth sailing, as the company tends to only pull back on days where there's broad based macro market pullbacks like today. And believe it or not, you can take it as a decent sign that Apple continues to have a relatively low Beta.
AAPL data by YCharts
It means that more and more, people are looking at the company as a value based investment versus an aggressive growth story. Why does that work to your benefit? Because it seems to me, at least, that Apple certainly isn't done innovating and that the second half of 2014 could get extremely interesting.
With plenty of cash to do their business with, and the market continuing to underestimate Apple's potential growth, I continue to contend that equity could possibly remain one of the soundest bets in the universe.
Best of luck to all investors.
Disclosure: The author has no positions in any stocks mentioned, and no plans to initiate any positions within the next 72 hours. The author wrote this article themselves, and it expresses their own opinions. The author is not receiving compensation for it (other than from Seeking Alpha). The author has no business relationship with any company whose stock is mentioned in this article.