As the Fed has decided to print $600 billion, commodity prices have soared. Morgan Stanley's report expects that oil prices may reach $100/barrel within 12 months. With such expectation, renewable energy companies are on the radar screen for investors again.

Usually, the most popular renewable energy stocks are solar companies. However, we shouldn't overlook wind energy, which is much cheaper than solar and not dependent on European market as solar.

In recent IPOs, I found China Ming Yang Wind Power Group (NYSE:MY), a China based wind turbine company, to be particularly interesting.

Following are a few highlights from my research:

1. Demand for wind turbine energy in China.
Catalysts: After the central government issued China's 12th five-year program,we expect to see more of an emphasis on green energy. The national development reform committee is likely to lift China's 150 GW installed wind capacity in 2020. As the transmission of wind-generated electricity in inland China still needs an upgrade, the Chinese government is focusing on the development of offshore wind farm at coastal areas where it has well-established grid networks. So, compared to the solar industry, there is huge demand for wind energy in China.

2. SCD technology.
Super Compact Drive (SCD) is a new technology for offshore wind turbines which generates a lesser amount of energy than traditional wind turbines but is lightweight and easy to install. This technology is suitable for offshore wind farms. MY produces SCD turbines and its production capacity for 2011 has already sold out.

3. Average sales price.
Current price now is RMB 4000-4500/kw. Although sales prices dropped a lot in the past two years, MY has continuously reduced cost and increased economies of scale.

4. Sales target fully covered.
MY's sales target for both 1.5 mW and its SCD wind turbines for 2011 have already been covered, according to the company's management.

5. MY successully completed its IPO while one of its biggest competitors in China, Sinovel, failed its IPO. The current competition landscape is based on funding. The company with more funding will get more market share.

6. Margins.
According to financial statements, MY's gross margin is 19.7% compared to Sinovel's 22.3% and Goldwin's 23.5%. However, if we dig into the books, MY expenses warranty provisions in COGS but Sinoval and Goldwind both put this expense in SGA. So actually, if we add back its 3.3% warranty provision, MY's gross margin is 23%.

MY's high margin is driven from its in-house production ratio, which reaches 60% for its 1.5 mw turbines and 85% for SCD. Its peers actually outsource 80% and only 20% of their in-house production. MY's strong in-house production capability is due to MY electrical, which was founded by MY's chairman. So MY has extensive experience in electric system R&D.
MY can better capture value along the wind power value chain, enhancing control over quality and availability of the components, and streamline the production process with shorter production cycles.
7. Contracts.
MY's sales target for 2H2010 is 490 units and 1400 units in 2011. Right now, MY has 1661 backlog for 1.5 MW turbine and 51 SCD orders secured in august and 66 units secured recently. MY also has 403 winning bids (not signed yet).

8. 11.5 GW wind resources.
Ming Yang has secured 11.5GW wind resources, which is a critical factor for winning tenders in addition to price and product quality. One of the methods to secure wind resources is to invest in areas with abundant wind resources. In 2008-2009, MY entered into cooperative agreements with JV partners and local governments. The agreements give MY first priority to provide wind turbines to IPPs for local wind farms up to the amount of wind resources secured.
9. Financial support.
MY has partnered with ICBC (one of the big four state-owned banks and one of the strategic investors of MY, holding an 8.79% stake) for expansion into overseas markets. MY will obtain a wide range of favorable financial services from ICBC, including extension of credit facilities for overseas wind farm projects.
So, overall, I believe MY is a great opportunity for investors to play with China's fast growing wind market.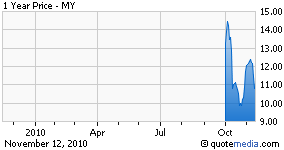 Valuation
After examining the fundamentals, I would like to talk about the entry point. I believe current price (as of November 11, the closing price is $10.80) is a very good opportunity to enter.

MY's IPO PE ratio looks very expensive, but we need to look forward. MY successfully turned into profit in 1H2010 with EPS $0.44/share.
Considering the improving profitability and all sales target covered in the following 12 months (secured sales orders is more than 2 times of its orders in the past 12 months. eg: 2009 574 new orders and more than 1400 orders in 2010), its EPS for next 12 months is an easy double. At current price, PE trade is in the range of 10x 12 month forward PE ratio, which is obviously undervalued compared to its peers.

Disclosure: Long MY