Hidden Treasures in Magic Kingdom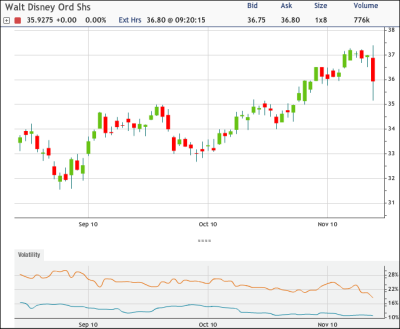 The fourth-quarter results from the Walt Disney Co. (NYSE:DIS) missed consensus estimates, coming in with an EPS ex-items at $0.45 versus the forecast of $0.47. Revenue missed too, at $9.74 billion versus $10.02 billion. So with more misses than a rock star has groupies, why is Disney trading up? On the call the company said its California theme park will rival Orlando once new attractions are complete. Couple that with two additional ships launching on the cruise line and Marvel developing two new TV series and two new movies next summer, and you see why the outlook is stronger than was expected. Shares trading up 2.5 percent in the pre on tradeMONSTER's extended-hours platform.

Bullish Intel (NASDAQ:INTC) Ups Dividend

The chipmaker raises its dividend to $0.18--a 15 percent jump--and says it is on track for its "best year ever." Shares reacted immediately, now up 1.3 percent in the pre, and should influence the broader market as well.

J.C. Penney (NYSE:JCP) Margins Down

JCP said that third-quarter EPS surged 63 percent but that gross margin fell to 39 percent from 40.6 percent. Shares are down 1.7 percent so far this morning.

Disclosure: No positions