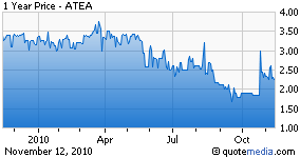 I've been following Astea (NASDAQ:ATEA) for several years. If you look at its chart, you can see that the stock has provided some wild and profitable rides for nimble investors over the years. I believe that another wild and profitable ride is about to begin.
To understand why, you need to understand that Astea's volatility largely stems from the lumpy nature of its license revenue business. Its typical deal can range from $100,000 to over $1M. Often, the customer pays for the software, but the contract terms don't allow Astea to recognize the revenue right away. When that happens, deferred revenue jumps and future quarters see the benefit.
For example, deferred revenue grew in the quarter ending Jun 06 versus Mar 06...and when they announced Sept 06 results, they recognized some of that deferred revenue, resulting in a great and profitable quarter...and the stock jumped. Deferred revenue also grew in Dec 06, Dec 07, Sept 08, Mar 09 and Sep 09. In most cases, Astea's shares were very kind to investors in the 3-months that followed.
Mar 10 was an exception, but with the June-quarter results, Astea has now grown deferred revenue for 2 quarters in a row. That deferred revenue will likely be recognized when the company reports its Q3 results on Monday morning. If not, you can bet that it'll happen in Q4. Either way, ATEA shares are a great bet to reward investors over the next few months.
Adding to the likelihood of strong results to come, Astea announced another customer win on October 25th. The company doesn't typically announce wins unless they are large. With this announcement, they have now revealed two in recent weeks (after months without a single announcement). Momentum seems to be building and management suggested as much on its last conference call.
Despite this potential reward, the risk inherent in the stock is quite low. The company has a market cap of just over $10M, while revenue is closer to $20M.
More importantly, about $8M of Astea's annual revenue comes from annual maintenance contracts attached to its installed software. Most investors don't know this, but maintenance is so profitable that most companies that derive more than 30% of its revenues from maintenance can turn profitable anytime it wants, simply by cutting R&D, sales and marketing expenses.
Most such companies would rather invest in future growth than increase profitability. As such, they tend to remain undervalued (like ATEA) until an acquirer or activist shareholder moves in and forces expense cuts, exposing the true profitability of the company. This has been Oracle's modus operandi for years. Most of its M&A spending has been on companies with large maintenance streams, which it then streamlines to boost its bottom line.
Several other acquisitive companies and private-equity firms do the same thing and often pay 3 or 4x maintenance. In Astea's case, 4x maintenance equates to $32M or more than $7 per share, a triple from current levels.
Disclosure: Author long ATEA