By Chris McKhann
Option traders are calling a top in NovaGold Resources (NYSEMKT:NG) as its shares retreat from their highest close in three years.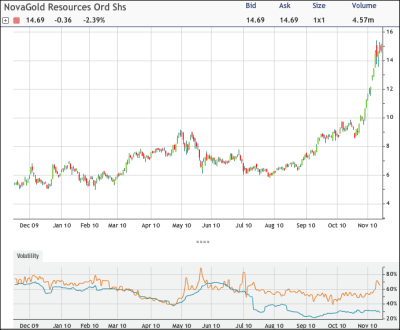 NG is down 2.39 percent this morning to $14.69. It closed at $15.05 yesterday, a level not seen since a huge gap lower back in November 2007. The stock has tacked on 200 percent from the 52-week low below $5 in February.
Volatility has risen even as the stock has, something unusual for equities but relatively common in commodities. The average implied volatility is up to 67 percent, up from 50 a month ago. This is likely part of the driver of the options trade today, were we see selling in the November 15 calls.
Almost all of the 3,200 contracts traded so today were sold, though the action may have resulted from a newsletter recommendation or auto-trading, given the size of the trades. Most of the contracts went for $0.50.
This activity is likely part of covered call strategies, especially given that it appears to have come from a newsletter. That indicates the idea is that NG will remain in this range while the near-term call selling brings in some premium.

Disclosure: No position