The market is seeing its worst daily decline in some three months as geopolitical concerns come to the fray in the form of the impacts of sanctions on Russia as well as an unfolding bond default from Argentina. I am somewhat surprised as both events have been well advertised as watch items as the situations around both countries have been festering for quite some time.
On days like this it is good to have lots of "dry powder" to put into a falling market. I like to allocate funds into the market on big declines like this to sectors I wanted to raise the weighting within my portfolio on anyway. One of these right now is Technology which has lower valuations than the overall market and has mostly delivered solid earnings reports so far this earnings season.
Here are two under the radar tech concerns that are bucking today's downdraft and should do even better once sentiment improves off this one day drop.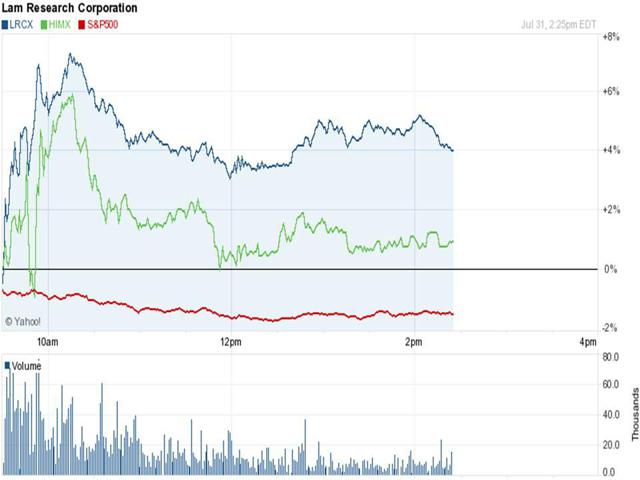 Click to enlarge
Himax Technologies (NASDAQ:HIMX) designs, develops, and markets semiconductors for flat panel displays and other devices. The company is based in Taiwan and has a market capitalization of just over $1 billion. The stock moved past $16 a share earlier in the year on momentum from the initial hype of Google glass. The shares are now just under $6.50 a share and much closer to its 52 week low of ~$5.50 than its recent high. The stock is up some one percent today despite bearish tone of market.
The shares also have a nice floor due to its almost four percent dividend yield (3.9%) after recently boosting its payout eight percent. Also helping recently is strong Q2 results from Taiwanese brethren AUO Optronics (NYSE:AUO) which reported this week. The company reports its next quarter in August. The company has a strong balance sheet, sells for a five year projected PEG of under 1 (.58). Earnings should increase 15% to 20% year-over-year for both FY2014 & FY2015 according to the current consensus.
Lam Research Corporation (NASDAQ:LRCX) is also bucking the big decline today, up over 4% on the day on the back of an earnings report that saw this wafer equipment maker beat the top and the bottom line consensus. The company did issue conservative guidance for next quarter but then reiterated guidance for $32B in 2014 for overall industry wafer fab equipment spend, and also stated the company expected to outpace industry growth in this space.
Revenue grew more than 25% year-over-year in the just completed quarter, and should be up 6% to 8% for the year as well as in 2015. Like Himax, Lam has a very low five year projected PEG (.42). The company also possesses a very solid balance sheet with over $1.2 billion in net cash on the books (over 10% of its overall market capitalization). The stock is priced at under 15 times forward earnings (closer to 13 taking out net cash), a slight discount to the overall market multiple with superior revenue growth. The tech stock is also a favorite of David Einhorn's Greenlight Capital.
Disclosure: The author is long HIMX, LRCX. The author wrote this article themselves, and it expresses their own opinions. The author is not receiving compensation for it (other than from Seeking Alpha). The author has no business relationship with any company whose stock is mentioned in this article.