By Jason Raznick

These should be good times for junk bond ETFs, and they are. Low default rates and investor demand for yield have helped investors embrace this asset class. The Wall Street Journal recently reported junk bond mutual funds have only seen one week of outflows since July.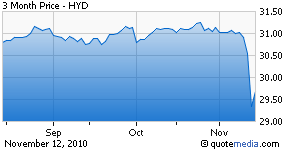 All those factors make this week's precipitous decline for the Market Vectors High-Yield Muni ETF HYD all the more alarming. Just look at that chart. HYD found its way to a 52-week low on Thursday.
Maybe the government's effort to take majority control of the Municipal Securities Rulemaking Board away from banks and brokerage firms is coming home to roost.
Or maybe it's just common sense that the $2.8 trillion muni bond market itself should be considered junk with so many states and municipalities staring down record deficits and lower tax receipts. Hey, not every governor has the fortitude of New Jersey's Chris Christie to cut spending.
Then again, history could have been our guide that a day like this would come for an ETF like HYD. In the first half of 2010, muni bonds underperformed Treasuries due to, you guessed it, default speculation.
In May and June, credit default swaps to protect against muni debt default almost doubled in value.
While issuer defaults declined in the first half of this year, the problems facing major muni issuers like California, Illinois and New York make a dance with HYD a dance with the devil.
Disclosure: No position