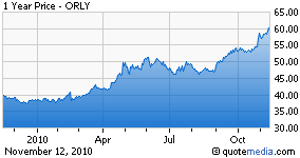 Click to enlargeO'Reilly Automotive Inc. (NASDAQ:ORLY) reported its third quarter earnings for 2010 on October 27, 2010. The company has topped the Zacks Consensus Estimate by 12 cents per share and its own guidance of 69 cents–73 cents per share. The market reacted favorably, with share prices rising subsequent to the earnings release.
Analysts were highly optimistic given the company's impressive results and upgraded outlook as every one of them covering the stock had revised the estimates upward. Below we will cover the results of the recent earnings announcement, subsequent analyst estimate revisions and Zacks ratings for both short-term and the long-term outlook for the stock.
Third Quarter Highlights
O'Reilly showed a 40% rise in profits during the quarter on an impressive comparable store sales (sales for stores open at least one year) growth of 11.1%, led by its dual market strategy and strong distribution network as well as warmer weather conditions that lifted demand for its products. Sales in the quarter grew 13% to $1.43 billion, up from the Zacks Consensus Estimate of $1.37 billion.
In the first nine months of the year, net cash flow from operations more than doubled to $592.6 million from $289 million in the previous year. This was primarily attributed to improved profits, an increase in deferred income taxes and a decline in inventory.
O'Reilly has upgraded its earnings and sales guidance for full year 2010. The company has projected earnings per share in the range of 56 cents–60 cents and consolidated comparable store sales to increase in the range of 4% to 6% for the fourth quarter of 2010.
For full year 2010, the company anticipates earnings per share in the range of $2.94–$2.98 and consolidated comparable store sales to increase by 7%–8%. This is higher than the previous guidance of earnings per share of between $2.75 and $2.85 and a rise in consolidated comparable store sales of 5% to 7%.
(Read our full coverage on this earnings report: O'Reilly Improves, Raises Guidance)
Earnings Estimate Revisions – Overview
Estimates have improved over the last 30 days, reflecting analysts' optimism about the stock, driven by the company's improved results and strong business strategy. The share price movement was favorable as well, suggesting O'Reilly is a good stock to own. Let us delve into the earnings estimate details.
Agreement of Estimate Revisions
The table below shows a strong agreement among the analysts regarding the outlook of O'Reilly's earnings. All the analysts covering the stock have revised upward the estimate for 2010 with no downward revisions over the last 30 days. For 2011, the revisions continue to be strong. There were 22 analysts revising the estimate upward while only moved in a downward direction.
Apart from healthy sales and earnings, analysts commended the expense management capability of the company. In the quarter under study, selling, general and administrative expenses as a percentage of sales improved to 34.3% from 36.7% a year ago. They also believe that excess cash flow generated by the company will help it to repay debt in the near future.
Agreement - Estimate Revisions
Current Qtr
(12/2010)
Next Qtr
(03/2011)
Current Year
(12/2010)
Next Year
(12/2011)
Up Last 7 Days
1
1
1
0
Up Last 30 Days
12
8
23
22
Down Last 7 Days
0
0
0
0
Down Last 30 Days
2
0
0
1
Magnitude of Estimate Revisions
Earnings estimates for 2010 have been raised by 14 cents from $2.86 to $3.00 since the earnings announcement. Analysts are confident about 2011 to the same extent. They have raised the estimates by the same magnitude from $3.30 to $3.44 for the year. Thus, analysts continue to value the stock at an increasing premium.
Magnitude - Consensus Estimate Trend
Current Quarter
(12/2010)
Next Quarter
(03/2011)
Current Year
(12/2010)
Next Year
(12/2011)
Current
0.63
0.82
3.00
3.44
7 Days Ago
0.62
0.82
3.00
3.44
30 Days Ago
0.61
0.81
2.86
3.30
60 Days Ago
0.61
0.81
2.87
3.29
90 Days Ago
0.61
0.80
2.86
3.29
O'Reilly in Outperform Lane
O'Reilly has a competitive advantage due to its dual market strategy and is continuously benefiting from a strong distribution network. A heavy mix of commercial sales provides O'Reilly with greater exposure to less discretionary sales of hard parts (about 80% of the company's sales fall into this category) and allows the company to operate in smaller markets. The acquisition of CSK has positioned the company as a leading auto parts retailer in the U.S. The company expects the deal to boost earnings and result in about $100 million of annual cost savings starting in 2010.
Further, O'Reilly continues to open new stores in order to achieve greater penetration in existing markets and to expand into new, contiguous markets. During the quarter, the company has opened 48 stores during the quarter, taking store openings in the first nine months of the year to 121. The company reiterated its goal to open a total of 150 stores in 2010 and has projected to open 170 stores in 2011.
These factors, as we know, have been helpful in generating impressive results for the company. Further, the company's confidence regarding its future, as reflected in its upgraded outlook, fires up our optimism about the stock. As a result, we are maintaining our "Outperform" recommendation on the stock for the long-term (6+ months).
Disclosure: No position