Lithia Motors, Inc. (NYSE:LAD) beat again as both new and used car sales kept humming along. This Zacks Rank #1 (Strong Buy) is still expected to grow earnings by the double digits both this year and next as the auto market remains red hot.
Lithia is one of the largest automobile retailers in the United States with 101 stores in 12 states. It sells 28 brands of new and used cars as well as operates repair and maintenance.
It serves both urban and rural markets and is therefore a good barometer of the nationwide economy.
Another Earnings Beat and Record Quarter
On July 23, Lithia reported second quarter results and beat the Zacks Consensus by 7%. Earnings were $1.34 compared to the Consensus of $1.25.
Anyone following the company shouldn't have been surprised by yet another beat because it has only missed once in the last 5 years and that miss was all the way back in 2010.
Check out the beautiful earnings surprise chart.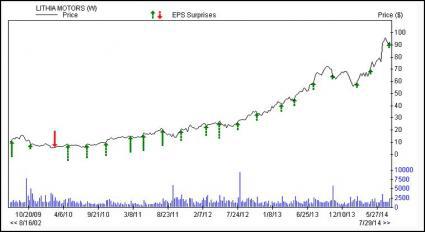 Revenue rose 21% to $1.2 billion from $1 billion. Same store sales jumped 11% as all of its segments saw double digit sales growth for the first time in the quarter.
New vehicle same store sales rose 12%, Used vehicle retail same store sales grew 11%, while Service, body and parts jumped 10%. The gain in Service was due to a 10% improvement in customer pay work and a 15% increase in warranty activity.
More Acquisitions in 2014
Lithia has slowly been adding stores. It purchased another 3 stores in the quarter and has purchased or opened 8 new stores this year.
It has also agreed to combine with DCH Auto Group, which will add 27 locations and $2.3 billion in revenue to the company. That is expected to close by the fourth quarter of 2014.
Double-Digit Earnings Growth to Continue
Car sales continue to be hot. Through the second quarter, the annual North American total rose to 16.9 million, the highest since July 2006.
Lithia guided full year at $4.95 to $5.00, which was above the Zacks Consensus of $4.90.
The analysts raised their estimates, with 2 up for 2014 in the last 7 days. The Zacks Consensus jumped to $5.01, or above the guidance range.
That is earnings growth 25.7%.
The analysts are equally as bullish on 2015 with further earnings growth of 28%.
Shares At New Multi-Year Highs
After the solid earnings report, Lithia shares jumped to new 5-year highs. But since that initial exuberance, shares have pulled back over 5%, creating a buying opportunity.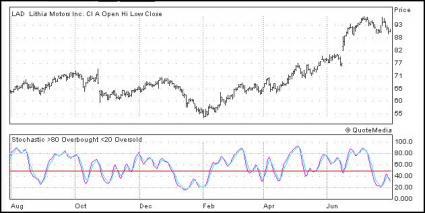 Still, shares aren't exactly cheap anymore. Lithia has a forward P/E of 18.
But with auto sales remaining hot, Lithia is one stock investors should keep on their short list.
Disclosure: None