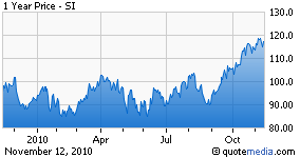 Siemens AG (SI) reported loss per share from continuing operations of €0.47 (61 cents) for the fourth quarter of fiscal 2010 compared with a loss per share of €1.21 in the year-ago quarter. The Zacks Consensus Estimate for the quarter was earnings per share of $1.78.
Revenue
The company recorded strong growth in order and revenue, positively affected by currency translation impacts. Total revenue was €21.23 billion ($27.39 billion) compared with €19.17 billion in the third quarter of fiscal 2010. Revenue was up 8% year over year and was above the Zacks Consensus Estimate of $24.66 billion.
Orders in the quarter increased by 25% year over year, due to growth in all regions, notably the emerging markets. One third of the total revenue in the quarter was derived from the emerging markets. Revenue in these markets were up 21% to €7.06 billion
The book-to-bill ratio was 1.11 and the backlog for the sectors totaled €87 billion.
Sector Performance
The company has three operating sectors, Industry, Energy and Healthcare.
Industry sector witnessed revenue growth of 9% year over year to €9.78 billion, led by short cycle businesses. Healthcare revenue was up 9% year over year to €3.41 billion and Energy sector revenue increased by 7% year over year to €7.26 billion. Increased demand for renewable energy was a strong contributor to growth in the Energy sector.
Order growth was highest in the energy sector, up 40%, with improvement in global energy market. Industry orders spiked 20% and Healthcare orders were up 14%. All businesses in Industry sector recorded double-digit order growth, except for Mobility. The company witnessed high double-digit order growth in India driven by a large Fossil Power Generation contract.
Income and Expenses
Total Sectors profit in the quarter decreased by 45% year over year to €1.064 billion, due to substantial impairment charges at Healthcare sector (reporting loss of €772 million). This was offset by higher Sector profit at Energy (profit of €953 million) and Industry (profit of €883 million).
Cash Flow
Free cash flow from continuing operations was €2.990 billion compared with €3.158 billion in the fourth quarter of fiscal 2009. The results in the quarter were affected by higher income tax payments and lower cash inflows from Siemens IT Solutions and Services, due to sustained operational challenges in highly competitive markets.
The deficit of Siemens' principal pension plans increased to approximately €6.4 billion, compared with a deficit of €6.1 billion at the end of June 2010. This is due to an increase in defined benefit obligation led by decreased discount rate assumption and accrued service and interest costs, partially offset by strong return on plan assets.
Outlook
Siemens expects order levels in fiscal 2011 to increase organically from the level in fiscal 2010 with improving market conditions. Strong backlog at the end of the year will support organic revenue growth in fiscal 2011 and income from continuing operations is expected to increase by 25% to 35% year over year, excluding effects of legal and regulatory issues.
Siemens is a global leader in most of its key businesses, including industrial automation, power generation, medical equipment and transportation. Given its product breadth and geographical diversity, the company should be a major beneficiary of increased spending as developing nations build up their infrastructure. Its core businesses have seen a pickup in demand and the company is well positioned in areas such as Brazil, Russia, India and China, where growth is the fastest.
The company operates in highly-competitive markets that are subject to price pressures and rapid changes. Its businesses must keep pace with technological changes and develop new products and services to remain competitive. Major competitors of Siemens are ABB Ltd. (NYSE:ABB) and General Electric Co. (NYSE:GE).
Further, financial performance may be affected by cost overruns. The company is exposed to currency and interest rate risks as well as widening credit spreads. Future financing via corporate treasury may be affected by uncertain economic conditions and development of capital and bank markets.
Siemens AG is a German industrial conglomerate with interests in information services, automation and controls, medical equipment, power generation, transportation systems, automotive electronics, lighting, and many other areas. Siemens' organizational structure consists of 11 groups within three operational business areas.
We currently maintain our Outperform rating on Siemens for the long term. For the short term, the company has a Zacks #2 Rank (Buy).
Disclosure: No position