By Patrick Crutcher
We've been noticing a lot movement on several medical device companies. Since highlighting these to our premium subscribers, all the tickers have been moving upward, but there is more room to run.
Today, we want to briefly highlight a few more companies in this space that might spark some interest for investors. Most of the companies presented below have small floats(<50M shares), so they can move quickly.
First up, BSD Medical Corp. (NASDAQ: BSDM). Ever since obtaining approval for their MicroThermX Microwave Ablation System (MTX-180) in August, BSDM has gained over 500% and yet they still seem undervalued. The MTX-180 was designed to provide an improved ablation system targeted to the growing soft tissue ablation oncology market, a market expected to reach $2.0 billion. This news has been followed by a steady stream of good news including CE mark approval of the MTX-180 in the EU and numerous sales of their BSD-500 and BSD-2000 Hyperthermia Systems. It will be interesting to see how they have done on the sales front. BSDM could certainly use a boost in revenue to start accruing some cash on the balance sheet.
Quotes delayed at least 20 mins.
Quotes delayed at least 20 mins.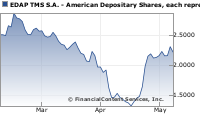 Quotes delayed at least 20 mins.
Another interesting company is Chembio Diagnostics, Inc. (NASDAQ:CEMI), who specializes in developing, manufacturing, marketing and licenses point-of-care diagnostic tests. The majority of their devices are based on their innovative chromatographic immunoassay technology--Dual Path Platform (DPP®)--for rapid, point-of-care diagnostic testing. Currently, they are developing tests for the rapid diagnosis of HIV, Hepatitis-C, Tuberculosis, Leptospirosis, Influenza and Syphilis. CEMI is currently approved in Brazil for their DPP® HIV 1/2 test. They think it will be widely deployed as a screening test for new HIV testing protocols being implemented in certain Brazilian public health programs. CEMI received $1.46 million in awards from the Qualifying Therapeutic Discovery Projects. Their balance sheet looks a lot better with this on it. Given some time to develop, CEMI could definitely reach the $0.92 price target that Zack's put on them. Recent interest has grown in them following this paragraph from their 3rd quarter update.
"Costs Associated with Possible Strategic Alternatives
During the third quarter of 2010 the Company incurred approximately $190,000 in professional expenses in connection with pursuing a potential acquisition of Chembio by two companies. Discussion concerning a potential sale opportunity has continued into the current quarter. The Company has considered and will continue to consider strategic opportunities that it believes warrant consideration. Currently there is no such opportunity that has progressed sufficiently for specific disclosure. There can be no assurance that any acquisition or other strategic opportunity will occur."
Lastly, this next company caught my eye because of yesterday's recent 20% run. EDAP TMS S.A. (NASDAQ: EDAP) and its subsidiaries develop, produce, market, distribute, and maintain medical devices for the treatment of urological diseases. In August 2010, they submitted a 510(k) marketing clearance for Sonolith i-move. Sonolith i-move is a compact, stand alone lithotripter with a revolutionary infrared stereo-vision system for real-time, three-dimensional ultrasound localization of urinary stones. Based on their sales($7.6M USD in 2Q 2010/ $34M in 2009) and balance sheet($14+M), you can still buy EDAP for about book value, even with yesterday's increase. They also recently added more sales staff in Japan, which is a crucial market for EDAP to succeed in. Approval on Sonolith i-move seems somewhat likely at this point: the device already has CE mark approval (April 2010) and its predecessor the Sonolith i-sys is already approved in the US.
Disclosure: No position