I shared my thoughts and ideas on Las Vegas Sands (NYSE:LVS) back on June 22nd, highlighting why I believed the shares would be a good addition to any portfolio. The stock has meandered in a narrow trading range since that report. In my view, it has been kept range bound in part due to "macro" issues and concerns in the gaming sector.
So, lets try to "connect the dots" and bring clarity to this story and avoid some of the "macro" noise that is prevalent.
LVS reported a fantastic year in 2013 as revenue increased 23% to a record 13.77 billion. The same period saw net income rise 51% to 2.3 billion.
The first quarter of 2014 came in with another quarterly record of 4 billion.
On June 26th, Las Vegas Sands was met with a downgrade from FBR capital, which followed a downgrade from Susquehanna group just 3 days earlier. Both reports cited "concerns" over growth issues in Macau which center around a recent ruling intended to curb the use of UnionPay bank cards in casinos. I will add that there were two earlier downgrades of the casino stocks by UBS and Wells Fargo in the first week of June that were mentioned in my article.
Since those downgrades, amidst the already negative sentiment backdrop, LVS reported their 2nd quarter earnings.
The company out gained the market in terms of revenue growth by posting a 12% gain versus the market gain of 5%
Earnings per share increased 31% from the prior year's quarter to reach a second quarter record of $0.85 per share.
However the takeaway by analysts was that LVS, "disappointed". They cited a 'slowdown' in Macau, (where LVS receives 80% of its sales) and raised more concerns about the "near term" uncertainty in the casino industry.
The technical picture also reveals how the shares have meandered after the 18% drop from the high of $88, but are holding support in and around the $71-$72 area.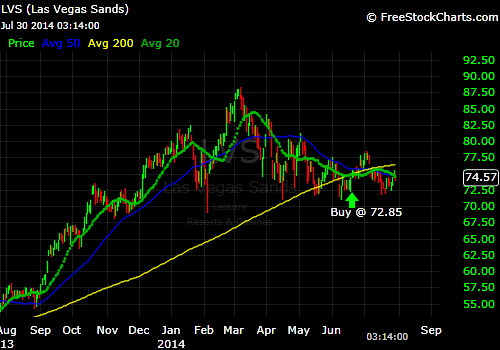 So while the industry and LVS has been served with a negative backdrop, I suggest an investor look at the final set of "dots" to make the case that LVS is performing in an industry that has very good growth potential and is a worthy addition to any portfolio.
The latest earnings report from another company in the sector Wynn Resorts (NASDAQ:WYNN). They reported earnings on July 29th, where they beat analysts consensus by $.11.
A quote from CEO Steve Wynn, from the company's latest conference call.
"And as I say, the best way to do that, is to compare ourselves to The Sands, the most profitable company in gaming and with operations all over the world, including Macau and Las Vegas."
Also mentioned on that call, the company believes a bottom was reached in the Macau VIP segment in June, which if true, could end some bearish scenarios for the sector.
Conclusion:
Connecting the "dots" in this story leaves me with the same bullish stance that I started with back in June. The negative backdrop that clouded the excellent performance and execution on the part of LVS and kept a lid on shares, is slowly changing as we hear the positive statements and financial results not only from LVS but from their competitor on the state of the gaming industry both in Macau and in general.
The shares yield 2.7% and are currently selling with a forward PE of 19. I believe LVS deserves a premium to the market PE of 17 given that earnings growth projections are slated to post gains in the 30-35% range well into 2015 and beyond. This of course does not take into account the enormous potential the Japanese market has to offer.
In my view we will slowly see analyst sentiment toward the industry change to a more positive view as the temporary weak patch they have cited dissipates. This is a perfect example of taking advantage of the 'fear" of others as an opportunity to get on board this growth train.
Best of Luck to all!
Disclosure: The author is long LVS. The author wrote this article themselves, and it expresses their own opinions. The author is not receiving compensation for it (other than from Seeking Alpha). The author has no business relationship with any company whose stock is mentioned in this article.
Additional disclosure: I am long numerous equity positions - all of which can be seen here on my SA Instablog. It is my intention to present an introduction to this security and state my intent and position. It should be used as a 'Starting Point' to conduct your own Due Diligence before making any investment decision.