The yield on the 10-Year tested 2.783 on Wednesday versus my annual value level at 2.813, that's a rise of 32.5 basis points since last Thursday. Gold is consolidating off Tuesday's all time high at $1424.3. Crude oil traded to a new 2010 high at $88.63 on Thursday, and has traded below $86 overnight. The euro slipped below 1.36 overnight with my quarterly value level at 1/3318. The Dow tested and held my annual pivot at 11,235 on Thursday ending the session between that level and my semiannual pivot at 11,296. A close today below 11,235 gives the week to Fibonacci over Dow Theory. Bad Deficit Reduction Ideas and The Federal Reserve is set to Jump-Start QE2.
10-Year Note – (2.657) Annual and annual value levels are 2.813 and 2.999 with daily, monthly, weekly, quarterly and semiannual risky levels at 2.582, 2.380, 2.332, 2.265 and 2.249.
click to enlarge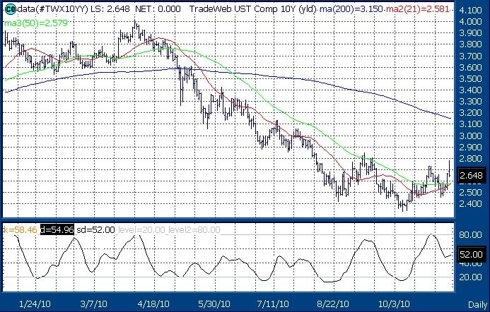 Courtesy of Thomson / Reuters
Comex Gold – ($1408.3) Monthly, quarterly, semiannual and annual value levels are $1373.0, $1306.4, $1260.8, $1218.7 and $1115.2 with daily weekly risky levels at $1427.6 and $1438.1.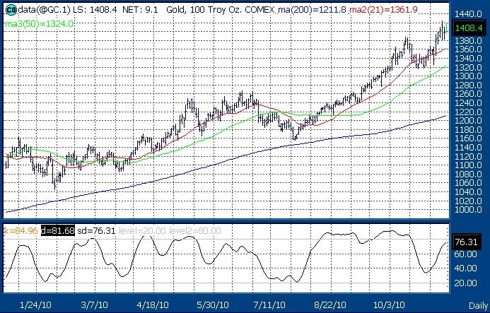 Courtesy of Thomson / Reuters
Nymex Crude Oil – ($87.69) Quarterly, monthly and annual value levels are $83.94, $78.51 and $77.05 with a weekly pivot at $86.51, and daily, semiannual and annual risky levels at $90.15, $88.22, $96.53 and $97.29.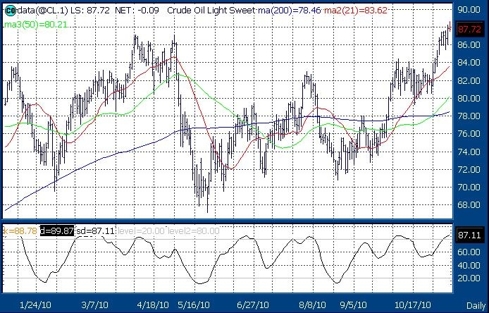 Courtesy of Thomson / Reuters
The Euro – (1.3655) Quarterly and monthly value levels are 1.3318 and 1.2709 with daily, weekly and semiannual risky levels at 1.3933, 1.4879 and 1.4733.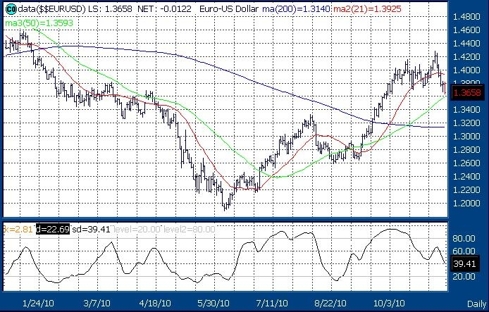 Courtesy of Thomson / Reuters
Daily Dow: (11,283) Monthly, semiannual, annual and quarterly value levels are 10,848, 10,558, 10,379 and 8,523 with annual and semiannual pivots at 11,235, and 11,296, and daily and weekly risky level at 11,533 and 11,650.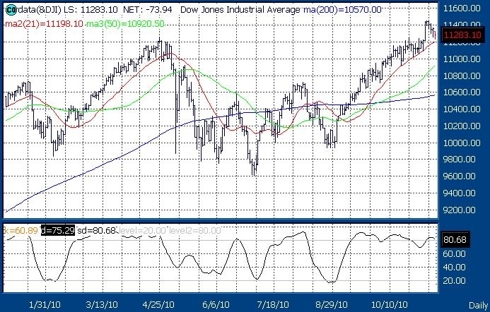 Courtesy of Thomson / Reuters
Bad Deficit Reduction Ideas - To increase the retirement age is a bad idea as corporations are seeking the opposite; wanting workers to accept early retirement to make room for younger workers. Another bad idea is to reduce or eliminate the tax deduction on home mortgage interest. This will be the Achille's Heel for the struggling housing market. The National Association of Home Builders is against the elimination of the mortgage tax deduction saying that the battered housing industry is struggling with a 21% unemployment rate for construction workers.
Tampering with the deduction would be a major setback for today's slowly emerging housing recovery. It would disrupt the plans of young households who are gathering their financial resources to purchase a home. And it would impose a substantial tax burden on existing home buyers, many of whom continue to stay current with their mortgage payments even as they struggle to make ends meet. Diminishing or ending the deduction would exert further downward pressure on home prices, leaving more home owners with mortgages larger than the value of their property and fueling even more foreclosures. It is absolutely clear that the mortgage interest deduction should not be on the table.

The Federal Reserve is set to Jump-Start QE2 - The Federal Reserve will buy $105 billion US Treasuries between now and December 9th in a series of 18 open market operations. Of these $75 billion will be QE2 and $30 billion from proceeds of maturing mortgage-backed securities. Between QE2 and maturing mortgages and GSE debt, the Fed anticipates that total purchases will average $110 billion a month.
The goal of QE2 – Cheaper borrowing costs will lure Americans to spend more. I doubt it. Americans are de-leveraging to reduce debt, and are trying to save in these uncertain times. In addition, many credit cards now have rates of 24% and will not be used.
The Fed expects QE2 to lower corporate bond rates, but between US Treasuries and corporate debt will widen, just as the rate between the 10-Year Treasury and the 30-Year fixed rate mortgage has widened since March 31st when the Fed stopped buying mortgage securities.
In my opinion, QE2 is inflating commodity bubbles and has caused stocks to rise from being undervalued to being overvalued. QE2 has caused a weaker dollar and our trading partners are complaining.
Disclosure: No positions