In the heat of the Deepwater-Horizon Gulf oil spill, I urged you to buy shares of BP Plc (NYSE: BP).
On May 3, I wrote:
BP isn't going anywhere. They'll likely get sued, possibly for billions of dollars. They're on the hook for at least $3 billion in clean up costs. But they have so much income from so many other locations outside of the Gulf of Mexico, and they're sitting on over $10 billion in cash, that there's a stellar buying opportunity in the near future for BP.

If BP stock approaches 2009 lows of $35 a share, I think it would be foolish not to buy.
As we know, shares of BP broke through $35 a share, and plummeted down to $27 briefly.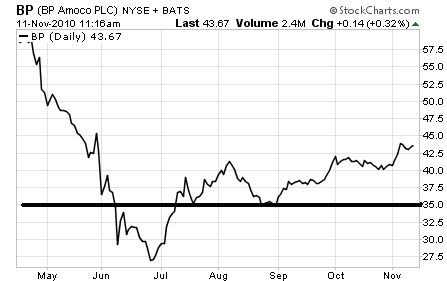 I hope you were able to buy shares under $35 as per my recommendation. If you were able to buy at exactly $35 (which isn't likely considering how briefly that price was available), you'd be sitting on a tidy 24% gain.
Buying shares of BP wasn't the popular trade. It was the opposite of the comfortable move to make at the time. I know I felt icky and weird even talking about it. I was one of very few prognosticators making the same recommendation. And right now, I wouldn't call BP a buy.
In fact, I wouldn't recommend buying shares of any of the "blue-chip" oil companies right now. Even though some of them are trading at relatively cheap valuations, they've all had an amazing run over the past four to six months.
Today, oil is selling at its 52 week highs.
But one of my favorite ways to invest in rising oil prices is still only slightly more expensive than it was four months ago. I'm talking about Noble Corp. (NYSE: NE). I first recommended buying shares of Noble back in July. I then recommended buying shares again in August, and then September. As I said, this company is only marginally more expensive than it was four months ago: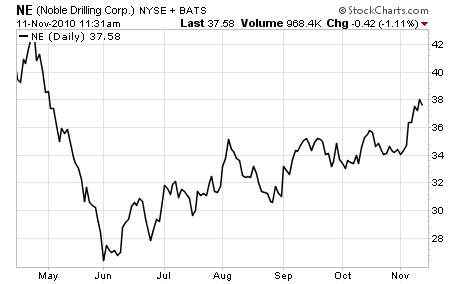 It's up 18% since I recommended it in July. And it's up between 5-10% depending on if you bought it between my recommendations in August and September.
But the uptrend is clear, and it's also clearly matching gains in oil, almost to the penny since my first buy recommendation: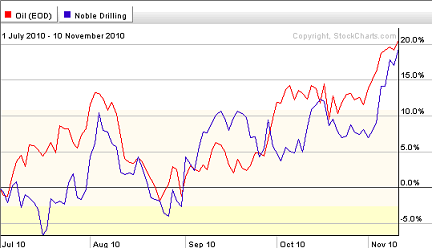 That's why I recommended buying this company in the first place: it's in the oil services industry, which means that its services are in higher demand as the price of oil increases. Noble gets the hard-to-reach oil.
Noble trades in very close tandem with the price of oil, and Diamond (NYSE:DO) and Transocean (NYSE:RIG) seem to do a good job of multiplying gains in the price of oil.

The reason I bring this point up now is that oil prices are currently stuck in a trading range between $70 and $80. This trading range is dependent on many factors, including oil inventory, oil reserves, the strength of the world economy, etc.

But the point is - it won't last. We'll see much, much higher prices in the next 12 or so months - and higher prices still in the years to come - for a simple reason: the world is running out of oil at an astounding rate, while growth in Asia is increasing demand at the same time.

When those higher prices arrive, these specialized oil services companies should see major stock price appreciation.
And today, Noble is still cheap.
If you believe, as I do, that higher oil prices are inevitable, then you should pick up shares of Noble Corp. ahead of the crowd.
Noble recently released a mediocre quarterly earnings report [see transcript] so we may get a chance to buy this company on a short-term dip. But I wouldn't wait. I'd buy this company today, and average in over the long haul, as long as it doesn't fly too far ahead of advances in the price of oil.
Disclosure: none.