By G C Mays
Tyson Foods (NYSE:TSN) hatched strong EPS of $0.73 in its fiscal third quarter on the back of nearly $10 billion in revenues. Rising prices across the board drove revenue growth while price and volume increases contributed to higher overall operating margins that could have been even better had it not been for operational issues in its chicken business and a $49 million impairment charge in its prepared foods business. Speaking of prepared foods, the company expects the Hillshire Brands (NYSE:HSH) acquisition to add $4 billion to revenues in 2015 as well as improve operating margins in the segment.
Revenues of the animal processor are not seasonal and generally rise along with annual rates of inflation for the products they sell, while the volatile nature of the crop and livestock markets contribute to earnings volatility. Figure 1 illustrates revenues and earnings over the last 19 quarters and that earnings growth is not nearly as smooth as revenues.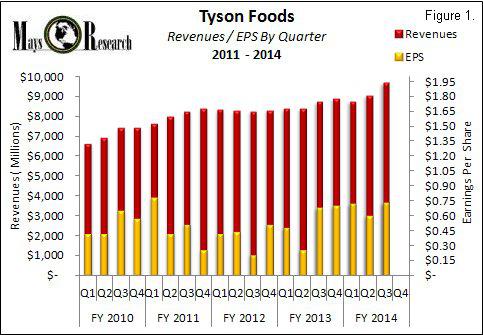 I wrote in March 2013 in a piece entitled, "Corn And Soybean Prices Have Opposite Effect On Fertilizer, Food Company Stocks", that the earnings and shares of Tyson would likely rise because of falling corn and soybean prices, which are key input costs in its chicken business. Since publication, earnings per share have rebounded and the stock is up more than 60%, beating the S&P 500 by a wide margin.

Let's take a look at each segments' performance.
Chicken
Chicken revenues were basically flat year over year at $2.8 billion, mostly due to operational disruptions that negatively affected production during the third quarter and will continue to do so through the fourth quarter and into early in the firms fiscal 2015. Processing was operating at full capacity in the fully cooked part of its chicken business when some processing equipment failed. Since there was no spare capacity in the operation, there was no place to move production. The production loss resulted in an estimated loss of 1.5% to 2.0% in operating profit in the third quarter, with the same expected in the last quarter of the fiscal year.
Beef
Beef revenues were up sharply to just under $4.2 billion in the quarter, up 9.5% sequentially and 12.5% year over year. However, operating margins were lower. One thing that distinguishes Tyson's beef and pork businesses from the chicken business is vertical integration. Tyson's has integrated its chicken growers into the value chain while the company must acquire slaughter cattle and hogs in the open market. As such, they are subject to more volatile input costs, which leads to variable operating margins. According to the BLS, during the company's third quarter the prices producers received for slaughter cattle increased by 0.5%, while producer prices received for meats processed for intermediate demand were up 11.4% and prices received for beef and veal ready for retailers rose 9.8%; as illustrated in figure 3.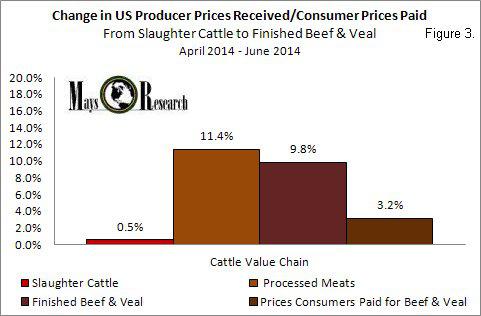 That's not a bad spread between slaughter cattle and finished beef and veal. However, offsetting that spread was an industry wide 13% decline in slaughter cattle during the first half of 2014 that caused operating margins to move lower due to fewer pounds processed. Notably, the sequential price gains in the beef segment aligned with the price gains in finished beef and veal published by the BLS. Unfortunately, grocers were not as lucky, as prices paid by consumers for beef and veal only covered roughly 3% or one-third of the grocers cost, which rose nearly 10%.
Pork
The pork business benefited from rising prices and volumes in the quarter. Revenues of $1.76 billion are 18.7% higher than the second quarter and 26% higher year over year. Operating margins were flat compared to the firms fiscal Q2, but higher compared to the same quarter a year ago. According to the company, operating efficiency as well as product mix improved margins year over year.
Prepared Foods
The prepared foods segment grew revenues as well with $901 million in sales during the quarter. However, operating margins were negative in large part due to a $49 million impairment charge related to the planned closure of three plants. The company wanted to improve its capacity utilization and cost structure. Notably, the company increased its weekly capacity in 2013 to 49 million pounds from 46 million pounds the previous year. The increase followed a long period of reducing capacity from 63 million pounds in 2005 to 45 million pounds in 2009.
This is the area where the Hillshire acquisition will benefit the company the most. Hillshire brands prepared foods business generates operating income north of 10%, while the historical norm for Tyson is in the 4% to 6% range. Tyson expects the acquisition to add $4 billion in revenues in fiscal 2015 to the prepared foods business.
International
International revenues of $365 million were higher both year over year and sequentially. However, the company continues to take losses due to demand destruction in China caused by animal disease. The company is also now processing 100% company controlled birds in China, which will lower their cost structure. The company expects total losses in the segment for 2014 of roughly $100 million.
With corn prices now below $4 per bushel and soybean meal prices also falling the company remains poised to do well over the next year. While double-digit EPS growth is not sustainable over the long-run the company's expects its chicken business to deliver above average returns through at least the 2015 fiscal year and given the fundamentals of that part of the livestock market, I would agree. However, new investors may want to move ahead with caution as the stock has come a long way as illustrated in figure 2 above. The stock may have a little more room to run but new investors may not get the returns they seek on a risk-adjusted basis. In my opinion, it's prudent to play wait and see to find how the completed acquisition affects the company's solvency ratios and overall risk profile.
Disclosure: The author has no positions in any stocks mentioned, and no plans to initiate any positions within the next 72 hours. The author wrote this article themselves, and it expresses their own opinions. The author is not receiving compensation for it (other than from Seeking Alpha). The author has no business relationship with any company whose stock is mentioned in this article.