The history of Potbelly (NASDAQ:PBPB) sandwich chain is a fascinating story. Basically it started out as an antique shop in a small town and added sandwiches to its offerings. Over time the toasty sandwiches became more popular than the antiques, and crowds would gather to spend an afternoon along with live music.
The small town lovable sandwich shop now has hundreds of locations and fills several cities. The décor continues to be an old-fashioned, inviting place. Potbelly's goal for each shop is to be known as the "Neighborhood Sandwich Shop."
Sounds great, right? But it's not working well enough for Wall Street. If you want a freshly prepared small-town gathering shop - consider ditching Potbelly and go with Casey's General Stores (NASDAQ:CASY).
Ever since Potbelly's IPO in 2013, the stock has been in a tailspin - and for good reason. The financials on a good day are a yawner. Take the first quarter of this year for example. Revenue up 7.5% due to new locations but same-store sales were down 2%. Adjusted net income was $0.2 million or a penny per share. At the time, Potbelly guided for 25% to 35% EPS growth for this year and a target of 20% EPS growth annually.
Just two months later that apparently flew out the window. On July 9, Potbelly warned same-store sales have turned sour. Instead of a 25% to 35% EPS gain, Potbelly has now guided for an adjusted EPS decline between 38% and 47%.
In the release, CEO Aylwin Lewis may have been telling the market that the business model just isn't working. He stated,
"Our neighborhood marketing approach will continue to be our primary focus in the near-term, but we will also take additional steps to drive comparable store sales growth."
It sounds like he is realizing that big city people don't want to sit around all day eating sandwiches and listening to live music in an antique shop. There is a niche, sure, but don't expect lines out the door. City people have stuff to do.
Now turn to Casey's General Store, a true small-town sandwich shop gathering place. According to CFO Bill Walljasper, Casey's General Stores are located primarily in the Midwest. Over 75% of its locations are in towns with a population of less than 10,000 people and even in most of those cases less than 3,500 people. This is less than the student body of a small college campus.
Casey's General Stores sells gas, packaged goods, and other merchandise, but the most exciting part of the chain is its freshly prepared food business. Casey's is targeting same-store sales growth of 9% annually which is quite robust for any restaurant-style chain. Last fiscal year, same-store sales soared 11.8% while in the fourth quarter they popped 12.1%.
These locations in many cases have expanded to being open 24 hours per day and even offering pizza delivery in addition to freshly made hamburgers, wings, subs, and pasta. EPS for the last fiscal year rocketed 21% compared to last year.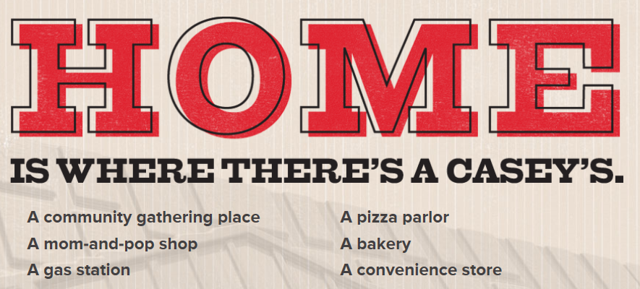 The secret, according to the first two bullet points on Casey's website is that Casey's is "A community gathering place" and "A mom-and-pop shop." In other words, Casey's is everything Potbelly wishes it was and tried to grow with but it is struggling to achieve its goals. It seems that, perhaps, the small-town community gathering place to eat style needs to stay in the small towns to show the type of growth that Wall Street demands. Casey's General Stores has it right. Potbelly doesn't. If I owned Potbelly, I would consider selling it and buying Casey's.
Disclosure: The author has no positions in any stocks mentioned, and no plans to initiate any positions within the next 72 hours. The author wrote this article themselves, and it expresses their own opinions. The author is not receiving compensation for it (other than from Seeking Alpha). The author has no business relationship with any company whose stock is mentioned in this article.