By Brandon Matthews
As the deadline approaches for institutions to file their quarterly reports, I have begun to compile a list of recent activity in Sirius XM. Seems the minds at General Electric (NYSE: GE) failed to see David Faber's interview last quarter with RBC Capital's David Bank. The two talked of Sirius XM's (NASDAQ: SIRI) supposed inflated valuation, only to watch shares surge another 40 percent to the upside since.
I was forced to stop as I read that General Electric, the parent company of CNBC, purchased two million shares of Sirius XM common stock last quarter. While a 2 million dollar investment by a company the size of GE may seem paltry, the initial stake in Sirius XM is larger than 50% of GE's reported holdings, including such names as Clorox (NYSE:CLX), Disney (NYSE:DIS), Verizon (NYSE:VZ) & Apple (NASDAQ:AAPL)!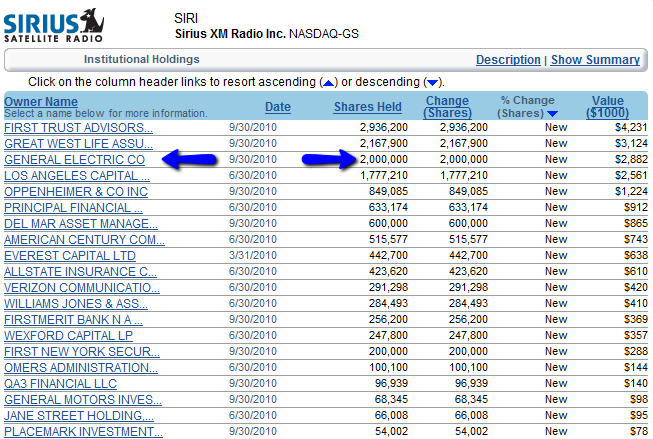 Another notable addition is the soon-to-go-public General Motors (NYSE:GM). Only General Motors and Sirius XM know the details of their contract and perhaps what SatRad 2.0 may offer going forward. So this intial stake of 68,345 shares may be just the beginning of GM's accumulation of Sirius XM shares in advance of what the future may hold. While much is made of insider activity in the form of sales, this type of insider purchasing is certainly a vote of confidence by an ultimate insider, in the form of an auto distribution partner.
Speaking of insider buying and selling, two of Sirius XM's largest stakeholders have reported increasing their positions in Sirius XM last quarter. Vanguard group added 1,156,771 shares, bringing its total stake to 142,449,175 shares. HHR Asset management added 3,602,500 shares, which puts their total position at 35,072,200 shares.
Other well known mentionables so far include Oppenheimer, which took an intial stake of 849,035 shares, and J.P. Morgan which increased its stake 669,140 to 2,619,312 shares. More on this as the institutional results are reported. We will have a complete listing of all institutional activity for the previous quarter next week when the results are in.

Disclosure: Long SIRI, no other positions in companies mentioned, although I have previously held Disney