The stock market was rocked on Thursday, posting its worst single day decline in nearly four months. Such declines are certainly not unexpected, and it was clear following a spring and summer of quiet markets that some degree of downside volatility was more than overdue. But unlike many other recent stock market pullbacks, Thursday's decline was notable, as it came with a convergence of troubling forces not seen in capital markets in over a year. In short, the stock market sell-off on Thursday matters, and how events unfold in the coming days should be watched closely for potential action, if needed.
Before going any further, it is important as always to step back and put Thursday's stock market decline into context. Yes, stocks as measured by the S&P 500 Index (NYSEARCA:SPY) dropped by -2%, which is certainly a challenging day. But even following Thursday's notable drop, stocks are still only -3% below all-time high levels reached just one week ago. Taking this one step further, the S&P 500 closed on Thursday at a price that represented a fresh new all-time high less than two months ago. Moreover, despite the fact that the 20-day and 50-day moving averages on the S&P 500 Index were breached over the last few trading days, the market at 1930 is still well above firmly tested support at its upward sloping 100-day and 150-day moving averages at 1910 and 1883, respectively. And then, of course is the next layer of critical support at the upward sloping 200-day moving average all the way down at 1857. In short, while Thursday's pullback was certainly notable, it is nothing to get at all alarmed about. At least not yet.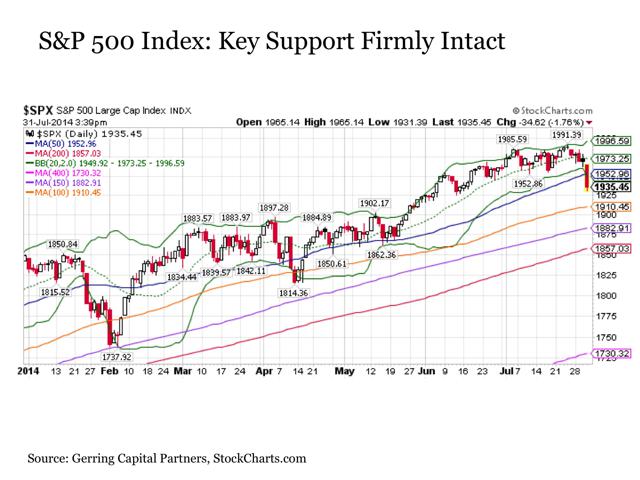 None of this means that investors should be complacent about Thursday's sell-off, however. Given that we are currently in the sixth year of what is now the third longest bull market in history with valuations that are above to well above historical averages, the potential for a sustained and meaningful stock correction continues to rise. And it was some of the characteristics of Thursday's sell-off that suggest the forces behind this latest sell-off may be a bit different from what we have seen from the stock market for more than a year.
A key influence that made Thursday's pullback different than the garden variety correction is the following - it had the look, feel and smell of liquidation. Here's the reason why.
True portfolio diversification is not achieved through spreading your investment dollars across size, style and geography within stock markets. For when the next bear market finally arrives, all of these categories whether they be large caps, small caps (NYSEARCA:IWM), growth (NYSEARCA:IWF), value (NYSEARCA:IWD), developed international (NYSEARCA:EFA) or emerging markets (NYSEARCA:EEM) are all likely to go down meaningfully in varying degrees. The same is true for different but still highly correlated asset classes such as high-yield bonds (NYSEARCA:HYG), convertibles (NYSEARCA:CWB) and emerging market debt (NYSEARCA:EMB). Instead, true portfolio diversification is achieved through tactically allocating across asset classes that have a proven low to negative correlation with one another. Representative asset classes include long-term Treasuries (NYSEARCA:TLT), gold (NYSEARCA:GLD), cash (NYSEARCA:SHV) and volatility (NYSEARCA:VXX), among others. This does not mean that one should be continuously and evenly allocated to these more diversified categories at all points in time. But history has shown that each has proven helpful during times of elevated stock market stress such as during bear markets.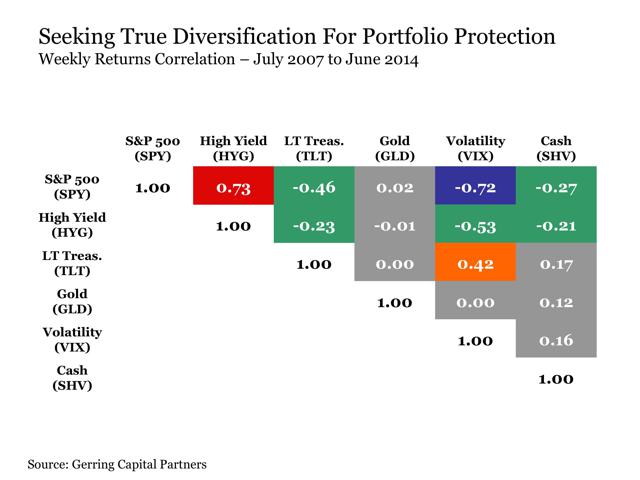 During every major market correction since the end of the financial crisis, the diversification benefit of holding these low to negatively correlated asset classes during stock pullbacks has more than paid off every single time with one notable exception.
When stocks sold off by as much as -16% following QE1 during the summer of 2010, most other diversified asset classes performed well. Correlated high-yield bonds quickly recovered from an initial single-digit decline while long-term Treasuries and gold rallied smartly.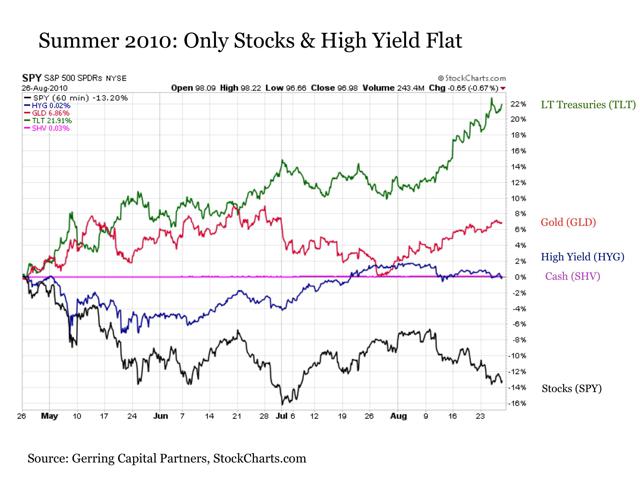 When stocks declined once again by as much as -18% following the end of QE2 in the summer of 2011, high-yield bonds followed to the downside as would be expected. But long-term Treasuries exploded higher while gold performed extremely well until the announcement of Operation Twist by the Fed started to send the yellow metal and its silver (NYSEARCA:SLV) counterpart back to earth.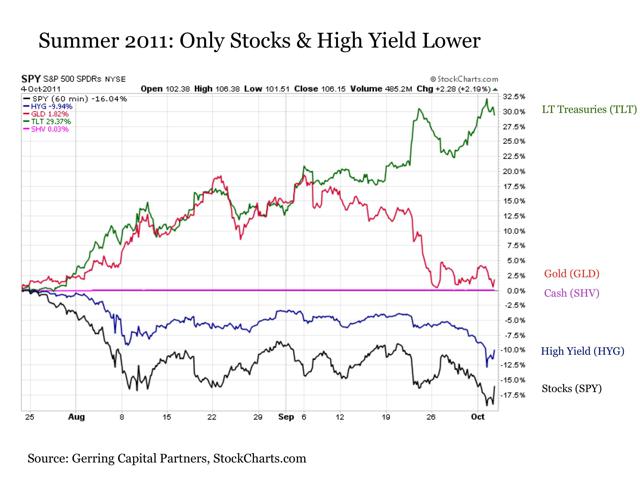 More recently, when stocks were retreating to start off the year in 2014, high yield bonds held essentially flat while long-term Treasuries and gold more than picked up the slack.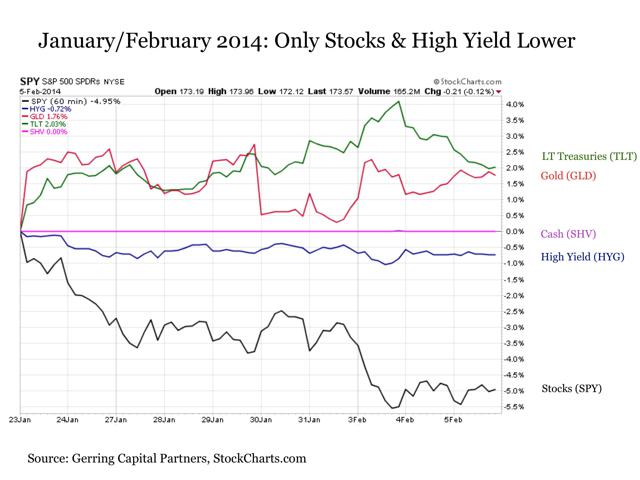 And during the short stock market pullback in early April of this year, all other diversified asset classes moved to the upside including high yield for much of the correction.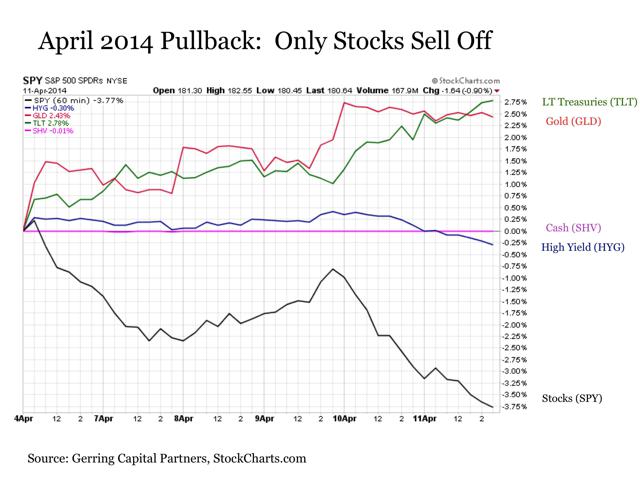 Such movements in returns are expected in more normal markets, as they represent the rotation of capital out of stocks and into truly different asset classes in an effort to protect against capital loss.
But that is not what happened on Thursday. For while stocks were selling off steadily and sharply throughout the day, so too were high yield bonds as would be expected but also gold and even long-term Treasuries, the latter of which staged a mid-day rally only to get turned back and end lower with the rest. Why does this matter? Because it suggests that investors were not simply rotating between positions today. Instead, some big players were selling today, and they were liquidating everything across the board.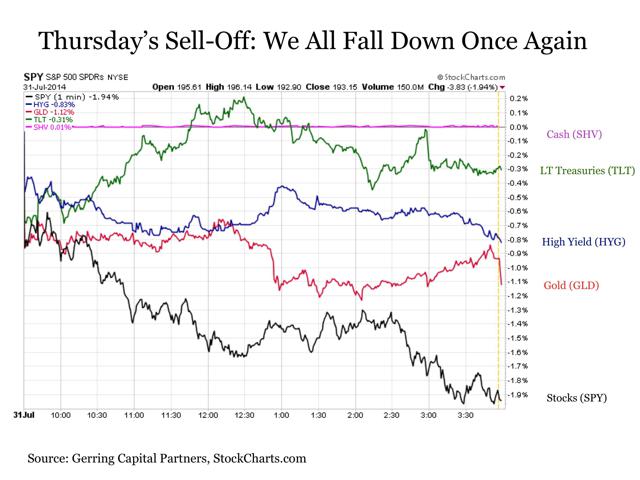 What makes this smell of mass liquidation notable is that it is what defined the market sell-off in the post Lehman bankruptcy period in late 2008. While capital markets managed to limp from mid September into the end of the third quarter, all hell broke loose once the fourth quarter began on October 1, 2008. And for the next month and a half we witnessed major liquidations across the board in nearly all asset classes including stocks, high yield bonds, gold and even U.S. TIPS (NYSEARCA:TIP) that were down roughly -10% at the time due to forced liquidation selling. Only long-term Treasuries managed to hold flat to slightly positive during this high-stress period.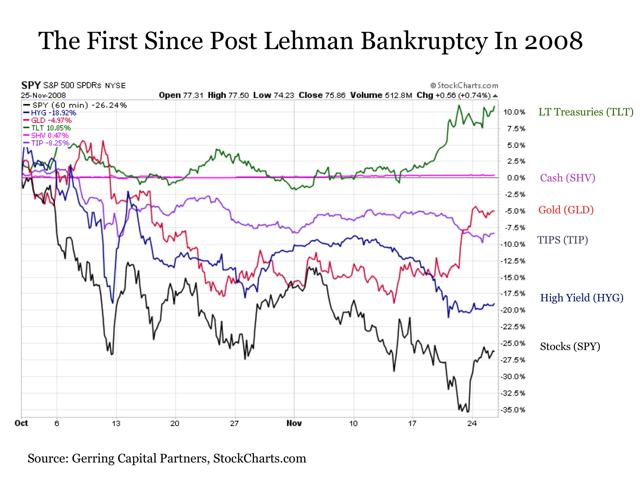 Only one other time since the "end" of the financial crisis in 2008 have we seen a similar set up take place. This occurred last spring following the so-called "taper tantrum" when not coincidentally at the very same time Chinese lending markets were seizing up. During this time from late May to late June 2013, stocks, high yield bonds, gold and long-term Treasuries were all collapsing lower at an accelerating rate until the parade of FOMC speakers took to the podium with promises that the salve of monetary liquidity would stay longer than then-Fed Chair Ben Bernanke first suggested.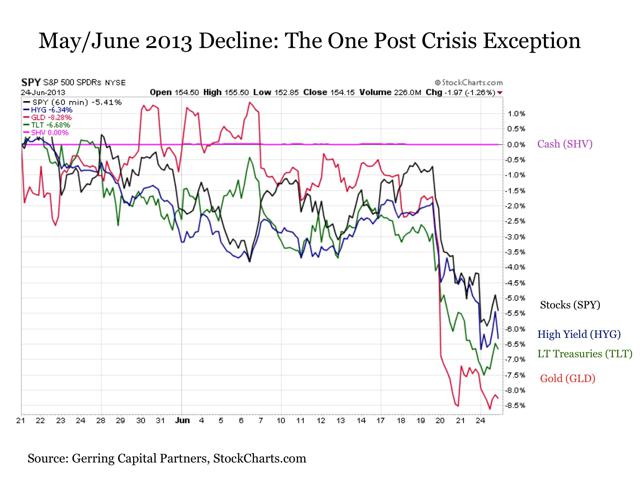 What about cash and volatility in all of these past episodes? Of course, cash is always a great outperformer in down markets. As for volatility, it explodes higher to such a degree during these episodes that it would obscure everything else in the charts above. For example, the VIX was up +27% today alone. Of course, the VXX ETF was only up +8%, which highlights the challenges associated with gaining exposure to the pale rider among diversified asset classes.
So here we are today, one day after the blowout U.S. GDP report that all but ensures Fed QE asset purchases are going away for good and hints even more strongly that interest rate hikes may be on their way even sooner than expected. And with this development the scent of liquidation wafts heavily through trading floors across capital markets. Coincidence? Perhaps. But Thursday's trading action suggests that investors should be on alert at least for the next few days. For if we see a continuation in this trading pattern through Friday and into next week, it may serve as an early warning sign that a growling bear may soon be lurking around the corner.
If this is indeed the case, it is important to remember that stock markets do not go down in a straight line. As a result, patience is warranted and portfolio action should be measured during any such event. There will be bounces along the way, as the level of bullishness in today's market almost certainly assures that at least somebody will be eagerly buying the first meaningful decline from an all-time high. But investors may be well served to consider, particularly if Thursday's trend continues, whether the time has come to lighten up on stock positions and at least consider raising some cash if nothing else.
Of course, if today's price action alleviates and traditional diversification goes back to normal, it will likely come with a return to business as usual as it did last summer. Only time will tell.
Disclosure: This article is for information purposes only. There are risks involved with investing including loss of principal. Gerring Capital Partners makes no explicit or implicit guarantee with respect to performance or the outcome of any investment or projections made. There is no guarantee that the goals of the strategies discussed by Gerring Capital Partners will be met.
Disclosure: The author is long TLT, TIP. The author wrote this article themselves, and it expresses their own opinions. The author is not receiving compensation for it (other than from Seeking Alpha). The author has no business relationship with any company whose stock is mentioned in this article.
Additional disclosure: I am long stocks via the SPLV and XLU as well as selected individual names. I also hold a meaningful allocation to cash at the present time.