In my last article, I discussed why I believed the U.S. market was overpriced and how I was changing my portfolio allocation to deal with it. A goal I left unstated in the last article is my desire to simplify my portfolio. I'm in semi-retirement, and although I've not yet drawn from my portfolio, that day is coming. After spending years saving and investing, it's more important than ever that I do a good job managing my investments, as I have more to lose and less income to offset any investment losses.
My portfolio at the end of May was overly concentrated in REITs, Utilities, BDCs and big technology. It was approximately 90% equities, 5% fixed income and 5% cash. The portfolio held over seventy-five positions. Returns have been good this year, but my portfolio lacks diversification and has too many holdings to manage properly.
I've always been an active investor. There are a couple of reasons for this: I enjoy it, and I have tried to be a somewhat socially responsible investor. I still want to manage my portfolio, but I want to make it easier to do. I still want to be socially responsible, but I'm loosening up and allowing myself to buy indexes (so while I wouldn't buy a tobacco stock, I may own an index that owns one).
I've also come to have more faith in passive investing. When I started investing, low-cost mutual funds and ETFs were not as available and certainly not as commonly used as they are today. There were more loaded funds, and they charged higher management fees. My thinking was why should I pay someone else to manage my money when most managers were going to trail the market anyway?
Now there are a lot of options for investing in indexes at much lower cost. I may not believe everything Larry Swedroe says; I tend to be a skeptic about most things, but most of what he says makes a lot of sense. For those who are not familiar with Larry, he's one of the SA community's prime advocates for passive investing.
As I look back on my investing history, what has provided the most benefit to me has been avoiding most of the losses of the major corrections. During the tech bubble, I avoided technology stocks for two reasons: they offended my value-oriented (cheapskate) investment mentality, and I worked in technology and thought it was unwise to have both my career and my investments reliant on the same industry. During the 2008 self-off, I had a fairly large amount of money in cash. To be clear, I don't believe this can be attributed entirely or even mostly to skill. One mistake I try not to make is to get overconfident, as the market has a way of wiping the smug look off of overconfident investors' faces.
In the past, my portfolio has not had enough diversity. My portfolio has always had a lot of U.S dividend/value stocks, usually a small number of large cap foreign dividend/value stocks and cash. Recently, I've had a small amount of bonds, but not enough to make much of a difference. When the next downturn comes around, I'd like to have a more diversified portfolio that will provide risk protection without having to rely as much on my skill/luck at market timing.
Since May, I have lowered my number of holdings to forty-seven, and I'm still working on eliminating positions. I know, based on reading a lot of articles and comments, that many readers want to know specifics, so here are the holdings I've removed from my portfolio:
Allstate Corp. Sub Debt (ALL.PR.B)
DNP Select Income (NYSE:DNP),
Duke Energy (NYSE:DUK),
Fort Dearborn Income Securities (NYSE:FDI)
Flowers Foods, Inc. (NYSE:FLO),
Western Asset Emerging Markets Debt Fund (NYSE:ESD)
Five Star Quality Care Inc. (NYSE:FVE),
General Electric Capital Corporation (GEH),
Hardinge Inc. (NASDAQ:HDNG),
Health Care REIT (NYSE:HCN),
Healthcare Trust of America (NYSE:HTA),
AdvisorShares Peritus High Yield ETF (NYSEARCA:HYLD)
Western Asset Investment Grade (NYSE:IGI)
International Shipholding Corp. (ISH),
Nuveen Floating Rate Income Opp. (NYSE:JRO),
Nuveen Credit Strategies Income (NYSE:JQC),
NetSol Technologies, Inc. (NASDAQ:NTWK)
Public Storage Preferred R (PSA.PR.R)
Rocky Brands, Inc. (NASDAQ:RCKY)
The L.S. Starrett Company (NYSE:SCX)
SigmaTron International Inc. (NASDAQ:SGMA)
Skystar Bio - Pharmaceutical Company (OTCPK:SKBI)
Senior Housing Properties (NYSE:SNH)
Sanofi (NYSE:SNY)
Transamerica Income Shares Inc. (NYSE:TAI)
THL Credit, Inc. (NASDAQ:TCRD)
Integrys Energy Group (NYSE:TEG),
Cohen&Steers Infrastructure (NYSE:UTF)
VOXX International Corporation (NASDAQ:VOXX)
My portfolio was heavy in utilities and REITs, and I have lightened up on both. I decided to get rid of preferred shares and lower-rated bonds, as I don't believe the risk-reward ratio in these asset classes is favorable.
Since May, I've opened positions in Schwab Emerging Markets ETF (NYSEARCA:SCHE), Vanguard FTSE Europe ETF (NYSEARCA:VGK), Schwab Intermediate-Term U.S. Treasury ETF (NYSEARCA:SCHR) and iShares 20+ Year Treasury Bond ETF (NYSEARCA:TLT). My cash position is now at over 20%. My tendency is to sell entire positions but buy into positions over time, so I expect I'll have a large portion in cash for a while. My holdings in TLT and SCHR are very light; I want to dollar-cost average into treasuries over time.
I still want to lighten up more on REITs and lighten up on BDCs and technology. In the end, I expect my portfolio to contain more low-cost funds and ETFs, more diversity and a much reduced number of positions. My portfolio today is still not as diversified or as simple as I'd like, but it's getting a little better: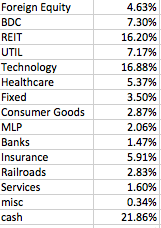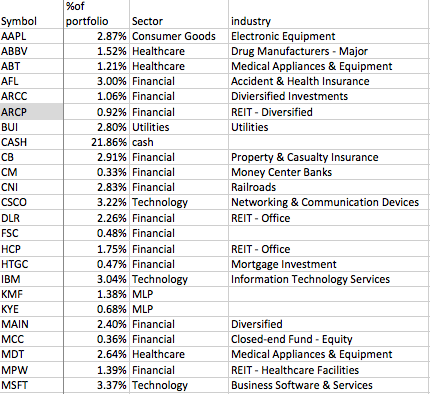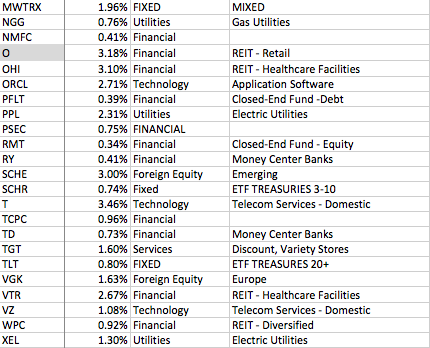 In conclusion
Having more time on my hands in semi-retirement has caused my portfolio to become more unruly. In the process of balancing my portfolio to achieve better diversity and risk protection, I'm simplifying my portfolio. As I become more comfortable with passive investing, I am adding more low-expense ETFs and mutual funds and cutting back on individual equities. I don't know if I will ever be a fully passive investor, but I am trying to simplify my portfolio.
I encourage all investors to do their own due diligence and please share your findings. I strongly feel the best thing about Seeking Alpha is the sharing of ideas. Please comment. Divergent opinions are welcome.
Disclosure: The author is long AAPL, ABBV, ABT, AFL, ARCC, ARCP, BUI, CB, CM, CNI, CSCO, DLR, FSC, HCP, HTGC, IBM, KMF, KYE, MAIN, MCC, MDT, MPW, MSFT, NGG, NMFC, O, OHI, ORCL, PFLT, PPL, PSEC, RMT, RY, SCHE, SCHR, T, TCPC, TD, TGT, TLT, VGK, VTR, VZ, WPC, XEL. The author wrote this article themselves, and it expresses their own opinions. The author is not receiving compensation for it (other than from Seeking Alpha). The author has no business relationship with any company whose stock is mentioned in this article.