Last week was a fresh reminder in US equity markets of something we haven't felt for some time….PAIN! The 2.2% drop on the week in the US major indexes was the largest we've seen in recent months (
click on chart to enlarge
). (Source:
Zignals.com)
And for good reason…the combination of Euro-zone jitters re-emerging onto the front pages of the press, coupled with China's "surprising" higher inflation numbers (quotes over "surprising" to be explained later on), and cautionary earnings outlooks especially by Cisco (NASDAQ:
CSCO
) combined to add a degree of sobriety to price action that was last seen in late August. The previous week's euphoria over the Fed's QE2 and the higher than expected non-farm payroll data seemed to be all but forgotten by market participants in the past few days.
While "euphoria" is hardly the word to describe my view on equity markets at the moment, I do remain, as I've been for some time, and as I've expressed in many recent articles, cautiously bullish for my medium and longer horizon portfolios, looking at market selloffs as opportunities to continue adding equity exposure especially in companies that are benefiting from global infrastructure buildup in emerging and emerged countries, which in turn has led to increased demand for resources, machinery, materials, consumer goods and business services.
This article is meant to address some of the premises upon which this investment view is based and to share some thoughts on upcoming market-relevant events.
First, I can't resist the temptation to use a football analogy. Coaches, in prepping teams for their next game, usually start by reviewing tapes of previous games, looking for insights into plays that worked, plays that didn't work, and lessons that can be learned. It may seem like an obvious statement, but market participants too often focus on the next piece of economic data to be released or earnings to be announced without 'reviewing the tapes' of what's transpired in recent weeks. Let's begin by 'reviewing the tapes' on three things…China's "surprise" inflation announcement, Europe's financial woes, and Cisco's earnings.
This is an appropriate segue to explaining the use of quotation marks over the "surprise" inflation data out of China. Several weeks ago, China handed the markets as clear a crystal ball as one could ask for when on October 19, 2010, they raised interest rates, catching markets off guard and effectively signaling that they had data that raised their concern with regard to the inflationary buildup in their country. A former Citi colleague of mine who I've quoted and cited several times of late, Yiping Huang, now of Peking University, wrote an article at that time featured on voxeu.org entitled:
In it, he made several key points, again, dated October 19:
…Although economists have been arguing for monetary tightening for months, this move was a surprise to many in the market.

This policy adjustment tells us several things:
China's monetary policymakers see greater inflation risks than the headline CPI inflation data;

the government is probably trying to avoid the mistake made by Japan in the 1980s: loosening domestic monetary policy in order to reduce pressure for currency appreciation;

therefore currency appreciation is likely to continue, if not accelerate; and

the authorities might adopt certain measures to control the capital account temporarily in order to discourage "hot money" inflows.
Regarding the potential impact of those rate hikes, he continued:
The rate hike on 19 October is unlikely to lead to a collapse of the housing prices, which have potential to go up further in the coming years given the healthy balance sheets of households and banks. But the latest change in the mindset of government officials may be able to help China avoid major asset bubbles like those experienced by Japan in the late 1980s and by the US during the early years of this century.

Some economists suggest CPI is currently closer to 5%-6%, compared with the official number of 3.5%. The Ministry of Commerce collects market prices for agricultural food every week. These numbers confirm that food prices already rose during the past three month at annualised rate of above 30%.
So, not to be dismissive of the market's overall reaction this past week to China's inflation news, but why the "surprise"?! Inflation is an issue. The Chinese government has told us that. And more importantly, they are addressing it head-on. The question for markets is whether in dealing with the inflation issue, China will slow growth too much so as to deflate global economic growth prospects. Investors will have to decide that for themselves, but in my case, I'm looking to China's near-double-digit growth rate as substantial enough to provide some relief from that risk. Furthermore, there is an element of the Chinese inflation story, namely, wage inflation, which is actually a net positive to growth in that a broader cross-section of Chinese society will be increasing disposable income and becoming more ardent consumers.
Finally, on the question of the Yuan and the US pressure for more appreciation of the Chinese currency, I believe that Yuan appreciation will continue to happen, NOT because the US wants it to happen, but more because it fits into the Chinese anti-inflationary-bubble policy that appears to be at play. On balance, the stronger Yuan should help US exports (though on this point, I'm quite uninspired since exports are a relatively small percentage of US GDP relative to consumer spending, but nonetheless, on the margin, it's a net positive for US stocks).
On the European financial crisis, there's very little room for viewing this through rose-colored glasses. The situation in Ireland, Greece and other so-called peripheral countries, is viewed by markets as anywhere from 'bad' to 'dire'. That's not equity-market-friendly! But on this point, I have continued to be calmed by the seeming political will that exists throughout Europe to address the fiscal imbalances, to implement austerity measures in ways that keep popular protests as just that, protests, and not worse forms of civil conflict, and to remind markets that just a few months ago, the world was astonished at the enormity of the package that the EU and the IMF created as the safety net for what Ireland is currently experiencing…namely, a loss of market confidence, a widening of spreads, and fear of tumultuous illiquidity. I don't know if the combined €750 package is enough of a net to catch the falling stars should they all go at once, but it does appear that the package could go a long way towards stabilizing a fragile situation, restoring market calm, and giving some life-line to the peripheral countries in order to allow for austerity measures to play out.

Let me state clearly that in my view, a failure by any one of the peripheral countries would have quite negative implications for global equity markets, at least initially. How the financial authorities in the EU and IMF deal with it should determine if whatever happens is something that will become a more devastating pan-European crisis, or remain contained. This situation deserves extra focus by investors in coming days. (NOTE: at the time of this writing, the press has been reporting of talk that Ireland is already in discussions with the EU for a "bailout". Look for updates on this issue early in the week as we can distinguish between rumor and fact).
On the
Cisco earnings
front, my initial reaction, admittedly somewhat cynical, was "why stop there"?! Why not remind folks of what happened to Campbell Soup (NYSE:
CPB
), or FedEx (NYSE:
FDX
), or 3M (NYSE:
MMM
) when each of them announced some form of sober outlook for coming months and quarters. Their stocks too got punished. For me, the key to earnings announcements has been to try to differentiate between warnings that are company-specific vs warnings that appear to be systemic. On balance, in my view, this earnings season has been remarkably positive. As
MarketGrader.com
reported on their "Earnings Report Card" with regard to the S&P500:
Companies Reported to date:

497 (99.4%)

Companies yet to report:

3 (0.6%)

Companies that beat estimates:

353 (71.03%)

Companies that met estimates:

40 (8.05%)

Companies that missed estimates:

101 (20.32%)

S&P 500 expected EPS Q3 2010:

19.27

S&P 500 Q3 2009:

14.98

Increase Current Quarter vs Year Ago:

28.65%
About 1.5 U.S. companies boosted earnings estimates above analysts' forecasts for each that cut projections in October. That's about three times the average of 0.59 in the past 10 years, data tracked by Bloomberg show.
While the earnings parade is almost over, there are a few stragglers whose reports I'll be watching with keen interest, namely, Lowes (NYSE:
LOW
) on Monday, Home Depot (NYSE:
HD
) on Tuesday, JM Smucker (NYSE:
SJM
) on Thursday and HJ Heinz (HNZ) on Friday. The first two ought to add some insight on the housing front which, though we know it to be in awful shape from the point of view of new home ownership, might actually augur well for "do it yourselfers" and for "fix-me-ups" that play to LOW's and HD's market segments. And if markets are not pleased with the outlooks that they see from these two companies, the price action might provide an opportunity to acquire these names at lower levels.
As for SJM and HNZ, those who've read my recent articles on Campbell Soup and Sysco (NYSE:
SYY
) will be familiar with my concern that some consumer staple stocks, especially those in the food business, might provide a nasty surprise to those who bought them for so-called defensive reasons. The surging agricultural commodity prices are making their way into margin compression and raising questions about earnings sustainability. I remain long quite a few food-related consumer staple companies but am keeping a close eye on this issue and watching cash-flows to be sure that dividend sustainability is not in doubt.
There are other firms reporting this week, and I'd recommend visiting a site such as
Briefing.com
where consensus estimates can be seen and evaluated as reports come out.
The coming week will also be chock full of economic data that will likely have market moving potential, especially Retail Sales on Monday, Industrial Production and Capacity Utilization on Tuesday, and CPI, Housing Starts & Permits on Wednesday, capped off by Leading Indicators and Philly Fed on Friday. Again, visiting a site such as
Briefing.com
for Street estimates on data is advisable.
This week will also mark the return of Congress from their recent election recess, as well as the return of the President from his Asia trip. The sparks from Washington are likely to start flying again as Republicans take jabs at the President for limited success in his Asia trip, namely failing to secure a bilateral trade deal with Korea, and concluding the G20 talks with something less tangible than most would have liked to see with regard to global current account imbalances and currency issues with China.

That said, the more substantive issues for markets are likely to revolve around talk from both sides of the aisle relating to compromise and middle ground on high priority items such as Bush tax cut extensions, corporate taxes, etc. The President has already sent some shots across the bow indicating some room for negotiation. I believe that any move in the direction of some form of tax certainty will go a long way with investors…both individuals and corporations. Just knowing for sure what the dividend tax rate will be, or capital gains, or foreign earned income for corporates, would, in my opinion, be quite favorable for investment prospects as well as for potential hiring by the corporate sector. I say 'in my opinion', but I'm in good company. Many investors have probably received emails like I have from some CEO's who are sending emails to shareholders encouraging us to appeal to our elected officials for some positive action on the tax legislation front. We might see that in coming days and weeks.
I'm also mindful and encouraged by some recent economic data…..the non-farm payrolls rise reported ten days ago, last week's drop in Jobless Claims, the rise in Consumer Sentiment, the talk of upward revisions to Q3 GDP due to a better than expected Trade Deficit number last week, and recent ISM Manufacturing indexes that showed signs of strength.
That said, don't get me wrong…..while I'm giving credit where credit is due, I'm no economic pollyanna! To the contrary, I've expressed repeatedly in recent articles that any improvement that we see in economic data has to be taken in the context of a broad view of how bad things are relative to a couple of years ago. On the jobs front, for example, the common wisdom among analysts is that we'd need to see over 200,000 non-farm payroll job increases every month for three years JUST to make up the jobs that we lost since the recession began. That's a long road to travel. (
click to enlarge
)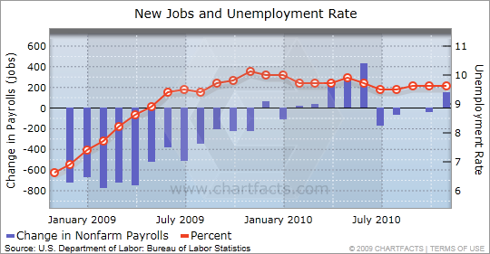 Click to enlarge
In addition, I'm very focused on the municipal debt market concerns of which Harrisburg, PA is becoming the poster child. Municipalities are facing financial stresses that collectively could erupt into the next major issue requiring a TARP size "bailout" in this country. While that's not my base case, it is a risk factor deserving attention. So overall, on the US economic front, to sum it up, I'm encouraged but remain concerned.

Finally, this week holds some key information around the world that markets will shine the spotlight on. In Europe, UK and Eurozone inflation news will be released on Tuesday as will Germany's ZEW economic sentiment indicator. On Wednesday, the Bank of England will release its minutes from their last meeting which will be scrutinized for talk of their view on inflation, fiscal austerity and prospects for further quantitative easing measures. And obviously, all eyes will be on Ireland and other peripheral countries as their financial woes and resolutions evolve.
In Asia, Japan will release its GDP number on Monday which is expected to be boosted by recent Government initiatives in promoting purchases of appliances and cars. Korea central bank will announce its interest rate decision on Tuesday. They did not raise rates as had been expected last time which was taken by the markets as a sign that they are willing to risk higher inflation so as not to raise rates which would strengthen their currency , and in turn, choke off exports. This week's interest decision should shed new light on their inflation/currency/growth stance.
In sum, the waters remain choppy, and some of the risk factors that we've faced are at elevated levels, but so are some of the encouraging economic and political signals. Taken together they form the basis upon which my view of cautious optimism on equity valuations remains intact. My cash levels remain somewhat higher than usual, but I continue to look for selective opportunities to deploy the cash into strong companies who are seizing the moment in burgeoning economies around the globe. As the week unfolds, look for updates and more specifics as to which companies are at or near levels worth considering.
Disclosure:
Personal and/or client portfolios may be long many stocks in SPX and QQQQ,
FXI
,
CSCO
,
GMF
,
EEM
,
EWG
,
CPB
,
MMM
,
SJM
, HNZ,
LOW
,
HD
,
SYY
Disclaimer: As always, readers need to be mindful of the following: This is NOT personalized financial advice. Each investor is obligated to opine and decide for his/herself as to the relevance of what is stated in this article as to his/her own unique financial profile, risk appetite and portfolio goals. This article is solely meant to be a thought provoking note on issues that investors should throw in the mix of their own investment analysis and decisions.
Please read and consider important information related to all communication made by Soos Global on SeekingAlpha.com by clicking here.