In spite of this week's 2% pullback, the S&P is up almost 15% since September 1st. So we went looking for foreign dividend paying stocks that haven't advanced as much as the general market, but still have strong metrics, low debt, and good growth prospects for next year. We came up with China Mobile, (NYSE:CHL), a dividend stock which is also the biggest mobile firm in the world.
With over 522.283 million customers, China Mobile has the world's largest mobile customer base, and dominates the Chinese mobile market. It has a market share of approximately 70.6% in Mainland China. The Group's GSM global roaming services covered 237 countries and regions and its GPRS roaming services covered 182 countries and regions.
The company's majority shareholder is China Mobile (Hong Kong) Group Limited, which, as of 31 December 2009, indirectly held an equity interest of approximately 74.22% in the company through a wholly-owned subsidiary, China Mobile Hong Kong (BVI) Limited. The remaining equity interest of approximately 25.78% of the company was held by public investors.
With a 3.5%-plus dividend yield, CHL just made it into the Telecom stocks section of our High Dividend Stocks by Sector Tables. However, it also has some high options yields, which we've listed later in the article. Here's how CHL compares to its Wireless Industry Peer Group: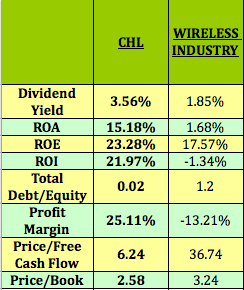 CHL also has a low dividend payout ratio of 43.02%.
Although analysts' 5-year EPS growth projections aren't very high, CHL does have a low, next-year PEG ratio, which supports short-term options trading strategies, such as selling Covered Calls and Cash Secured Puts.
Click to enlarge:


Click to enlarge

The following 2 option trades expire in June 2011: (Click to enlarge)


Click to enlarge
You can find more details on the above call option trade in our Covered Calls Table.
Selling June cash secured put options would also net you a double-digit annualized yield: (Click to enlarge)


Click to enlarge
We've added the above put trade this week to our Cash Secured Puts Table, which lists additional details.
CHL market analysis:
With revenue and a subscriber base more than twice the size of it closest competitor, China Mobile can afford to spend more on technology and products. It can launch new services at a lower cost per customer, thereby fetching higher margins than its rivals. A strong brand helps the carrier attract and retain not only high-spending business subscribers, the most profitable segment, but also the best mobile application developers and business partners. This reinforces China Mobile's competitive edge in service offering and user experience.
The growth prospects for China Mobile remain attractive, as the carrier benefits from rising mobile penetration in China. The current penetration rate of around 50% is significantly below that of emerging markets such as Mexico and Brazil (at over 70%), and this gap should narrow in the coming years, with rising disposable income levels in China. While the urban markets may have become saturated, most of the future growth will come from the vast rural areas, where income levels of 800 million residents are lower than in the cities, but are growing steadily. These rural markets are a sweet spot for China Mobile, which, with its lower cost base, can afford to roll out basic voice plans and entry-level handsets to attract price-sensitive rural residents, and still make decent profits. Its rivals, China Unicom, (NYSE:CHU) and China Telecom, (NYSE:CHA), probably can't afford to compete aggressively in this market.
However, China Mobile faces a tough fight in the 3G market, where its competitors enjoy considerable advantages based on technology.
(CHL is mandated by the Chinese government to provide 3G services based on a nascent home-grown technology standard called TD-SCDMA (TD), while its rivals can deploy commercially mature 3G technology with a well-established vendor network.) In the long term, this could erode CHL's competitive advantage. (Source: Morningstar)
Disclosure: No positions at this time
Disclaimer: This article is written for informational purposes only.