BACKGROUND

Demoulas Super Markets Inc. (Market Basket) is a private, family-owned regional low-cost grocery store chain in New England with stores located throughout Massachusetts, New Hampshire, and Maine. Below is an infographic prepared by David Butler of the Boston Globe that shows the 71 current stores and the 4 stores under construction (source).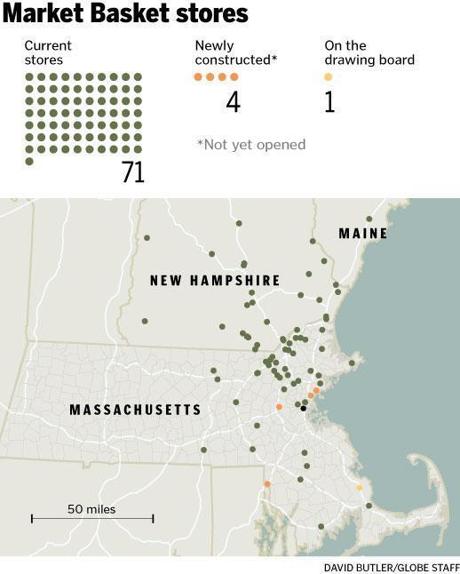 On July 17, 2014, workers at Market Basket started protesting the firing of the company CEO by the board of directors. This "walkout" has been ongoing since then. This regional news story has made national news (video). The usually full Market Basket parking lots are now nearly empty, and stores have hardly any customers because of the employees protesting outside and the empty store shelves inside. These stores are extremely popular and always very busy. This year the ousted CEO implemented an "additional 4% off" discount on their already low prices.
THESIS #1
Last week, most Market Basket shoppers went elsewhere for their groceries in support of the workers. The ones who are willing to cross the protest lines are finding empty shelves and are being forced to shop elsewhere also. The majority of Market Basket shoppers are very similar to Walmart (NYSE:WMT) shoppers: cost sensitive. By necessity these shoppers will default to the next lowest-cost grocery store, Walmart.
I witnessed this on Sunday, July 27, 2014. Visiting the Walmart grocery section for the above-stated reason, I saw firsthand the effects of increased shopping volume at the store closest to me. The produce and meat sections had very limited selection; the dairy section was in similar condition. This store was completely out of eggs. This store was not prepared for this influx of customers. A quick, informal survey of coworkers and family members revealed that this was a common sight over the weekend for Walmarts in New Hampshire and Massachusetts.
I returned to my local store on Tuesday, July 29, 2014. The produce, meat, and dairy sections were close to being fully restocked, but the center aisles were still lacking inventory.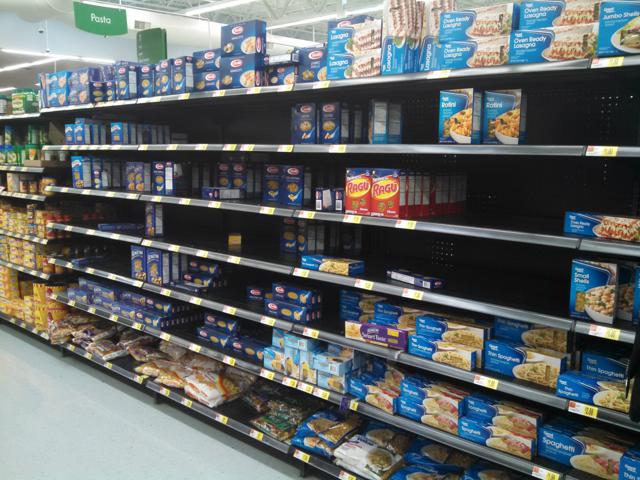 Photo taken by Zach Tripp, July 29, 2014, at Walmart Store #1796.
QUICK MATH
Market Basket is reported to have approximately $3.55 billion (source) in annual revenue. That equates to $68.2 million per week. If the neighboring Walmart stores got 50% of those cost-sensitive Market Basket shoppers over the last two weeks, they would have $68.2 million in additional revenue by the end of this week (Friday, August 1, 2014). This estimate does not take into account any add-on sales.
These sales will fall right at the tail end of Walmart's fiscal year 2015 Q2 sales (FY2015 Q2 ends July 31, 2014). Of the Walmart US Segment, 55% of the revenue comes from the grocery merchandise unit. Last year's Q2 sales from the Walmart US Segment was $68.7 billion (source: 10-Q dated September 5, 2013). An estimated 55% of those sales were from the grocery unit, or $37.8 billion.

Source: 10-K filing dated March 21, 2014.
Adding roughly $68.2 million from potential Market Basket customers would result in a 0.18% increase in grocery sales in Q2-2014 (in addition to growth/shrinkage of sales that would normally have occurred in the quarter). Walmart's FY2105 Q2 earnings call is scheduled for August 14, 2014.
THESIS #2
One out for this family-feud crisis at Market Basket is a buyout. The former CEO has made an offer that has not been accepted by the board of directors as of July 29, 2014 (source). This could be an opportunity for Walmart's neighborhood markets strategy. Walmart could use pre-existing stores and customer base to develop this strategy while leveraging the Market Basket brand and cost-effective business practices, which are among the best in the industry (source). AtoZdatabases estimates Market Basket's revenue growth over the past three years to be 75% and with the planned future store expansion, this could be a potential growth area for Walmart.
CONCLUSION
Even though the potential is present for the Market Basket customer migration to help add to the top line, that potential is limited given the ratio of additional sales in the New England area as compared with national sales, especially given the lack of inventory. If the Market Basket chain does not survive this family crisis, New England Walmarts should be the primary beneficiary.
Disclosure: The author has no positions in any stocks mentioned, and no plans to initiate any positions within the next 72 hours. The author wrote this article themselves, and it expresses their own opinions. The author is not receiving compensation for it (other than from Seeking Alpha). The author has no business relationship with any company whose stock is mentioned in this article.