The Gap (NYSE:GPS) is an apparel company that sells its products both through stores and online. The company has several well known brands such as The Gap, Banana Republic and Piperlime.
So far this year, stocks in The Gap have gone up by 3.45%, underperforming the S&P500, which is up 5.25% year to date. At the current price per share of $40.44, shares in GPS have a dividend yield of 2.17%. Despite this unusually high dividend (the industry average dividend yield stands at only 1.4%), The Gap has paid out only 28.9% of its earnings in the form of dividends. At no point in the past 12 months has the dividend yield been any higher than it is today. But does that make The Gap a buy?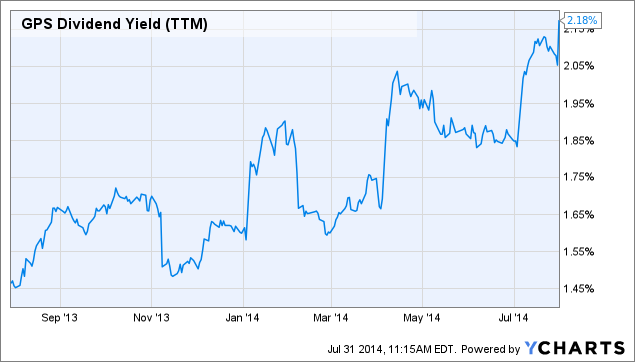 GPS Dividend Yield (TTM) data by YCharts
Analysts are expecting The Gap's earnings per share to come in at $2.93 this fiscal year, putting the company at a forward P/E ratio of only 13.8. For comparison, Urban Outfitters Inc. (NASDAQ:URBN) is trading at a forward P/E ratio of 18.2, while Guess (NYSE:GES) is trading at 17.7 times this year's expected earnings. The industry average P/E ratio stands at 20.9.
Price-to-sales ratios show a similar pattern, with The Gap trading at a forward P/S ratio of only 1.1. Urban Outfitters is trading at a forward price-to-sales ratio of 1.5, while Guess is trading at 0.9 times this year's expected revenue.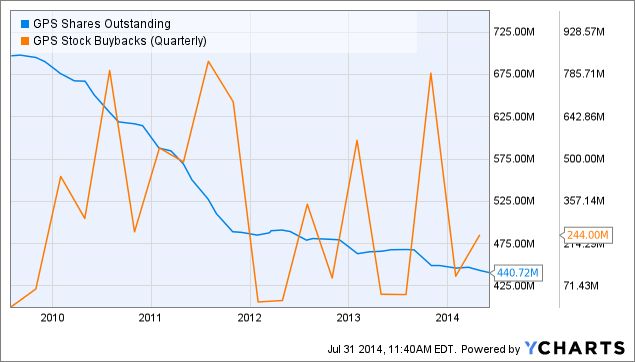 GPS Shares Outstanding data by YCharts
Speaking of revenue, The Gap is not a great stock for those looking for extreme revenue growth, as its 5-year revenue growth rate stands at only 2.14%. However, due to the fact the company buys back huge amount of its own shares, EPS has gone up dramatically in recent years. Over the past 5 years, the company has been able to grow its earnings per share at an average rate of 15.54%.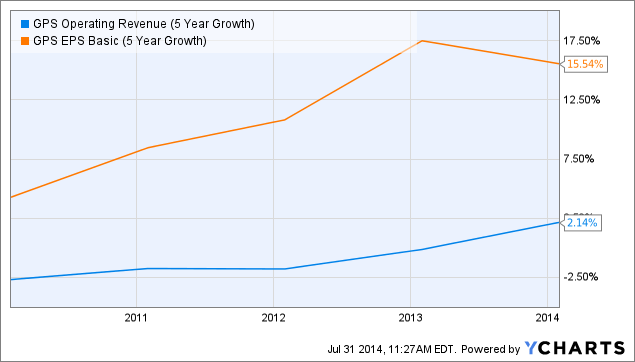 GPS Operating Revenue (5 Year Growth) data by YCharts
Looking at the balance sheet, we can see The Gap has a current ratio of 1.96 and a quick ratio of 1.09, indicating great short-term financial health. The company has $1.544 billion in cash and equivalents, which is equal to $3.50 per share, or almost 4 years worth of dividends at the current rate of $0.22 per quarter.
Conclusion
Despite its amazing growth in EPS and relatively high dividend yield, The Gap is trading at a lower valuation than its peers. Furthermore, having over $1.5 billion in cash means a drop in earnings won't automatically lead to a dividend cut. I feel investors getting in now have a very decent chance of getting a high yield on cost as EPS keeps growing, especially considering the fact the payout ratio is still very low.
Disclaimer: I am not a registered investment advisor and do not provide specific investment advice. The information contained herein is for informational purposes only. Nothing in this article should be taken as a solicitation to purchase or sell securities. Before buying or selling any stock you should do your own research and reach your own conclusion. It is up to investors to make the correct decision after necessary research. Investing includes risks, including loss of principal.
Disclosure: The author has no positions in any stocks mentioned, and no plans to initiate any positions within the next 72 hours. The author wrote this article themselves, and it expresses their own opinions. The author is not receiving compensation for it (other than from Seeking Alpha). The author has no business relationship with any company whose stock is mentioned in this article.