Inside the healthcare sector sits Endologix (NASDAQ:ELGX), an overlooked, unknown growth story that I believe deserves the attention of investors.
It should be noted that I first recommended ELGX as a buy back on July 5, 2010, when the stock was trading around $4.50. Since that time, shares of the company are up nearly 35%.
Needless to say, I still see more upside with this stock.
images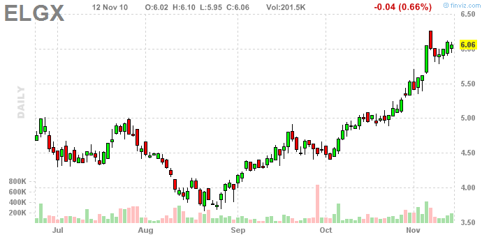 ELGX's primary focus is to become the market leader in minimally invasive treatments for aortic disorders. The company makes devices - stents - that are designed to treat and prevent abdominal aortic aneurysms (AAA).
As seen in the image below, AAAs weaken the wall of the aorta and enlarge it (ballooning effect).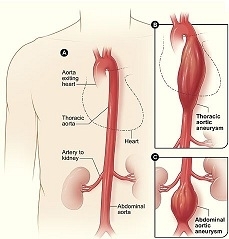 To learn more about AAA, check out this April 2010 publication.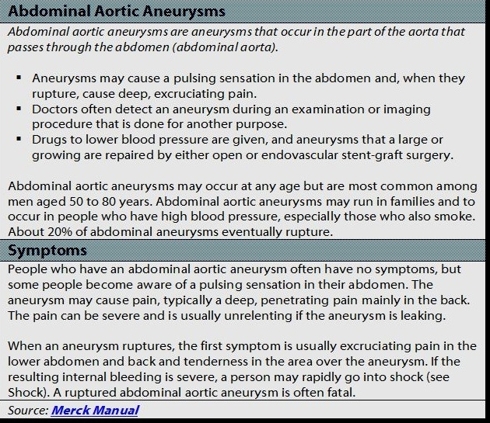 Q3 2010
On October 27, ELGX posted up an impressive quarterly report.
Here are some of the highlights: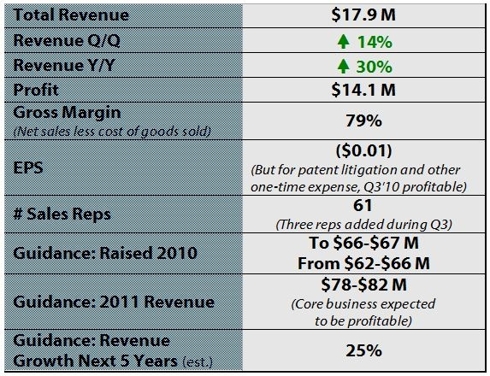 During the quarter, ELGX indicated that revenue growth was primarily due to (1) sales force productivity and (2) the accelerated launch of the company's PowerFit Aortic Extensions.

To learn more about PowerFit, check out this PDF and video.
Interested investors should also take a moment to review (1) the Q3 2010 slide presentation, (2) the conference call transcript, as well as (3) the company's November 11 presentation.
THE NELLIX ACQUISITION
In conjunction with the Q3 2010 report, ELGX also announced acquisition of private device maker Nellix, Inc. From my view, this development rocked the conference call.
Briefly, the Nellix platform features polymer-filled endobags that "fix, fill and stabilize the aneurysm."
Potential benefits of Nellix technology include: (1) reduces endoleaks and the need for secondary interventions by the treating physician (existing endovascular aneurysm repair (EVAR) devices often leak and therefore, secondary interventions are very common); (2) reduces long-term patient surveillance (also common); and (3) enables doctors to treat more patients with different types of aneurysms.
Bottom Line: ELGX estimates that revenue generated from Nellix - alone - could exceed $100 million in the next five years.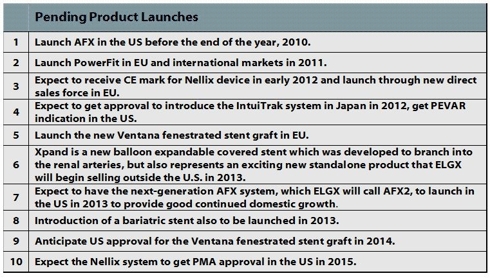 CONCLUSION
This growth story is likely to have a happy ending. Near-term, shares of ELGX appear to be well-positioned to move higher. Investors can also play the stock as a longer-term investment. Either way, I believe ELGX will prove to be a smart bet.
12-month target: $7.50
Disclosure: No positions