Forget GoPro (NASDAQ:GPRO).
This might be the biggest pure-tech IPO so far this year.
Today is all about Mobileye N.V. (Pending:MBLY).
Company Overview
In business since 1999, headquartered in the Netherlands, and operating out of Israel, Mobileye is a technological leader in the in the design and development of software and related technologies for camera-based Advanced Driver Assistance Systems ("ADAS").
More specifically, it supplies a system-on-chip ("SoC") technology, called EyeQ​®, to auto manufacturers for use inside monocular cameras to improve driver safety (development underway with multi-focal cameras for automated driving slated for 2016).
Mobileye's driver assistance systems ("DAS") help anticipate possible collisions with other vehicles, pedestrians, cyclists, debris, etc., while also detecting roadway markings (lanes, barriers, potholes, traffic lights), as well as identifying and reading traffic signs and lights.
The company is working towards developing completely autonomous driving, achievable when the areas of software algorithms, system-on-chips and custom application processing of visual information are all integrated.
The first EyeQ​® chip installed for commercial use in 2007
~3.3 million worldwide product installations as of March 31st, 2014
Technology will be available in 160 car models from 18 original equipment manufacturers ("OEMs") worldwide (selected for implementation in the production of 237 car models from 20 OEMs by 2016)
15 years of R&D and data collected from millions of miles of driving
Game-Changing (And Life-Saving) Technology
Mobileye's technology has already had an impressive impact on the auto industry.
The company has spent years pioneering new visual processing improvements in its monocular camera sensor.
Exhibit 1 - Monocular Camera Technology Development

Source: F-1 filing
Over time, the camera has demonstrated its ability to perform Advanced Driver Assistance Systems ("ADAS") applications formerly accomplished only by radar, and has gradually gained prominence in the industry.
Current sales numbers and industry metrics show that there is a clear trend towards the camera sensor. This prevalence is driven by the lower cost and packaging benefits of the "bundling effect" of having a single camera perform multiple ADAS and the relative ease of adaptable functionality through simple software updates. Since Mobileye is the only company offering this bundling effect, which is unique to the camera-based sensing modality since all other sensor modalities specialize in limited ADAS subsets, that makes them a clear stand out amongst the competition, not only offering a unique product, but also being a first-mover in the industry.
Here are some examples of how Mobileye's technology is making people and our roads safer:
Lane Departure Technology - Lane Departure Warning (LDW) systems use visible lane markers to track vehicle position within a lane and issue a warning for an unintended road departure. Working in conjunction with the Lane Keeping and Support (LKS) and Lane Keeping Assistant (LKA) systems, the vehicle is fully supported to say inside its lane boundaries by taking constant measurements of lane markers and sending torque input to the steering system.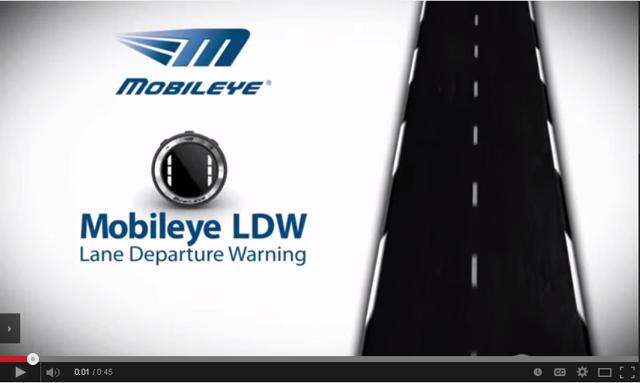 [LDW VIDEO LINK]
Vehicle Detection Technology - While this is only one feature, I wanted to highlight it, Mobileye's Automatic Emergency Braking System ("AEBS"), detects imminent collisions, warns the driver, and as a final measure engages the brakes to reduce the impact of the collision or avoid it entirely. In 2007, Mobileye partnered with Delphi (NYSE:DLPH) to create the first worldwide fused Collision Mitigation System. In 2010, it was integrated into the Volvo (OTCPK:VOLVY) S60 production, and in 2013, Mobileye's Vision Only Collision Mitigation by Braking was introduced by BMW on the 1, 3, 5, 6, 7, x5 and x6 series and i3.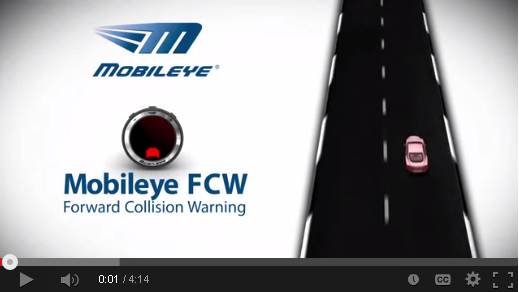 [VIDEO DETECTION LINK]
Pedestrian Collision Warning - Too often we hear tragic stories of innocent people being killed by careless and reckless drivers. Whether it's pedestrians crossing the street or cyclists unsuspectingly being mowed down, it happens far too often. Hopefully this innovation can change that.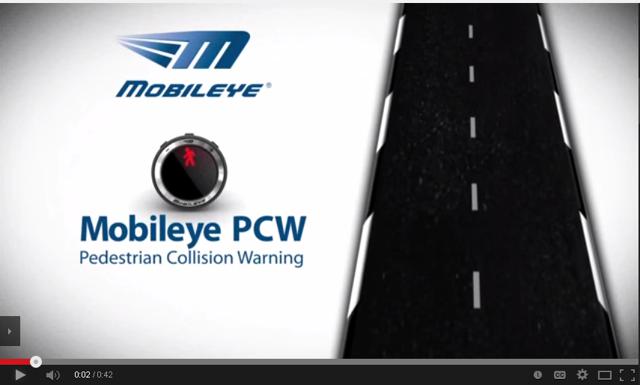 [PCW VIDEO LINK]
If you only watch one video, WATCH THIS ONE. It's the most comprehensive and really showcases the technology.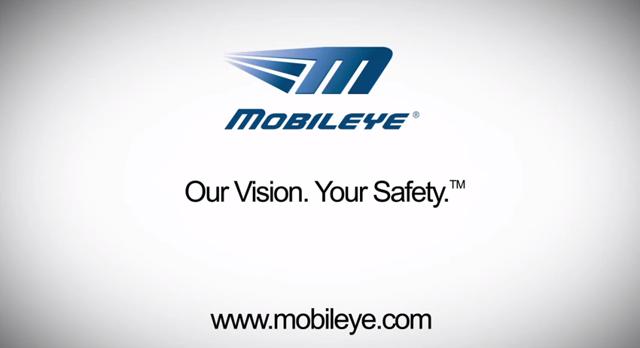 Here's a list of all of the available safety and convenience features along with their associated acronyms.
Exhibit 2 - ADAS Safety and Convenience-related Functionality Offered by Mobileye

Source: F-1 filing
Market Metrics and Growth Outlook
The biggest market opportunity and growth driver is the "connected car" movement.
Exhibit 3 - The Connected Car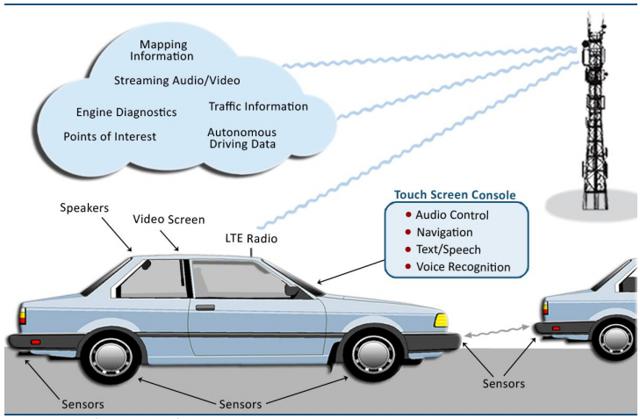 Source: Raymond James
A research report by Raymond James. The Internet of Things: A Study in Hype, Reality, Disruption, and Growth, provides solid industry metrics, as does Connected Car Forecast: Global Connected Car Market to Grow Threefold Within Five Years, a research report by GSMA.
Exhibit 4 - Connected Car Forecast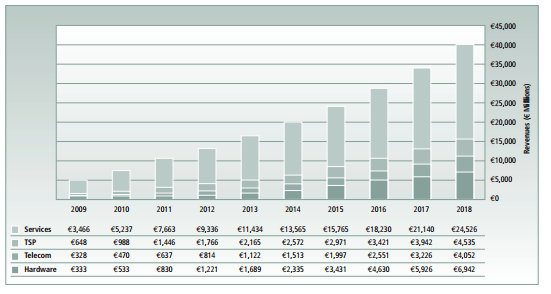 Source: GSMA
Last year, ABI Research projected that ~60% of cars made in 2017 would come with connected capability. That number is slowly moving towards 100% as auto makers not integrating this functionality into their new product lines will most definitely lost market share and customers - connected cars are becoming the new norm as opposed to previously only being premium options on luxury cars. It's not that difficult to see why when you consider:
The U.S. Insurance Institute for Highway Safety ("IIHS") cites studies finding that more than 90% of vehicular accidents are due to human factors.
The World Health Organization (the "WHO") estimates that there were 1.24 million deaths on the world's roads in 2010
The WHO also estimates that road traffic accidents can adversely affect 1-3% of a country's gross domestic product.
In 2011, AAA estimated that auto accidents cost the United States $300 billion annually
Given such high prevalence of avoidable accidents (those caused by human factor), and so much money being spent by insurers, automobile manufacturers and the government, there is a very large, and pressing demand to address this concern.
This is where Mobileye comes in.
The IIHS has estimated that if all vehicles were equipped with various ADAS functions (namely FCW, LDW, side-view assist, and adaptive headlights), as many as 1.9 million crashes involving passenger vehicles could be prevented or mitigated each year, including about 1 in 3 fatal crashes and 1 in 5 serious or moderate injury crashes.
Orders
Mobileye's products were first included in production vehicles in 2007 with three manufacturers - BMW, General Motors and Volvo. By the end of 2014, the technology will be available in 160 car models from 18 original equipment manufacturers ("OEMs") worldwide, either as an option or a standard feature. Further, its products have been selected for implementation in the production of 237 car models from 20 OEMs by 2016.
Mobileye currently has production agreements with respect to the following OEMs (an asterisk means models are in serial production and in the market):
Exhibit 5 - Production Agreements

The following chart illustrates the increase in car models (by model year) in which Mobileye products have been or will be integrated by OEMs.
Exhibit 6 - Mobileye Product Integration by OEMs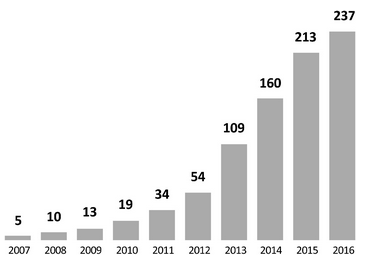 Sales growth from Mobileye's OEM segment increased over 120% Y/Y in both 2012 and 2013. Revenue spiked drastically Q1 2014, up 243.9% compared to Q1 2013. Excellent, considering that the OEM segment represents 89% of Mobileye's total revenue.
Mobileye is considered a Tier 2 supplier who sells its product to Tier 1 companies which then integrate their product into the system supplied to the OEMs. As such, the business model of being a Tier 2 supplier that subcontracts its manufacturing, results in an advantageous cost structure that requires minimal sales and marketing expenses for the OEM segment. As growth is experienced in this market segment, operating expenditures should be minimal.
The remainder of Mobileye's revenue comes from after-market ("AM") product sales. In the AM segment, the company sells a complete system which offers a variety of advanced driver assistance functions to customers, primarily fleet commercial vehicles, fleet management system providers, new vehicle dealers and importers either directly, or through distributors and insurance companies.
Mobileye grew its AM revenue 88% in 2012, and 44% in 2013. The company also reported a 53% increase Q1 2014 in its AM sales compared to Q1 2013.
Financial Situation
Mobileye's F-1 filing provides the following numbers in its balance sheet for three months ended March 31, 2014:
Revenue: $35,649,000.00
Net Loss: ($19,559,000.00)
Total Assets: $185,042,000.00
Total Liabilities: $28,950,000.00
Stockholders' Equity: $156,092,000.00
Feel free to comb more thoroughly through Mobileye's statements. Here are a couple of key metrics:
Revenue Growth - The last three years the company has experienced fantastic top-line growth with revenues more than doubling from 2011 to 2012, and against more than doubling from 2012 to 2013; Mobileye posted revenues of $19.2 million, $40.3 million, and $81.2 million for 2011, 2012, and 2013, respectively. Moreover, Francis Gaskins, research manager at Equities.com and principal of IPOdesktop.com, commented "Mobileye has a near monopoly position,,, Revenue and gross profit were up more than 200% in Q1 (from Q1 2013) and that mesmerizes the institutional investors." These metrics are indicative that there is clear demand for its products.
Free Cash Flow - This is an important metric because it allows a company to pursue opportunities to increase shareholder value. Without cash, it's tough to develop new products, make acquisitions, reduce debt, etc.
In 2011 and 2012, Mobileye had negative free cash flows of $11 million and $3.2 million, respectively. However, in 2013 Mobileye generated $25.6 million in free cash flow. That momentum carried through into this year posting $5 million in free cash flow in Q1 2014, compared with $500,000 in Q1 2013.
Favorable Tax Rate - Mobileye has identified an overall goal of having a lean operating structure which is why operations have largely migrated to Israel where there is only a 9% tax rate, and is where the company derives most of its income.
Profitability - Mobileye achieved marginal profitability in 2012, which increased steadily Q/Q in 2013 and in Q1 2014. The company's gross profit is primarily affected by its Average Selling Price (NYSE:ASP) in the OEM segment. Mobileye has been successful in implanting increasing ASP hikes as more complex bundles applications become available, which has significantly affected the bottom-line. Mobileye recorded an operating profit of $15.2 million for 2013.
Competition
Mobileye isn't the only firm developing ADAS technology, however it is by far the most advanced, recognized, and popular among vehicle manufacturers, distributors, and insurers.
Its biggest competition is definitely from Google (NASDAQ:GOOG) and it's driverless car project, especially given all of the mainstream media coverage and public interest that it has generated. However, articles like this from Wired remind me that while Mobileye and Google are designing in the same field, they have completely different products (not being able to drive in unmapped areas is certainly a limitation).
I'm not the only one who believes Google's technology is unsatisfactory. Tesla Motors (NASDAQ:TSLA) CEO Elon Musk has expressed his disinterest in Google's radar approach.
"The problem with Google's current approach is that the sensor system is too expensive… It's better to have an optical system, basically cameras with software that is able to figure out what's going on just by looking at things."
Management Highlights
Exhibit 7 - Co-founder Profiles

Source: Company website
Tesla Rumors
At the recent Tesla AGM, CEO Elon Musk said that he's "confident that in less than a year, you'll be able to go from highway on-ramp to highway exit without touching any controls." The general consensus amongst people is that this technology is years off from being available commercially, however after having built PayPal into a multi-billion dollar institution, successfully launched first space transportation services company Space X, and taken Tesla to places few thought possible just a decade ago when he initially got involved, it's certainly conceivable that Musk has something hidden up his sleeve here. While there's no certainty that Mobileye is the company that will make a Tesla series autonomous, the Mobileye-Tesla story is very intriguing and definitely not without merit.
When recently asked how to characterize the relationship between Mobileye and Tesla, Tesla VP of communications Simon Sproule commented "We can simply confirm that we have a business relationship with them. Nothing further to add."
According to Israeli newspaper Haaretz,
"The Jerusalem-based vehicle safety systems manufacturer Mobileye has entered the automatic car development market with the goal of developing a driverless car. TheMarker has learned that Mobileye is collaborating with American electric car manufacturer Tesla and is studying systems it is developing in Israel."
The Model X shown on Tesla's website already looks to have cameras in lieu of side mirrors.
Exhibit 8 - Mirrorless Tesla

Source: Tesla Website
These are prototypes, but in my mind it's not a matter of if, but when we'll see the move to replace side-mirrors with cameras integrated with sensor technology - and, who will produce it. Mobileye is definitely an attractive candidate. Regarding Musk's statement at the AGM that he was confident to see this technology in less than a year, time will tell. Federal regulations need to be changed first in order for that to happen. On March 31st, Tesla and the auto industry's main lobbying group in Washington filed a petition seeking to ditch traditional side-mirrors in favor of these new high-tech solutions.
The IPO
The Mobileye IPO is backed by a strong team of underwriters.
Exhibit 9 - Underwriters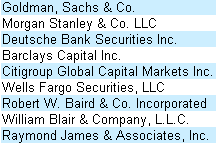 Source: F-1 filing
Yesterday, the company announced that it increased its IPO size from 27.8 million shares and revised its previously revised price range of $21-$23 per share (originally $17-$19).
Shares are expected start trading today on the New York Stock Exchange, priced at $25, valuing the company at about $5.31 billion.
Out of the 35.6 million shares being offered, the company is selling 8.33 million, which means that it will raise about $208.3 million from the offering at its IPO price (the rest of the shares will come from current shareholders).
Unfortunately, this in-demand stock will come at a pricey valuation. With Mobileye having posted 2013 revenue of $81.2M, the company is looking to trade at a steep 65.5x 2013 sales. The company had 2013 net income of $19.9M.
Conclusion
I think that Mobileye is in a good space at a good time. The company is at the forefront of developing active safety features for vehicles, and the market outlook is extremely positive. Not to mention it's well positioned for the (BATS:NEAR) future, targeting autonomous driving.
The auto industry is heading towards 100% connected capability integration, and there's a big push by insurers and government to increase automobile safety, both from an economic standpoint and a social perspective. Not to mention the engineering (specifically drag-reduction) benefit to auto manufacturers. Mobileye stands to benefit significantly from all of these conditions and has positioned itself very strategically. Providing the market shapes out as forecast, the industry will scale, as will Mobileye.
From a financial standpoint, Mobileye looks solid. The company has experienced extraordinary revenue growth and is looking to generate sustainable organic profitability quickly.
I'm very optimistic about this company and on this IPO and suggest that risk-tolerant (you kind of have to be with IPOs) and growth investors consider purchasing shares. I will be.
*If you like what you've read here please click the "+Follow" button and subscribe to my real-time alerts. I just started using the StockTalk function which I find is an excellent resource to communicate real-time trades that I'm making, due diligence that I'm conducting and article alerts.
Disclosure: The author has no positions in any stocks mentioned, but may initiate a long position in MBLY over the next 72 hours. The author wrote this article themselves, and it expresses their own opinions. The author is not receiving compensation for it (other than from Seeking Alpha). The author has no business relationship with any company whose stock is mentioned in this article.