The market is looking strong to start the week with retail sales coming in at their highest levels since March. The chart I showed on Friday predicted this would occur. Since we only have one spot left in the Buy Portfolio, we will reserve it for a Play of the Week. We will look to the $5 List and Longterm Ratings for a possible Buy candidate and Short Sale candidate later this morning.
For now, here is our Weekly Buy…
Play of the Week: The Dress Barn Inc. (DBRN)
Analysis: Retail is looking pretty strong to start off the retail earnings season. Today, retail sales were reported as improving 1.2% in October, which was the highest increase since March. This week, Nordstrom (NYSE:JWN), Urban Outfitters (NASDAQ:URBN), Abercrombie & Fitch (NYSE:ANF), Saks (NYSE:SKS), and many more report their earnings.
One company that is looking for a very solid Q1FY11 is The Dress Barn Inc. The company specializes in operating The Dress Barn and Justice stores mainly. Dress Barn is a mid-level fashion store that offers casual to business wear to women in their 30s – 50s. Justice is a young girl to pre-teen retail store.
The company is slated to report earnings on Thursday afternoon. The company is slated to report EPS at 0.62 versus one year ago at 0.33. Such a large increase in earnings typically would make one think that a stock has pretty strong valuations. Yet, in one year the stock has only jumped a bit over 10%, and the stock is currently undervalued. The company tends to beat EPS estimates, and they beat one year ago by over 15%.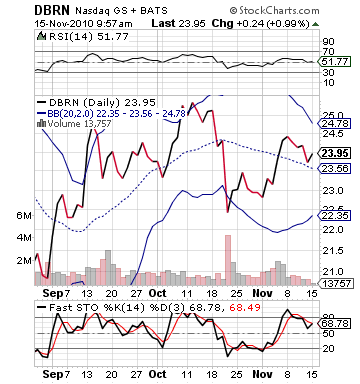 I do not expect to hold this one into earnings, as I think the stock will be able to make major moves before that report. The company will get movement on the combination of earnings for retail and today's retail sales. 26/32 retail companies are expecting to improve on earnings from one-year ago. The numbers for DBRN look very solid. The company already announce their revenue was better than estimates at $717M (estimates – $704M) on Nov. 4. The stock jumped 24.30, but it has fallen over 2% since then, which has put it back into an RSI near 50.
The company, in the last three month, additionally did a $100M stock buyback, which is one of the healthiest signs from a company, and the company acquired a new company called Tween Brands that they are mostly changing into the Justice line. The company looks very solid moving into earnings, and they are technically sound. The stock has narrowing bollinger bands, which signal a breakout is on the horizon. The stock has over 4% room to grow to its upper bollinger band still.
Get in while we can, this one will jump before earnings.
Entry: We are looking to enter 23.80 – 24.00.
Exit: We are looking to exit on a 3-5% increase.
Stop Loss: 4% on bottom.
Disclosure: No position