IBM's (NYSE:IBM) share price has disappointed shareholders over the last two years, underperforming the Dow Jones Industrial Average by over 27%. Although the stock has underperformed, the intrinsic value of IBM continues to rise because management at Big Blue is doing an excellent job of creating value for shareholders through share repurchases and dividend payouts.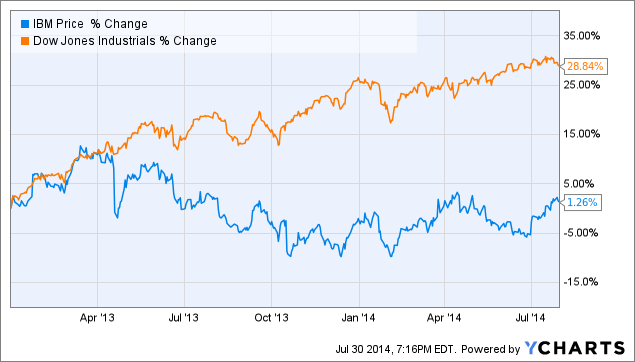 IBM data by YCharts
Since 2004, IBM has repurchased over 600 million shares, or roughly 40% of the company. At first glance, this may not seem like a staggering feat, but it's enabled Big Blue to increase EPS by over 200% while revenues have remained relatively flat over the same period.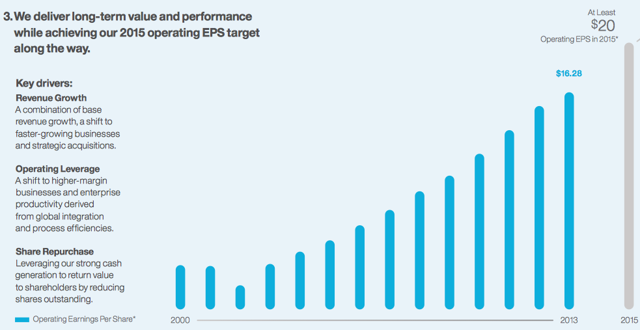 IBM data from 2013 Annual Report
As you can see in the chart above, IBM has grown its operating earnings at a CAGR of nearly 13% for the last decade, and posted a record EPS (non-GAAP) of $16.28/share in 2013. Analysts project this year's operating earnings to be around $17.90/share and at least $20/share by the end of 2015. So with such consistent and strong growth in earnings, why does IBM's stock price continue to languish?
Wall Street loves revenue growth, and IBM has struggled to grow sales. In 2004, IBM had sales totaling $96.29 billion and sales of $97.84 billion are expected for full year 2014, a meager 1.6% increase over the last ten years. Although this may seem disappointing, it's not as bad as it looks.
IBM has an operating margin of 20.98% and a staggering ROE of 94.62% for FY13; The company is a cash cow, albeit one that isn't getting larger at the moment. This cash cow, however, has been able to mitigate its stagnant sales by repurchasing around $14 billion worth of stock every single year over the last four years.
The best metaphor to explain what's going on at IBM would be to imagine a gigantic pie representing sales. Although the pie itself isn't getting bigger, everyone's slice of the pie is getting much bigger thanks to management's decision to repurchase shares with all the free cash that IBM produces.

IBM data from 2013 annual report
As you can see in the chart above, Big Blue has produced $81.2 billion in free cash flow over the last five years and has used $63.7 billion of that cash to buy back stock, increasing the size of everyone's slice of earnings.
So what does this mean for IBM going forward?
So far I've only talked about IBM's past, where it's been, so now it's time to discuss where Big Blue is going. Every five years, the company creates a five-year plan. The last plan was made in 2010 with the following goals to achieve by 2015:
· $50 billion in share repurchases
· $20 billion in dividends
· $20 in EPS (non-GAAP)
· $100 billion in free cash flow
· $20 billion spending on acquisitions
· Software becoming about half of segment profit
Warren Buffett, having amassed around a $12 billion stake in IBM, told CNBC in November 2011:
I don't think there's any company that's-that I can think of, big company, that's done a better job of laying out where they're going to go and then having gone there. They have laid out a road map and I should have paid more attention to it five years ago where they were going to go in five years ending in 2010. Now they've laid out another road map for 2015. They've done an incredible job." - Forbes
As it stands right now, IBM is on track to meet its ambitious goals yet again. It's on target to return $70 billion in combined dividends and share repurchases from 2010-2015 and continues to issue guidance of at least $20 of operating EPS for FY15.
The most interesting goal on their five year plan for 2015 is software becoming about half of segment profit. It doesn't take any unusual insights to figure out why IBM wants software to become a bigger part of its business.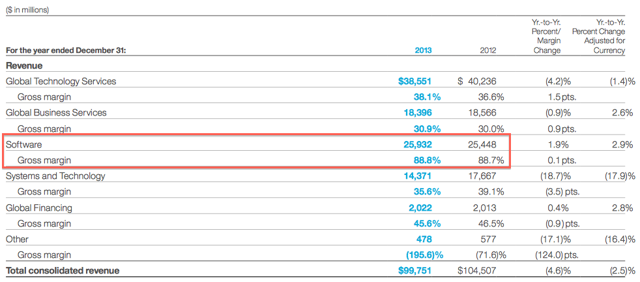 IBM data from 2013 annual report
As you can see in the graphic above, IBM posted an impressive 88.8% gross profit margin from its software sales and increased software revenues to over $23 billion in 2013. Services revenue may be IBM's bread and butter, but software has the highest margins by far, so really, it's a no-brainer as to why IBM would want to increase this segment. Although IBM's overall revenue growth is anemic, it was able to grow this most profitable segment by nearly 2% YoY, which is not too shabby.
IBM's software business completed eight acquisitions in 2013, which added to its mobile, big data analytics, and security capabilities - they can now boast of having more than 100 SaaS offerings. Big Blue has continued investing heavily in software this year when they announced a $1 billion investment in Watson this past January, establishing a Watson Group within the software business. The recently announced partnership with Apple (NASDAQ:AAPL) to develop one hundred enterprise apps for the iPad should further increase Big Blue's software sales, and the partnership could lead to mobile-cloud integration opportunities down the line.
Growing the software division is clearly IBM's goal and with such a heavy focus on acquisitions and investment, it looks like IBM is on track to do that going forward.
Conclusion:
IBM has been punished for stagnant revenue growth, even though it's been able to grow its EPS over 200% over the same time period due to strong, consistent free cash flow and share repurchases. IBM expects full-year GAAP diluted EPS of at least $17.00, which means it's currently trading at a PE of 11.41 for FY14, which is unquestionably attractive for a company as strong as IBM. I expect IBM shares to trade at $250 or higher by end of FY15, or in other words, a CAGR of around 19% excluding the 2.4% dividend.
Disclosure: The author is long IBM, AAPL. The author wrote this article themselves, and it expresses their own opinions. The author is not receiving compensation for it (other than from Seeking Alpha). The author has no business relationship with any company whose stock is mentioned in this article.