We used to be InvenSense (NYSE:INVN) bulls for quite some time because InvenSense was (and still is) a very well run company, it operates in growth markets and it is slowly winning market share because they are pushing the technological envelope.
However, now that we're well above $20 a share and profits are still rather meager, we're having second thoughts about the shares (not about the company). Something similar happened to us with Ellie Mae (NYSEMKT:ELLI), which was a great buy at $15, much less so at $30, despite the seemingly near flawless execution.
Just a while ago, when the shares were reaching an all-time high of nearly $27, we warned in a comment at the end of a SA article by Renu Singh asking whether one should buy or sell before the earnings that it would be better to sell into the earnings report:


And indeed, that played out rather nicely. Bulls point out that the growth opportunities are big and there are new big customers to be won (or already in the bag), there is indeed a good deal of truth in that. Almost as long as we follow the stock there are rumors that this will be the quarter that InvenSense manages to get Apple as a customer.
And indeed, that might very well happen. During the latest CC, management mentioned a new big American customer which would take care of 10% of the revenue of the running quarter. That could very well be Apple, although Esekla puts his money on Amazon.
Whether Apple or Amazon, it's certainly good for the stock, but before we get carried away too much, let's not forget that Samsung, their biggest customer, is actually struggling quite a bit. While management predicts a big ramp up in revenues (a 33% growth to $88.5M) and profits (to 15 cents a share), there are certain aspects of the financials that aren't so stellar:
Gross margins have been falling for quite some time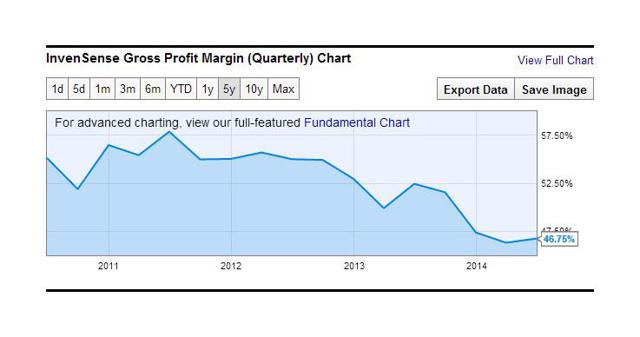 Free cash flow is still negative.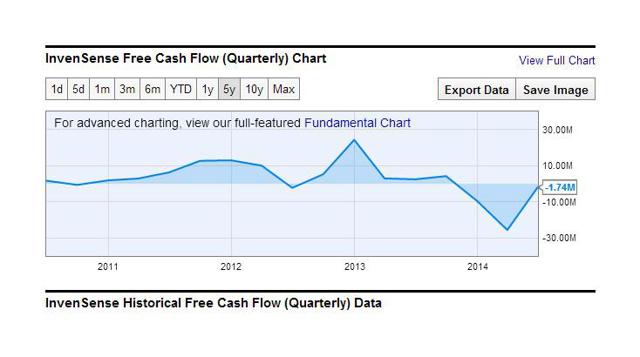 Earnings are flat at best.

The fact is that in order to grow and win market share, the company had to invest quite a bit. Now, it's likely that the company will bear the fruit of these investments, and that we have to look forward rather than backwards with these metrics, but to a considerable degree the market is doing that, considering the stock price.
The little earnings chart above also contains analyst consensus for upcoming quarters, all the way until the end of fiscal 2016 (which finishes in March 2016). In the fiscal year 2016, analysts on average expect InvenSense to produce a dollar a share in profits.
At roughly $23 a share today, we think there isn't much immediate upward room for the shares, although a spike is likely on the revelation of the new big American customer. Looking at the chart, we think a trading range between $22-26 is likely.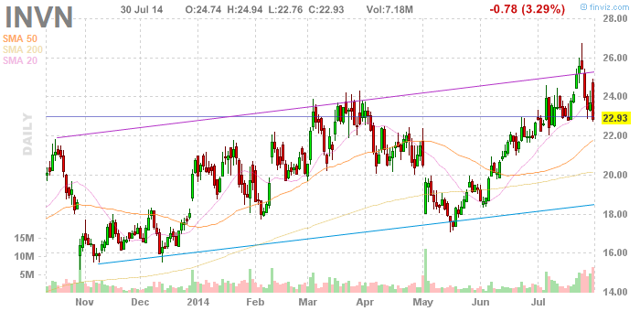 We actually think it's somewhat more likely to be broken on the downside (in a general correction, for instance) rather than on the upside. For the latter, a new substantial and positive development is necessary.
For all the excellent execution and growth opportunities facing the company, there are two forces working against them. Creating growth requires substantial investment (which is what they've been doing), and the growth is partially offset by price erosion:
With respect to our fiscal year 2015 business opportunity, we believe that our markets continue to offer significant opportunity for growth. Historically, net unit sales growth has been approximately 50% per year, with net average selling price erosion partially offsetting the effect of unit sales growth. [Q3 2014 CC]
This is rather common in technology markets, and only by achieving technological superiority can this force be mitigated. The company is doing a fine job, but there are still good alternatives for many of its products.
Disclosure: The author has no positions in any stocks mentioned, but may initiate a short position in INVN over the next 72 hours. The author wrote this article themselves, and it expresses their own opinions. The author is not receiving compensation for it (other than from Seeking Alpha). The author has no business relationship with any company whose stock is mentioned in this article.