This article highlights some key information and analysis from our Buy Zone Report for Kellogg Company (NYSE:K).
Kellogg Overview

Kellogg Company manufactures and markets ready-to-eat cereal and convenience food products primarily in the United States and the United Kingdom. The Company sells its products for grocery trade and to supermarkets directly, as well as through brokers and distributors. The company was founded in 1906 and is headquartered in Battle Creek, Michigan.
Parsimony Rating
The core of our investment philosophy is to buy great stocks at reasonable prices and we use a combination of fundamental and technical analysis to determine which stocks to buy and when to buy them.
We created our ranking system, which ranks over 750 U.S. dividend stocks on a monthly basis, to help us find the best dividend stocks. In our experience, if you rank all of the stocks in a universe against their peers on a consistent basis, it becomes clear which companies are the strongest and which offer the best investment opportunities going forward. Our composite rating is derived by ranking each stock based on 28 key fundamental and technical data points in five sub-rating categories.
The table below for Kellogg highlights some of the key data points that we look at when determining our rating.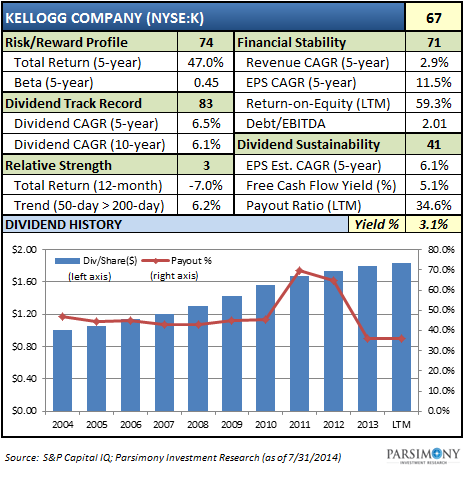 As highlighted in the table above, Kellogg has an above-average overall Parsimony Rating of 67, primarily driven by decent ratings for Risk/Reward Profile (74), Financial Stability (71) and Dividend Track Record (83).
Although the stock has underperformed its peers recently (hence the low Relative Strength rating), Kellogg has a low beta (0.45) and the stock has exhibited low volatility in the past. In addition, the company has a solid dividend yield over 3.0% and a strong balance sheet with low debt levels.
Kellogg has paid a dividend to shareholders for 359 consecutive quarters since 1925, including a compound annual dividend growth rate of 6.1% over the past 10 years. As shown in the chart below, Kellogg has raised its quarterly dividend 5 times in the past 20 quarters (and it recently announced a 6.5% hike for next quarter).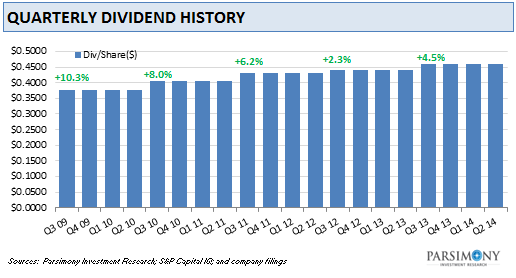 Valuation Analysis
Valuation is a key factor in determining our "Buy Zones."
We use our rating system to determine WHICH stocks to buy and we use our "Buy Zone" reports to determine WHEN to buy them. We focus on four key levels of support when determining a "Buy Zone":
Valuation - Support levels based on historical valuation multiples.
Technical - Support from short and long-term trend lines (i.e., 10-week and 40-week moving average).
Volatility - Target correction levels based on historical volatility and maximum drawdown.
Yield - Support levels based on forward dividend yield.
Below is a summary valuation analysis for Kellogg: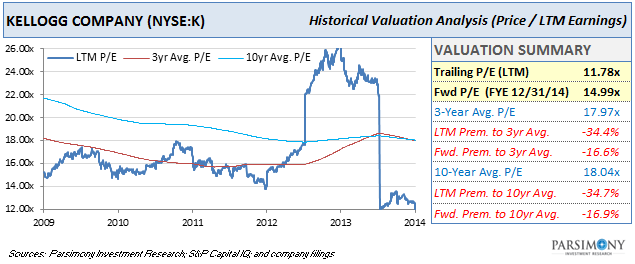 As highlighted above, Kellogg is currently trading for 11.78x trailing earnings, which represents 34.4% and 34.7% discounts to the company's respective 3-year and 10-year historical averages.
Based on consensus estimates for FYE 12/31/14, Kellogg is currently trading at 14.99x forward earnings, which represents 16.6% and 16.9% discounts to the company's respective 3-year and 10-year historical averages.
Is Kellogg In The "Buy Zone"?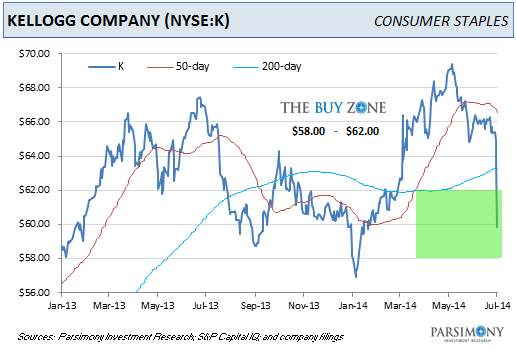 Kellogg is down almost 14% from its recent high and is currently trading in the middle of our Buy Zone range. This pullback could prove to be a great long-term entry point for dividend investors.
Conclusion
Kellogg is a stable dividend growth stock with an attractive valuation. The company has always done a great job of adapting to its consumers' tastes and demands and we think that investors should consider buying the dip in this industry veteran.
Disclosure: The author has no positions in any stocks mentioned, but may initiate a long position in K over the next 72 hours. The author wrote this article themselves, and it expresses their own opinions. The author is not receiving compensation for it (other than from Seeking Alpha). The author has no business relationship with any company whose stock is mentioned in this article.