Nissan Motor Company (OTCPK:NSANY) is stretching its vehicle sales muscles in recent months with increased U.S. sales and rising profits.
With a growing acceptance of foreign automobile companies and an increasing appetite for energy-efficient technologies, Nissan has actively marketed itself to the American marketplace, with spectacular results.
Earnings Boom
At the end of June, Nissan was able to report a 14 percent jump in U.S. sales and a 13.4 percent jump in the company's operating profits. This was up from the meager 3.8 percent profit margin reported for the same period a year ago. The number put Nissan in 6th place in automobile sales in America, flying past Hyundai and making significant inroads on Honda sales in the United States.
Leadership Changes in North America
The aggressive inroads in the U.S. market have come as a result of a change in the company's leadership in North America. Nissan's CEO Carlos Ghosn brought in Jose Munoz to take over the division with the goal of increasing profitability and market share.
Munoz has been successful in his effort to make Nissan one of the foremost names in green technology in the U.S., with vehicles that are energy saving and have the styling and features that most consumers desire.
But that's just the initial salvo in the strategy to increase sales of Nissan vehicles in Mexico and throughout the North American continent.
The Green Vehicle Revolution
While politicians are still debating carbon emissions and their effect on the environment, the public has taken a clear stance with their pocketbooks, purchasing more sustainable vehicles for their personal use.
The Nissan Leaf made vehicle history in May of 2014, selling over 3,000 of its electric vehicles in one month. The Chevy Volt and Toyota Prius continue to make inroads into the U.S. market. Other sustainable energy vehicles such as Tesla (NASDAQ:TSLA) are also benefiting from the change in consumer perceptions and continues its efforts worldwide.
In March, Tesla Motors hired Simon Sproule, director of communications and marketing for Renault-Nissan, to help the company promote its vehicle sales in China.
Outlook for Nissan
With the Nissan Altima, Nissan Sentra and Nissan Rogue all on the list of the top 20 light vehicles delivered in the U.S. in June, the company is clearly making aggressive efforts to be a big player in the American market.
Given the public's curiosity about electric vehicles like the Leaf, the company's revenues could likely increase significantly in the coming years.
NSANY has been strong YTD, receiving a boost from a Barclays upgrade in early June.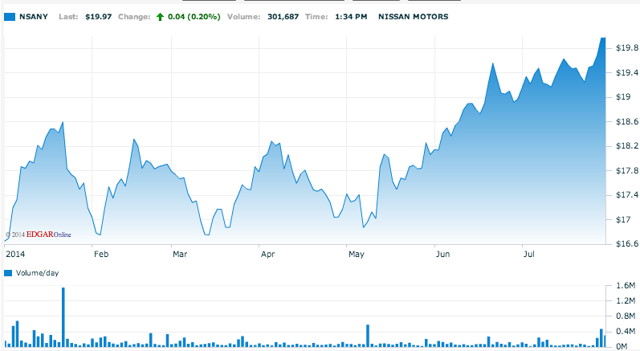 (Nasdaq.com)
We are positive on NSANY moving ahead in Q3 2014 and suggest investors be so, as well.
We invite readers wishing to stay up-to-date on Nissan and other electric vehicle brands to click+Get real time alerts.
Disclosure: The author has no positions in any stocks mentioned, and no plans to initiate any positions within the next 72 hours. The author wrote this article themselves, and it expresses their own opinions. The author is not receiving compensation for it (other than from Seeking Alpha). The author has no business relationship with any company whose stock is mentioned in this article.
Editor's Note: This article discusses one or more securities that do not trade on a major U.S. exchange. Please be aware of the risks associated with these stocks.