The last company to revolutionize counter-top beverage machines saw its stock skyrocket more than 10,000 percent. While that return didn't materialize overnight (it took a decade) the company, Green Mountain Coffee Roasters (Nasdaq: GMCR), is still going strong.
In the quarter ended June 26, 2010, the company's sales surged 85 percent year-over-year.
Green Mountain Coffee Roasters has enjoyed rapid growth by using the razor-razorblade business model - a strategy in which one good is sold at a discount while the second dependent good is sold for a tidy profit.
In Green Mountain's case, the company's Keurig single-serve brewers are sold at close to break-even, while K-cups (the single serve portion packs) are responsible for the profits. To tempt more and more consumers to buy its offerings, Green Mountain sells a wide variety of coffees, teas, and cocoas that are the razor-blade equivalent to the company's Keurig machines.
There's another company that just went public that appears to have a similar strategy - although this time the offerings are carbonated beverages instead of coffee, teas and cocoa.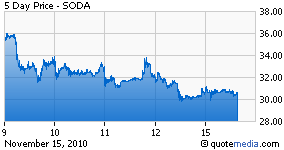 SodaStream International Ltd. (Nasdaq: SODA) sells a blender-sized machine that allows customers to turn tap water into seltzer water or carbonated soda. Customers can choose from over 100 different flavors. The machines cost $79 to$199, but CO2 refill tanks and flavor packets cost extra.
The Israel-based company just offered 5.45 million shares to the public earlier this month at $20 per share via an IPO. On its first day of trading, the stock opened at $24.75 and closed at $30.70 on Friday. That performance represents a 24 percent jump since the first traded price (I like to use this price because it represents the price an average investor could buy shares at).
SodaStream currently has an average household penetration of 5 to 15 percent in its Western-European markets where it has more operating history. With 80 percent of sales coming from Europe it's now turning attention to the U.S. market. The company has already begun selling in retail stores like Macy's (NYSE: M) and Bed Bath & Beyond (Nasdaq: BBBY).
Retailers are stocking their shelves with this innovative product for the holiday shopping season. I think the price point is perfect for most budgets - and I wouldn't be surprised if a number of customers purchased one for themselves in addition to one as a gift.
Not only is the timing of the IPO and the push to increase distribution excellent, but SodaStream is entering the largest soda-consuming country in the world. The U.S. represents 20 percent of the $234 billion global carbonated beverage market.
To really tap into this market, SodaStream will have to change the way people consume soda, certainly no small feat. Changing the status quo is hard, but it's not impossible as evidenced by the popularity of the Keurig machine.
To change behavior SodaStream is hoping consumers recognize the valuable features of the machine, in addition to the convenience of having an 'at home' soda dispenser.
The convenience of the product is undeniable. Owners will no longer have to carry dozens of soda bottles home from the supermarket, store them, or dispose of the empties. They will also have the luxury to choose from 100 different flavors - without leaving the comfort of their home. With flavor packs like tonic, the SodaStream System can also help you convert your kitchen into a fully stocked bar - perfect for the holidays with your in-laws.
The initial upfront costs may scare away some customers, especially in rough financial times, but there could be en economic payback - in addition to just the convenience factor.
Heavy soda consumers could actually save money. SodaStream's CEO, Daniel Birnbaum, believes that customers will be able to save up to 70 percent of their drinking bill. One CO2 tank, which costs $15 to refill, makes around 60 liters of soda. That works out to just 25 cents per liter of soda!
The product itself is certainly compelling, but investors may be more concerned with SodaStream's growth potential. Here too, the results are impressive.
In the last two and a half years the company has entered 24 new markets around the world. In the first half of 2010, revenues increased 50 percent, to $94 million, compared to the first 6 months of 2009. In the same time period, SodaStream's net income increased 784 percent to $5.7 million, aided in no small way by a 50 percent profit margin.
I like the growth potential of this company and am intrigued by the product. If SodaStream can grow in the U.S. like it has in other markets then there is tremendous upside potential for its stock. And if its product turns out to be as sensational as rumor suggests the company could transform millions of kitchens throughout the world.
In that case, SodaStream could just be the next big winner in the beverage market.