Levered Returns Cash Flow Model
I'm concluding a price target of $98 using Levered Returns three-year projection model, which implies Walt Disney (NYSE:DIS) is trading at around a 14% discount to its latest trading price as of July 29th. I'm estimating an Enterprise Value "EV" of $170.4 billion by applying a discounted cash flow approach. After deducting net debt, minority interest, after-tax underfunded pension obligations, and adding joint venture investments, I concluded a total equity value of $173.7 billion. It should be noted I estimated the fair market value of DIS' joint ventures by applying a 22.0x multiple (company's current PE multiple) to its last twelve months "LTM" JV earnings. The estimated fair value of $18.8 billion is significantly higher than its book value of $2.8 million (per the company's 10-K).
The terminal value was concluded by applying a perpetuity formula to the free cash flows in fiscal 2016 using a terminal growth rate of 5.0%. I discounted the terminal value and discrete cash flows using a weighted average cost of capital of 10.5%. The WACC was determined as follows:
Time Warner Transaction
Twenty-First Century Fox (NASDAQ:FOXA) made an offer to acquire Time Warner (NYSE:TWX) on July 16th that implied an EV of $92.9 billion according to S&P CapitalIQ. This recent precedent transaction acts as a great data point, which should be considered when valuing DIS. The table below compares EV/EBITDA multiples for the companies using this implied EV for TWX. Multiples for TWX trade at an approximate 2.0x premium to DIS which is not justifiable when considering historical and projected growth. DIS has historically outperformed TWX and this trend is projected to continue for the next couple of years according to equity analyst estimates. The table below displays these findings, which have led me to believe DIS is significantly undervalued, based on a comparable company approach.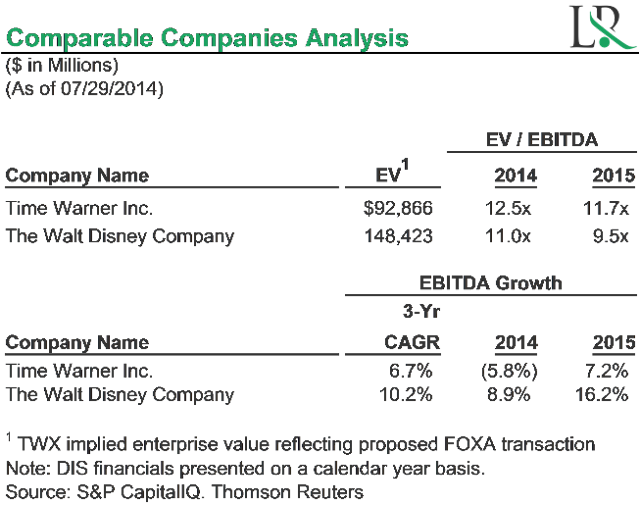 Click to enlarge
Entertainment Portfolio
DIS's studio entertainment segment has positioned itself to capture the market's imagination with the acquisition of Lucasfilm in 2012. Through the acquisition, the Company acquired the iconic Star Wars and Indiana Jones franchises. The recent acquisition adds to the Company's flagship entertainment brands including Marvel and Pixar. The Company now has a vast array of platforms in which it can profit from in the entertainment industry. The lowest hanging fruit is related to the Star Wars franchise. DIS recently announced that Star Wars: Episode VII (the first of the Star Wars Sequel Trilogy) will open in December 2015. The last Star Wars movie, Revenge of the Sith, came out in 2005 and broke several box office records during its opening week and went on to earn over $848 million worldwide. In addition, the latest installment in Marvel's Avengers: Age of Ultron is also set to debut in 2015. The first Avengers movie grossed $1.51 billion worldwide, and became the third-highest-grossing film. I expect these two movie releases in 2015 will provide a significant uptick in revenue, which is reflected in the LR model above. It should also be noted that these will not be one-time events for DIS. The Company has several other avenues to create box office hits with its most recent being a Pixar film: Frozen. So far, Frozen has raked in $1.26 billion, which ranks fifth all-time among the highest grossing films. DIS is well positioned to continue producing box office hits for years to come.
Conclusion
DIS is a widely followed company but I believe the market is undervaluing its assets based on current peer valuations and a discounted cash flow analysis. I have applied conservative projections into the Levered Returns cash flow model concluding a fair value estimate of approximately $98 per share, which is a 14% premium to DIS's latest trading price of $86.20 as of July 29th. Furthermore, the TWX transaction provides supports that DIS's EV multiples currently trade at a significant discount. DIS presents a compelling buying opportunity for value investors ahead of its expected earnings announcement on August 5th.
Disclosure: The author has no positions in any stocks mentioned, and no plans to initiate any positions within the next 72 hours. The author wrote this article themselves, and it expresses their own opinions. The author is not receiving compensation for it (other than from Seeking Alpha). The author has no business relationship with any company whose stock is mentioned in this article.